mamalama
Seeds Under Nuclear Winter: An Earth Opera
Select a membership level
light a candle for the Earth Opera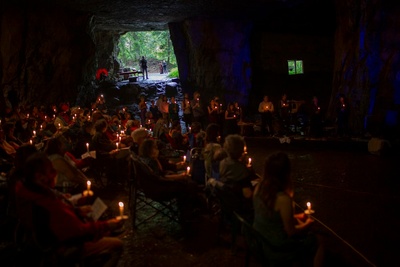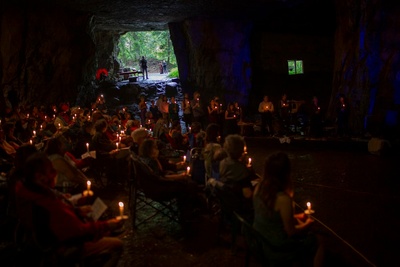 We are all so grateful for your support and encouragement.
Here's to one more candle burning bright, one more heart light illuminated.

Mangoes for Hanuman
Your pledges directly support the roles that will be performed in the Earth Opera this year, as we step into the second year of this evolving work! 

Lost in Love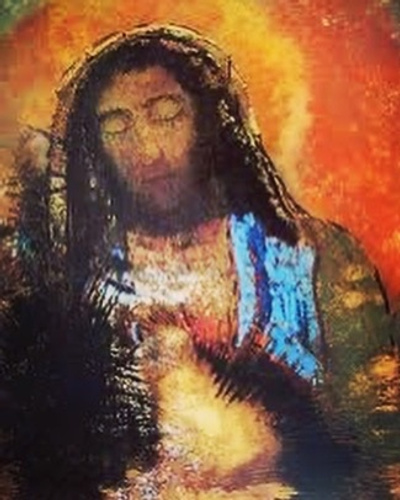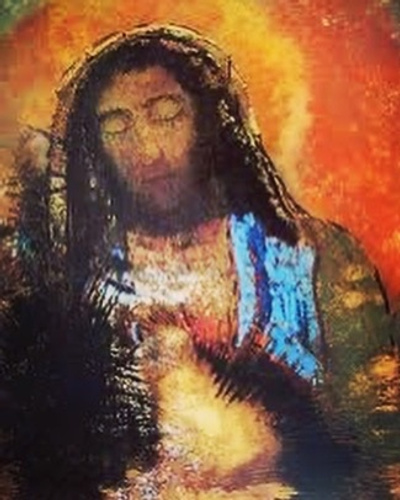 Thank you for nourishing the seeds of Love. Thank you for your kindness and faith in this work.
Your support is everything to our Opera cast of 26 people, working together to share these dreams and visions. 

About mamalama
Thank you for showing up here.
This 'Patreon' page is a way for the the community to
directly support
the ongoing development, evolution, and performance of "Seeds Under Nuclear Winter: An Earth Opera". 

Be part of keeping the vision alive!

"Seeds Under Nuclear Winter: An Earth Opera" is a recreation of spiritual visions, dreams, and stories through world and sacred music, moving visual art, dance, storytelling, and light experiments, shared within an immersive and multi-sensory community experience.
Some things people said after the first excerpt premiere:
Noted author, playwright/director, poet IONE (creative partner and spouse of composer Pauline Oliveros) writes: "A gifted harpist and vocalist, Elizabeth has created a rich, mythic tableau that brings forth potent musical stories, revealing the needs and longings of an entire community.
"Woodstock-area Renaissance man (musician, archivist, writer) Robert Burke Warren said the show was "Breathtaking," as there was quite a bit to think about, "It was truly transcendent, moving, like a very intense dream from which I did not wish to awaken. It put me directly in touch with that part of me: the dreaming part, the deeper, truer part."
Comments from the audience:
"Transcendent!"
"An awe-inspiring work of art!"
"Still reverberating in my pulse--truly magical."
" It was probably the most amazing performance I've seen in my life... And I've seen some beautiful and well crafted performances"
" Heart palpitations in the beginning to sacred moments of pain and hope for the light, to the grand finale, chanting, celebrating our universal humanity. You took us on a journey"
"Magnificent!"
"I was moved to tears.."
"I was weeping the whole time. So beautiful, and healing."

Listen to one oof the interviews about the Earth Opera live on WAMC here: 
https://www.wamc.org/tags/elizabeth-clark

Written by Elizabeth Clark during a three year artist residency at the Woodstock's 'Byrdcliffe Colony of the Arts' from 2018-2020,  excerpts from ' The Earth Opera' were recently performed for the very first time in '
The Widow Jane Mine'
on August 28-29th 2021, with an amazing cast of
twenty-six Hudson Valley musicians, dancers, actors, visual artists, and choreographers,
 including the world-music 'pit' orchestra of Mamalama, Andes Manta, and Catskill Mountain Gamelan. 
The 'Earth Opera'  premiered entirely in August to approximately 500 people at Rosendale's Widow Jane Mine, and was received with an overwhelming amount of joy and enthusiasm.


And, this is just the beginning...
.
The project can only continue SUPPORT for our artists and production needs directly from the COMMUNITY.
That's YOU!
Please
sign up
at any tier here on Patreon, and know that you are directly helping this artistic and spiritual vision come to life, and helping the experience be shared with the community.
EARTH OPERA CAST 2022:
Mamalama, Catskill Mountain Gamelan, Andes Manta, Peter Wetzler (composer, piano, accordion), Sharon Penz (choreography), Henry Lowengard (dulcimer, glockenspiel, panerus), Eric Archer (Jesus, Monk, Voice), Cornelia Logan (cello), Rusty Boris (bass), Jaguar Mary X (Green Tara, Saint Margaret of the Parking Lot, Prophet), Lisa Barnard Kelley (Prophet, Seraphim, Storyteller),  Dorcinda Knauth (peking, voice), Sondra Loring (Prophet, 'serpent' choreography, voice), Charlotte Stickles ('serpent' choreography, voice), AnnMarie Tedeschi (voice, jengglong), Bill Cochran (French Horn), Bill Brovold (bonang, voice), Asa Lowengard-Graham (voice, future child),  Luis Lopez (quena, quenacho, panpipes, charango), Bolivar Lopez (percussion, panpipes, moxeno), Wilson Lopez (guitar, mandolin, panpipes, percussion), Jorge Lopez (panpipes, mandolin), Annie Roland (soprano, Timekeeper, Seraphim),  Elwin Cuevas (Hanuman, Preacher), Noa Graham (newscaster, voice), Phil Levine (dictator, voice), Sharon Penz (Divine Mother, choreography), Anne Arden McDonald (clock prop maker, costume maker for Elizabeth) and artwork and stage direction by Erika Kari McCarthy (heart light props) and James Adelman. 
Your PATRONAGE will DIRECTLY support the artists, musicians, dancers, and choreographers as we continue our work together on this epic community project. 
About the Opera:
'Seeds Under Nuclear Winter' : An Earth Opera' takes place in a post-apocalyptic atmosphere, and centers around rebirth, finding light and beauty in the darkest times, and our deep connection with all living things, our planet, and with each other. Orchestrated for harps, ethereal choral voices, South American/Andean instruments, Indonesian gamelan, chamber strings, droning harmoniums, dulcimer, bells, piano, and an occasional tuba, the 'Earth Opera' steps into otherworldly realms and unfolds upon a non-linear and timeless path, similar to the way we dream.The opera was created to first be performed/premiered completely underground, site-specifically in a vast old cement mine (Widow Jane Mine) that is now an underground, womblike earthen amphitheater----and will later be adapted for many other spaces, theaters, etc.Your Patreon 
commitment
 will DIRECTLY support and sustain all phases of this opera as it continues to 
develop, evolve, and be performed....

All Patreon donations directly support ALL ARTISTS involved with the creation, development and performance of the opera.

This production will truly take a village, so thank you for your ongoing support of this vision, and the artists who are bringing it into being.Please SIGN UP at any tier! 
And-----Thank you for lifting this up.... 
Love.
Elizabeth.
******************************************************************************ABOUT MUSIC and the path:
Music is and has always been, for me, a form of medicine. It has become a form of prayer. It is a mirror. It can hold anything for us. Music reaches the heart quickly. It heals, it teaches, moves us, soothes us, riles us, strengthens us, and gives us good company if we are lonely. It soothes a cranky child.  We can pray with it, we can cry into it, we put into musical forms our joy, sorrow, wonder. It is (mostly) invisible in it's delivery, ancient re-invented rhythms and new melodies traveling wherever they want, without boundaries, ~~~
just like water ~~~~~,
lifting up and crossing over/under ALL borders, and redistributing as it pleases. It carries the stories and rhythms of our ancestors, and always has. It breaks our heart. It heals our broken heart. And so on. These things I'm sure you know already.
The path that music has taken me on is unexpected-----and profoundly beautiful. Because you may or may not be familiar with the different ways I work with music in the world, I think it would be good to share some of that background with you.
As you probably know, my main musical presence in the public eye is with my work as Mamalama, an evolving harp-and-voice-fronted, sometimes fully orchestrated world music ensemble performing a kind of 'modern sacred music'. Mamalama has taken on different incarnations over the years, working with a varying orchestration of human beings and harps, ethereal voices, African balafon, a string section, French horn, hammered dulcimer, handmade music boxes, glockenspiel, Irish flutes, frame drums, and most currently---- a plethora of traditional Andean flutes and Native American instruments, and choral/vocal arrangements. (www.mamalamaband.com). 
Now, I have finished composing/dreaming up an 
'Earth Opera'.This is the first piece I've made of this magnitude, involving other disciplines beyond just music.
As
 mentioned above, this is an interdisciplinary body of work that recreates dreams and spiritual visions through music. It is orchestrated for a world music 'pit' orchestra, with dance/movement, multi-sensory experience, light experiments, moving visual art, and audience participation.
It now feels so much more suitable for me to work with music in this multidimensional and interdisciplinary form, now deep on a path where I am
showing what I see, rather than just singing about it. 
FYI: OTHER WAYS I WORK WITH MUSIC 
Aside from Mamalama and opera writing, I work with music in quieter ways, bringing music to places that seem to need music the most.
Over the years, I have been asked many times to play my harp at the bedside for people who are actively dying. I've been there at the deathbed with my harp for my own grandparents, for other people's grandparents, and for children, and families who have lost their children. I've also played for many (young and old) who are in comas due to traumatic brain injury, and made musical rounds on a tracheotomy unit for those who are living on breathing machines. Because music (especially harp) seems like an enormous comfort and benefit to the needs of the ill and dying, as well as to the family around the bedside, I have made myself available within nursing homes and hospitals to deliver bedside music to those who are on the threshold.  
It's been a gift to be present to this, and I've experienced the mysterious and medicinal potency of music in such a deep way through this work. In truth, I think I know less about what music IS now then I ever did before---and I love music infinitely more for this. These experiences all inform my work as a composer. Alongside these experiences, I also studied in a "Contemplative Musicianship" in a monastic setting through the Chalice of Repose Project in Mt. Angel, Oregon, with the guidance and teachings of Music-Thanatology (music for the dying) pioneer Therese Shroeder-Sheker. This time spent studying through The Chalice of Repose Project has greatly informed the work I do around end-of-life care and with my music as a whole----though most of my experience and learning has been gained directly in the field, right there at the bedside. 
Another branch of my musical path has been what I do through "SageArts: A New Voice for Elders", a non-profit organization in which I am a foundational composer/supporter/performer (www.sagearts.org). SageArts brings our community elders together with songwriters to create an original, collaborative piece of music that deeply reflects upon what has been essential to each Elder's life. These songs are created over several months of very personal, collaborative work between songwriter (me) and elder. The pieces are then orchestrated and performed live for the community at large, honoring our elders and all of the wisdom and experience they have to share with us all, through music. 
I have written pieces with many different elders, and for the last 3 years have been composing original music with Elders who are holocaust survivors. This intensely transformative work involves visiting the homes of elders over the course of several months, spending time getting to know each human being and the stories that they would like to share through song. Over time, we begin to collaboratively create an original piece of music that reflects upon each elder's life. We then share the song within a large community performance, bringing the wisdom and experience of the elder's life into the light of the community for all ages to witness, learn from, and honor. There is a documentary being made about the work we've been doing with holocaust survivors called: "We Remember: Songs of Survivors", which will be airing nationally on PBS in the Spring of 2022, and also will be syndicated globally.
Another place my songs have taken me over the last few years is to an alternative Men's Rehabilitation Center in New Hampshire, playing small, intimate concerts for groups of men of all ages who are in recovery from drug and alcohol abuse. This particular rehab incorporates a Buddhist-based philosophy into it's program, incorporating meditation and contemplative practice, it's model based on the creation of a "healing/therapeutic community". I visit this community several times a year to play music for both the residents and the professional interventionists who visit the rehab in search of effective recovery space for their clients. My harp and I were flown out to Las Vegas (just a week after the massive shooting several years ago---we landed literally across the street from where this shooting took place) in order to give a concert for those attending a National Interventionist Convention. The audience consisted of recovering addicts, detectives who track down lost people, doctors, interventionists, and addiction specialists in many fields. While I've never struggled with addiction myself, I can clearly see how effective and healing certain forms of music are for those who are struggling with this, and for those who have experienced such intensity and human suffering while working to help others. Considering the vast opioid epidemic running rampant in this country, taking so many lives and destroying so many families, and with a lack of fully understood, effective options for deep healing---I am so glad to bring music to these places where it seems to be even the slightest bit helpful. They keep inviting me back, so something worthwhile must be happening through music. And so I will keep going. 
In addition, I have worked with children and adults with special needs through music, playing therapeutic concerts at many public and private events. I have been a featured performer within such events as the "Mind-Body Connection Conference" at The Center for Discovery (www.thecenterfordiscovery.org),  a conference which showcases the work and expertise of many scientists, doctors, featured TED talk speakers, and technology pioneers along the topic of medicine and the mind/body connection.  
This is all part of my story. All of these things inform my music, my writing, my 'performances' (though I shy away from this term, as music feels more like a contemplative, devotional practice to me, rather than a performance). 
I'm seeing as I go how music is a kind of medicine in so many ways, and it's beautiful. We have enough "entertainment". I'm most interested in how music transforms and heals, whether it's at the bedside or through a live concert.  
I'm asking for support from those who believe in the healing possibilities of this musical work.

Please consider supporting me ongoing so that I can dive into these things more deeply, and specifically, so I can get this opera out into the world.
Be my PATRON
.
THANK YOU for everything.
$83.52 of $1,000
per month
All Patreon donations directly support ALL ARTISTS  that will be involved with the development and performance of the  Earth Opera. 

Please sign up at any tier.Now that we've completed our first premiere of
EXCERPTS
from the Earth Opera this past August, we will continue evolving the work so we can perform more of the scenes/stories/dreams from the
 EARTH OPERA.

Also, this year we will be adding a third evening performance, a premiere of  "Earth Vespers" to open the Earth Opera weekend.
A plethora of collaboratively composed prayer and vocal pieces, the "Earth Vespers" will take place at night in the Widow Jane Mine, the path and space illuminated only with candlelight and lanterns.
In order to continue developing this work and to perform again in the Widow Jane Mine in 2022, we need to raise funds to support a cast of about 26
artists, musicians, actors,  dancers, choreographers, stage directors, costume and prop makers, and..... boat operators.

(
There is a lake behind the stage in the Widow Jane Mine, and several scenes are envisioned to take place on the water...more about that later...)This funding will allow us to offer another performance in
August 2022.

Please sign up at any tier, and spread the word! Thank you!
And, if you prefer to make one large donation (because that's how you roll), please email [email protected] directly.
"When you have a vision, you have to do what you saw..."
-Grandfather Albert Ward, Mi'qmac Spiritual Elder (1941-2021)
" If you have a vision of something you want to do, follow it and you will find a way".
-Meredith Monk
Please SIGN UP at any tier, and make an Earth Opera with us!
1 of 1
By becoming a patron, you'll instantly unlock access to 9 exclusive posts
By becoming a patron, you'll instantly unlock access to 9 exclusive posts