mannitt
is creating 3D Art and Visual Novels
Select a membership level
Tip Jar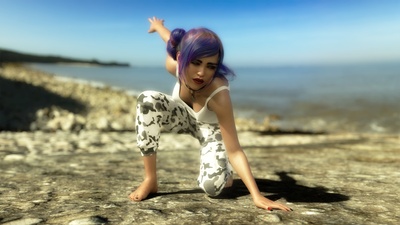 A simple tip jar
Access to most NSFW fan art.
Access to Special monthly renders two week after. 
Game releases/updates 7 days after.
Of course my thanks for the support
Includes Discord benefits
Fans
Access to the patreon only feed
Receive development updates
Access to Special monthly renders 10 days after. 
Access to the latest version of the game 5 days after release
Plus all previous rewards 
And my thanks
Includes Discord benefits
Supporters
Access to the latest version of the game 2 days after release
Access to voting polls.
Access to Special monthly renders one week after.
Plus all previous rewards
Includes Discord benefits
About
For those interested. Follow the link for my Discord
here
.
Website is
mannitt.com
Welcome to my Patreon page.
I have two pages. This one that is per update and the other is a monthly charge. Patreon doesn't allow to switch back and forth so I have the two pages now since a few Patrons wanted to still pay monthly. The monthly page is over
here
for those that are interested.
About Me
I'm mannitt. I've been doing different types of digital art for several years now. I have experience in Photoshop and coding in different languages. I've also worked in 3D as well. I have a smattering of education in all of these things. Plus many years of doing them as a hobby.
Currently, I am learning Daz3D to produce 3D art. It works to my strengths. Modeling has always been my weak point in 3D. So being able to not do that but works with models from many different talented artist. I can adjust and create different pieces.
The Game
Synopsis:

The MC (the name given by player) has been away from home over three years. Most of that at college. He returns home because of his father's death. He was never close to his father. Because his father was out of town for work most of the time while growing up. He was close to his two sisters, mom, and two best friends. While being away he lost touch with all of them. He now wants to reconnect with them and figure out why he stopped. Upon returning he is told that his father left him an inheritance. A large one. After receiving the inheritance, which didn't include his father's business, an accounting firm. He discovers how much personal wealth his father really had. While reconnecting with his family and friends he may get even closer to them then he was before. Establishing feelings and connections he hasn't felt before. He will also discover other things about his dad and mom's past he would never have imagined.
First, the type of VN it will be. There are many types and varieties of VN's now. Especially with the Ren'Py engine and a few other game engines used to simulate a VN. On top of playing many different Western VN's. I started playing Japanese VN's and have played many dozens or more. The progenitors of the Visual Novel. Also where the simple idea of a Dating Simulator comes from. That is where I started with my idea. This VN takes the Dating Simulator and adjusts it slightly. In the beginning, friendship is more the goal. Building and rebuilding the MC's friendships. It's only then can the relationships move further into love and even lust. Since this is a VN with adult content. Love and lust are where the more mature rated relationship content will take place.
To see more info on the game from early post go
here
and
here
Mature Content
The game and a lot of the 3D artwork I do is NSFW, for mature audiences. That is why this page is set to mature. Because even though I will still have lots of SFW images. The core of my art and what my Visual Novel will have and be about is adult content.
You can go
here
to check out my post that introduced the characters.
Any questions feel free to message me here, on
Discord
, on
Twitter
, or on my website
mannitt.com
. The website is still WIP. So not a whole lot there. Just another place to see some of my stuff.
So enjoy and thanks for stopping by.
-mannitt
Screenshots from the game
I can upgrade my PC with a better GPU. Currently Nvidia 1070 but a 1080ti would be much better. It would allow me to render faster. So I can do more at a time.
1 of 1
Become a patron to
Unlock 14 exclusive posts
Connect via private message