mark sinker
is creating a history of the uk music press
Select a membership level
Preview tier
You get to to hear the podcasts and read the posts  a few days in advance! 
Q&A tier
You can send us questions to be read out and answered during the podcast (they should probably be related to the podcast, we can do relationship advice but it might not be good advice)
About mark sinker
In early 2019, I published an anthology of conversations and essays about the first two-and-a-bit decades of UK rockwriting: whence it came, why it flourished, where it went.
A Hidden Landscape Once a Week: the Unruly Curiosity of the UK Music Press in the 1960s-80s, in the Words of Those Who Were There
is
available from Strange Attractor
(and outside the UK from
MIT
).
This patreon expands the conversation started by the book, exploring issues arising, some factual and historical, some speculative, some contentious: I'm blogging here, and my friend Hazel Southwell and I record a podcast also, called
Hidden Landscapes
. There's a full contents list 
here
: topics include Morrissey (and how we made him bad), Tom Wolfe's legacy, strike action in the pop press, how to write about jazz (and how not to), what's underground and what's not, what's pop and what's not… Read and listen – and if you like them, share them!
This is a field rich in feuds and disputes, fads and weirdness. Lots of this is in the book, but inevitably plenty isn't—which is why the podcast is fun to do. Hazel was born at the very end of the period the book covers, which gives her the chance to challenge my memory and my cliches, contrasting them with how the present day works… while I bring to the picnic my [
checks notes
] sage wisdom and unique clarifying perspective.
A Hidden Landscape
will be an excellent (inexpensive!) birthday or Christmas present for those of a certain age, keen for a memento of their youth. It's a gaggle of perspectives—a meet-point of self-taught curiosity, arcane knowledge and pop-cultural obsession, with writers and editors improvising a language to negotiate a bewildering terrain of contrasting cultures arriving from everywhere, sometimes fusing, sometimes clashing. In sweep and in detail, it's a story about a lost era of journalism, published now when journalism has never been under more corrosive pressure. So there's much of general interest for people of every age and background, and plenty at stake for all.
And here's where you come in! The book itself is
funded
and out in the world, but the wider discussion is only just starting. As old media formats vanish off into the dustbins of history—some more deserving of respect than others— let's start thinking about what needs to be emerging right now. If you like the idea of any of this, you can help us defray the costs of our admin and time spent (plus the inexpensive tech) by sending a few pounds (or actually dollars) our way. Levels and rewards are in the column on the right.
Hazel is a sports and music journalist, younger than me and well to to ask pertinent and impertinent questions about what we all thought we were up to back then, good and terrible. I'm also a writer. I've written about music and other things on and off since the early 80s at a variety of titles, starting at
NME
and
The Wire
(where I was also editor in the early 90s), and continuing all across the internet since then. If you don't know my writing, here's some more recent examples (some carefully edited for publication, some more like free-form bloggy scribble): celebrations of
Whitney Houston
and the late
Cecil Taylor
, memories of my parents buying
Sergeant Pepper
when I was seven, a review of Julian Temple's
Doctor Feelgood
documentary, an essay on
art, class and autodidacts
featuring Oasis, Arthur Scargill and Joseph Beuys, among others, plus an entry-level guide to jazz that
isn't
Kind of Blue
for once, and a long and intense conversation I had with a friend a few years back, about
what it is critics think they're supposed to doing
.
The podcast
will be roughly monthly,
the blogging
will be roughly fortnightly, posted here at preview stage, then crossposted a week later at
hashtag tashlan
and at
Freaky Trigger
. Some posts will be long, some short, some more on topic than others, and some jumping a ways sideways (because I always can't help myself). But even when brief and scribbled, they will be reasonably carefully fact-checked and scholarly. Not simply anecdotes, memories or impressions, in other words, but notes towards a richer history; sketches of the various milieus this world emerged from, including the Beatniks and the New Journalism, the Underground Press and the forest and specialist and pop titles that flourished in the 50s and 60s — how this came together, and how it all began to divided against itself again. Meanwhile the podcast will be chatty and cheeky—tales of key titles, big trends and tiny fads, the social role played by this mess of nonsense, its idiocies and its innocence and its potential. Now and then we'll have guests, including contributors to the book.
And to prove it's all a thing, here's the cover, courtesy the inestimable
Savage Pencil
: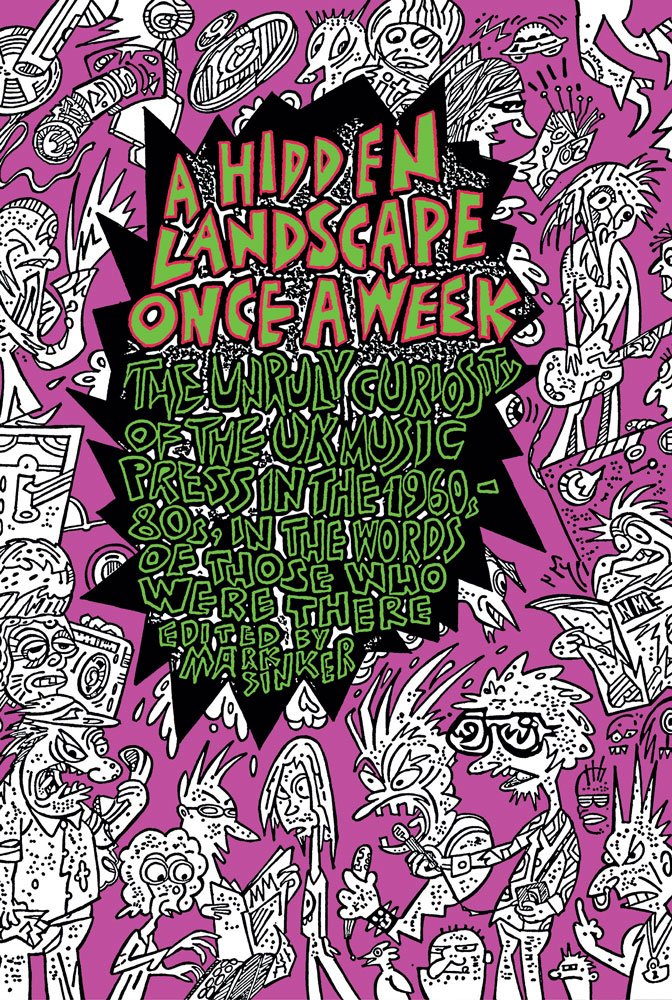 Become a patron to
Connect via private message
Recent posts by mark sinker
How it works
Get started in 2 minutes