Martial Attitude
is creating Podcast on discipline and Training for the blind
Select a membership level
The blind interview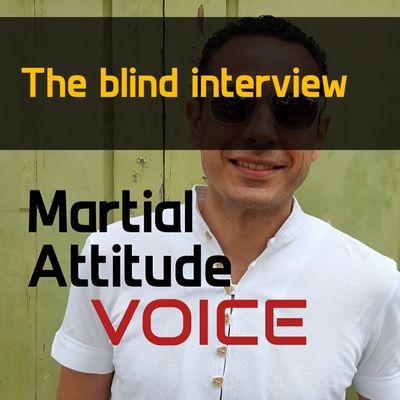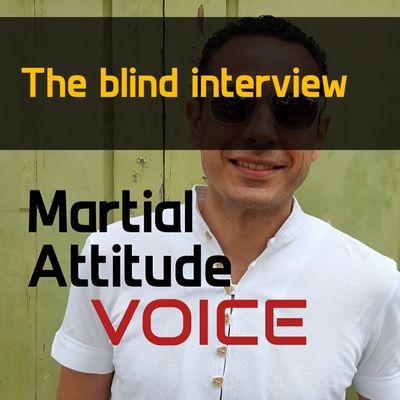 Podcast is a voice on air, you are the one who power it!

A crucial part of my research is to create a valuable archive of interviews with Visually Impaired and Blind people. Only in this way, I believe it will be possible to fully understand this community as a whole, given all the particularities and implications of every single case.

I will start interviewing Peter W. Sands, who trained MA Training with me over the last two years.

Thanks to your support I will be able to reach out for more visually impaired people and create valuable content that can be of future reference for anyone interested in the daily challenges of visual impairment. 


Interviews with Visually Impaired and Blind people.
To understand the world when is hidden from our sight.
To learn about confidence and behaviors of blind people when interacting with others.
A new interview twice a month
About Martial Attitude
What if you were blind?
What then if someone unknown touched you?
How is the loss of sight affecting your attitude, your movement and your posture?
What are the long-term psycho end physical implications of this?
How could a training program be tailored specifically for the Visually Impaired or Blind?
--- VERSIONE IN ITALIANO SOTTO LA VERSIONE IN INGLESE ---
MA Training
is my research, exploring these questions and their implications in great detail through my undergraduate course in Sports Psychology starting September 2020 at Roehampton Universtiy, London, UK.
As a Soft Tissue Massage Therapist I work with a wide range of clients with common issues such poor posture, or with high stress levels affecting their fascia's elasticity.
Among them, Visually Impaired and Blind people face the additional challenge of controlling their comfort zone when in a new environment or in contact with strangers.
Using the close up tactile techniques derived from Kung Fu Wing Chun, combined with my experience as a Soft Tissue Massage Therapist, I have found that the Visually Impaired can increase their confidence and comfort in controlling their immediate surroundings.
I refer to this training as Martial Attitude Movement Therapy Training (MA Training).
The course of studies I have done with
LSSM
has been enormous value for my practice and covered a lot of topics. It gave me tools that I am using on daily basis with the Physio Clinics, SPAs and Massage Centers I collaborate with.
Also the anatomy and physiology lectures made me aware of new possibilities in helping others, more vulnerable people such as Visually Impaired and Blind.
My experience with Soft Tissue Massage Therapy was fundamental in developing this program by providing me with many practical tools to develop the ideas and methods of MA Training.
My first objective
through this undergraduate course in Sport Psychology is to gain a deeper understanding of:
The needs of the Visually Impaired and Blind when it comes to personal safety.
What is the impact of movement and tactile experiences for them.
I'd plan to achieve this by conducting a series of research interviews within the community in order to gain quantitative and qualitative data.The second objective
is to to further develop and refine the MA Training program based on the outcome of the research and to build on the success that I have achieved so far.
Peter Sands (Chairman of the London Sports Club for the Blind) is registered blind himself and he trained MA Training for 18 months.
He now says that
"The training has personally helped me to feel confident in crowded situations, be aware of my posture alignments and overall has improved my balance."
Physiology and biomechanics laboratory facilities at
Roehampton University
are the perfect fit for my area of study, when it will come to break down every single movement of this training program and to then provide a new perspective on the teaching methodology to those suffering with sight loss.
I am also keen to develop what I call 'the map the invisible' concept in areas such as muscle memory and repetition and also fascinated by the possibility of studying the psychology behind the training.
I genuinely believe that MA Vision could greatly help those in the early stages of a condition such as
Retinitis Pigmentosa
with the intention that by the time their vision has further deteriorated, their confidence would have been bolstered through practicing MA Training.
Resources will be used
to carry out the interviews across London and, later, beyond the city limits.
Resources for transport, but also to create better and regular podcast whilst studying psychology for refining the interview process.
To reach out for as many organisations involved in helping Visually Impaired and Blind people in UK and overseas as possible.
To gain more experience and training myself, dedicating more time in nourishing my KUNG FU on daily basis here in London and at least once a month (that would be so great) gathering with my Sifu to progress towards the qualification of Instructor Level 1 in Wing Chun.
If I learn more, I have more chances to understand more and I can teach more.
But most importantly, I can teach better.
To explain my MA Training project for visually impaired and blind people and make it accessible to as many as possible.
My name is
Mathias Alberton and I work and live in London as a Sport and Remedial Massage Therapist and I am the creator of
Martial Attitude brand-in-the-making
and
Martial Attitude Voice podcast
.
Qualifications & courses
BTEC L5
Sport & Remedial Massage Therapy at LSSM
Anatomy on cadavers - dissection review with Julian Baker
Anatomy on cadavers - soft tissues in a clinical context in relation to common injuries
Anatomy on cadavers - the upper limb girdle
Therapy skills
Capable of doing correct postural assessment and to identify the most correct treatment and exercise programme for each client
Sport and Remedial Massage
Soft Tissue Release
Connective Tissue Release
Office Chair Massage
Therapy practice
Soft Tissue Therapy (STT) is the assessment, treatment and management of soft tissue injury, pain, and dysfunction of the musculoskeletal system.
As a soft tissue therapist I use deep tissue massage skills to treat clients along with manual stretching, myofascial release and trigger point therapy.
The soft tissues of the body refer to muscles, tendons, ligaments and fascia. Therapy of these soft tissues requires management, manipulation and rehabilitation to any individual regardless of whether they are involved in sport or not.
In client's soft tissue therapy session I might blend a variety of other techniques to deliver the most bespoke treatment: Soft Tissue Release, Assisted Stretching, Myofascial Release, Trigger Point Therapy.
--- ITALIANO ---
E se tu fossi cieco?
Se qualcuno ti toccasse?
Come modifica il tuo movimento, la tua postura ed atteggiamento la perdita della vista?
Quali sono le implicazioni psicofisiche di questo nel lungo periodo?
Come dovrebbe essere ideato e perfezionato un percorso di allenamento mirato specificatamente per Ipovedenti e Non Vedenti (INV)?
MA Training
e' la mia ricerca delle risposte a queste domande e le loro implicazioni nel dettaglio, attraverso un corso di laurea in Psicologia dello Sport presso l'universita' di Roehampton a Londra, UK.
In qualita' di Terapista Sportivo e Riabilitativo lavoro con clienti molto differenti, chi affaticato da problemi piu' comuni di postura, chi sofferente per via di un alto livello di stress cosi' da minare la flessibilita' della fascia.
Tra questi sono gli INV, a cui viene richiesta l'ulteriore sfida di saper gestire/controllare la propria zona di comfort quando si trovano in ambienti nuovi o sconosciuti e se in presenza di estranei.
Usando tecniche a stretto raggio derivate dal Kung Fu Wing Chun, combinate con la mia esperienza di Terapista Sportivo e Riabilitativo, sono giunto a concludere che gli INV possono incrementare sensibilmente il loro senso di sicurezza e zona di comfort, imparando ad iteragire e controllare maggiormente lo spazio loro immediatamente circostante.
Ho chiamato questo nuovo tipo di allenamento Martial Attitude Movement Therapy Training (MA Training).
Il corso di studi seguito presso la LSSM di Londra e' stato di enorme valore per la mia pratica professionale ed ha coperto molti argomenti. Mi ha fornito gli strumenti che utilizzo su base quotidiana in Cliniche Fisioterapiche, SPA e Centri Massaggi Sportivi.
Inoltre, le lezioni di anatomia e fisiologia mi hanno reso consapevole di nuove possibilita' che avevo per aiutare persone piu' vulnerabili, come per l'appunto gli INV.
La mia esperienza di lavoro come Terapista Sportivo e Riabilitativo e' stata fondamentale per sviluppare questo programma, fornendomi gli strumenti pratici e stimolando le idee e metodi che compongono le basi di MA Training.
Il mio primo obiettivo
, attraverso il corso di studi universitari in Psicologia dello Sport e' di:
Acquisire maggiore conoscenza delle necessita' in termine di sicurezza personale di INV.
Misurare quale sia l'impatto per loro di movimenti ed esercizi basati sul tatto.
Fare cio' attraverso una vasta serie di interviste da effettuarsi all'interno della comunita' INV, mirate alla ricerca e raccolta di dati sia qualitativi che quantitativi.
Il secondo obbiettivo
e' di sviluppare maggiormente e raffinare il programma di allenamento MA Training, basandomi quindi su i riusultati ottenuti nella ricerca e costruendo sul successo di quanto e' stato ottenuto sin ora.
Peter Sands (Comitato Direttivo di London Sport Club for the Blind) e' registrato come non vedente lui stesso ed ha praticato MA Training per 18 mesi.
Egli dice
"L'allenamento mi ha aiutato personalmente nel sentirmi piu' sicuro in spazi affollati, essere maggiormente consapevole della mia postura ed ha piu' in generale incrementato il mio equilibrio."
I laboratori di biomeccanica e fisiologia alla
Roehampton University
sono perfetti per la mia area di studi e ricerca. Risulteranno infatti essere molto importanti per riuscire ad analizzare e formalizzare ogni movimento di questo programma di allenamento e per offrire una prospettiva nuova su i metodi di insegnamento piu' adatti a coloro affetti da perdita parziale e/o totale della vista.
Sono inoltre interessato a sviluppare il concetto di "mappa dell'invisibile" , analizzando gli effetti della memoria muscolare attraverso la ripetizione e sono affascinato dalla possibilita' di studiare la psicologia dietro l'allenamento vero e proprio.
Credo sinceramente che MA Training possa aiutare grandemente coloro che si trovano nelle fasi iniziali di condizioni degenerative della vista quali la
Retinite Pigmentosa
, in quanto attraverso l'allenamento possono sviluppare una sicurezza maggiore prima che la loro vista si deteriori ulteriormente.
Le risorse verranno utilizzate
per condurre le interviste dapprima a Londra e, successivamente, fuori dalla metropoli.
Sono risorse per spostarsi con i mezzi pubblici, comunque molto costosi in Inghilterra, ma anche per creare podcast di qualita' migliore e con frequenza maggiore.
Questo nel mentre seguo la parte di studi in psicologia per raffinare ulteriormente il processo stesso delle interviste.
Sono risorse utili per raggiungere. con vari mezzi e differenti media, quante piu' organizzazioni possibili coinvolte ed attive nell'aiutare INV in Inghilterra come all'estero.
Alcune risorse occorono anche per la mia pratica e il progredire nel mio proprio allenamento.
Dedicare maggior tempo a coltivare il mio KUNG FU quotidianamente qui a Londra e poter raggiungere il mio Sifu a Verona, Italia, almeno una volta al mese per poter conseguire la qualifica di Istruttore Livello 1 in Wing Chun.
Tanto piu' imparo, tante piu' possibilita' ho di capire di piu' e, quindi, insegnare di piu'.
Ma soprattutto, posso cosi' insegnare meglio.
Risorse quindi per spiegare il mio progetto MA Training per INV e renderlo accessibile a quanto piu' di loro possibili.
Mio nome e'
Mathias Alberton e lavoro e vivo a Londra come Terapista Sportivo e Riabilitativo e sono il creatore del brand
Martial Attitude
e
Martial Attitude Voice podcast
.
Qualifiche & corsi
BTEC L5
Sport & Remedial Massage Therapy alla LSSM
Anatomy on cadavers - analisi di una dissezione con Julian Baker
Anatomy on cadavers - i tessuti morbidi in contesto clinici in relazione ad infortuni comuni.
Anatomy on cadavers - la cintura superiore
Abilita' terapiche
Capace di analizzare la corretta postura e di identificare il trattamento e programma di esercizi piu' adatto per ogni persona
Massaggio Sportivo e Riabilitativo - Sport and Remedial Massage
Tecniche su Tessuti Morbidi - Soft Tissue Release
Tecniche su Tessuto Connettivo - Connective Tissue Release
Massaggio da Ufficio su Sedia
La pratica del trattamento
Soft Tissue Therapy (STT) (Tecniche su i Tessuti Morbidi) e' la valutazione, trattamento e gestione dei Tessuti Morbidi, del dolore, e delle disfunzioni del sistema muscoloscheletrico.
In qualita' di Terapista su Tessuti Morbidi, uso le mie abilita' manuali di manipolazione dei tessuti combinate a stretching, tecniche miofasciali e terapia dei punti di pressione.
Become a patron to
Unlock 23 exclusive posts
Connect via private message
Recent posts by Martial Attitude
How it works
Get started in 2 minutes