Martian Lit
is creating Comics
Select a membership level
Subscription
For the price of one (cheap) comic a month, you'll get
every
Martian Lit comic, including all single issues and collections, in both PDF and CBZ formats, as soon as they're published. Plus, we'll post occasional stuff just for you.
If you want to pledge more than $3, you can. But we want to keep this option cheap so everyone can enjoy our comics.
About Martian Lit
Thank you for your support! With this Patreon, you're not supporting a single comics creator. You're supporting an entire
line
 of comics and an upstart comics publisher with ambitious plans and quality product.
Our flagship series Martian Comics is telling thoughtful stories that span history. It's been called the Sandman of sci-fi.
Kimot Ren is expanding this sci-fi universe, starring an alien android lost in the Old West.
Lazarus, the Forever Man (also set in this same universe) tells stories of Lazarus across human history.
The Synthetics (also set in this same universe) tells weird tales of robot life.
Finally, Necropolitan is a wild, violent, supernatural story featuring history's greatest bad guys stuck in Hell together.
Founded by comics scholar Dr. Julian Darius, Martian Lit is all about pushing comics forward.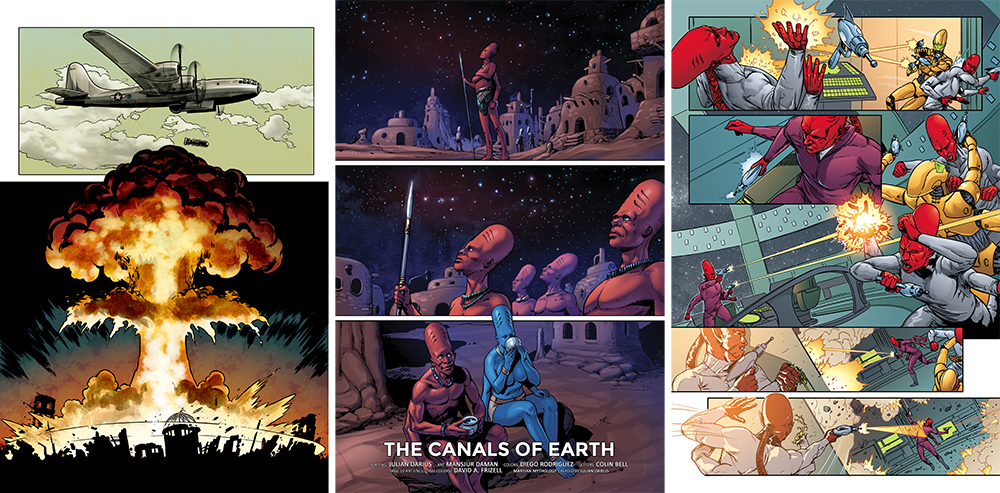 Three pages from different artistic teams. From left to right: a page from Martian Comics #4, with art by Sergio Tarquini and colors by R.L. Campos; a page from Martian Comics #5, with art by Mansjur Daman and colors by Diego Rodriguez; and a page from Kimot Ren #1, with art by Andre Siregar and colors by Donovan Yaciuk.
You've shown us amazing support since we started this unlikely journey. With your continued support through Patreon, we can come a little closer to break-even on this crazy endeavor!
For just $3 a month, you can get every single comic we publish, plus bonus goodies.
If you become a patron, your credit card will
not
 be charged now. Instead, you will be charged at the
start
of each month, beginning with
next
 month. And of course, you can cancel at any time.
We've also got a great plan to reward early adopters. Every single time we hit another $100, we're going to send out a free book to every single subscriber (at $3 a month or more). So please, share this page and tell your friends! Because for about every 25 new people, you get
another free book
!
Thank you for your support! We know your money is hard-earned, and we appreciate anything you can spare... even if it's just a tweet! And we really mean that! Continuing these comics means everything to us, and you make it possible!
To learn more
, visit our website 
MartianLit.com
. We're on ComiXology 
here
. And if you sign up for the
Martian Lit mailing list
, we'll give you a free PDF book!
All subscribers will get a one-time link to When Manga Came to America -- Julian Darius's non-fiction book (published by Sequart Organization) on Mai, the Psychic Girl -- in PDF format.
1 of 11
Recent posts by Martian Lit