Mary Isis
is creating Inspirational, Healing, Visionary Music & Art
Select a membership level
Tapping in to the Nectar
Do you wish to Tap in to my musical nectar offerings? At this tier, I will be sharing with you my own original, self-produced music, live recordings, and channeled prayers/invocations for awakening and remembrance of your highest divine self. You will receive of a new inspirational musical recording/download every month! I will also  share through these exclusive posts: insights, inspirations and stories of songs & songwriting tips to give you an understanding of my creative musical process. <3
Tuning in more Deeply
In addition to receiving my variety of recorded music, a new sound offering every month, and my writings and insights into the visionary/creative process- I will inviting you to Tune in more deeply with me by sharing with you a VIDEOS of myself singing for YOU - perhaps they might be in my "Saraswati Lounge" home recording studio, or perhaps they might be of me singing out in nature and... I will most certainly be encouraging you to sing along with me! 
Monthly Sound Healing Cosmic Download!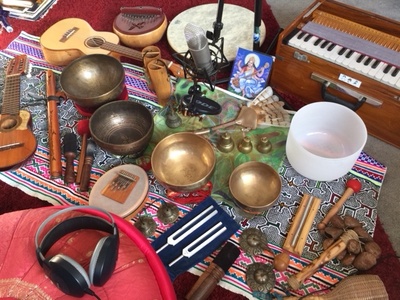 In addition to receiving  the monthly music, video inspiration & my writings/reflections, you will ALSO receive every month a fresh NEW download of a "channeled" free flowing sound healing song- which may include a multitude of beautiful sounding instruments along with my voice. I am excited about this offering as I will be sharing a very prayerful and present sonic space with you and it will motivate me to keep up my sound healing practice and open my channel more and more. <3 <3 <3
About
Greetings to you, Lover of Sacred Music!


It is my wish to share my gifts of Music and Sound Healing through this Patreon portal- 
I regard this as a sacred space for giving and receiving musical inspiration and support with soul family, fellow visionaries, and lovers of healing sacred music.
It was clear from a very young age that I had a musical gifts, I've been singing since before I could talk. As a child I would make up songs while playing with my toys and record myself on my tape recorder.
Fast forward to now
- I am grateful to have my own little home recording studio (I call it the "Saraswati Lounge") with very basic but sufficient music recording gear where I produce my original music and share it with the world. Presently I do this ALL MYSELF- from beginning to the end- and I am continually learning and growing more in my music production abilities. I have accumulated an eclectic and wonderful collection of musical instruments and worldly inspirational influences which I love to create healing soundscapes with. I do perform live, from time to time, on the U.S. west coast, Hawaii and occasionally internationally as well. I especially enjoy offering my music in more intimate and/or ceremonial settings.
The songs that I share are my prayers, visions and invocations for realizing the Truth within us all- that we are all connected in the presence of love and we are conscious co-creators on this planet, each here to play our part and share our divine gifts. It is my wish that my songs will help heal, open the heart and nurture the seeds of awakening in all who choose to listen and receive.
*IN ADDITION to creating Music, I ALSO create visual art (such as the tapestry seen behind me in the video below and lots more, including custom digital art/design for inspiration spreading beauty!), and I craft healing botanicals- salves, tinctures and anointing oil blends. 
THANK YOU~MAHALO~GRACIAS~MERCI~DANKE~GRAZIE~TAK~ありがとう~

Become a patron to
Unlock 56 exclusive posts
Connect via private message
Recent posts by Mary Isis