Matt Fradd & Team
is creating Videos and Podcasts
Select a membership level
Community Forum
✓ Join the conversation with other Pints With Aquinas fans by commenting in the Patreon-exclusive feed. Share your ideas and thoughts with me (Matt) and other patrons.
✓ Meetups with me. I travel quite a bit for work. Wherever I go I'll make time to host a meetup at a local pub which only patrons (you) will be invited to.



Free Book
✓ Access to monthly debates between me and Protestant, Cameron Bertuzzi 
✓  A copy of my book, How to be Happy (just pay shipping).
✓  Pints With Aquinas sticker.
✓ Regular Video reflections from yours truly.
✓ Post-show wrap up footage from Pints With Aquinas
✓ Access to an ever-growing library of audio books (Papal encyclicals, works by St. Thomas, etc.) and interviews with philosophers, apologists, and converts.
✓ Access to Aquinas' meditations for Lent & Advent
✓  Access to book studies on The Divine Comedy, Flannery O'Connor (and there's more coming!)
✓ PWA Episodes early*

✓  Plus all previous rewards.

* On certain episodes

Beer Stein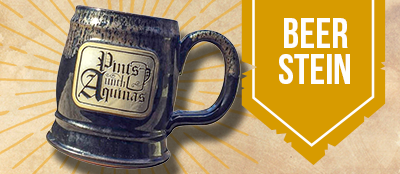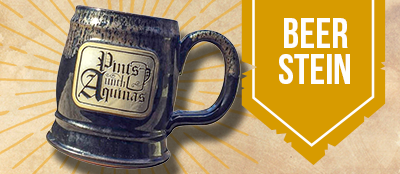 ✓ Exclusive PWA Beer Stein* or PWA Crystal Whiskey Glass (Just pay shipping)
✓  Ask my guests questions (on both Pints W/ Aquinas and The Matt Fradd Show).
✓ Monthly video talks on the spiritual life by Fr. Gregory Pine.
✓ Monthly Debate breakdown vidswith the Catholic debater and me.

✓ Plus all previous rewards.

*May be delayed due to Covid.

About Matt Fradd & Team
When I began Pints With Aquinas (PWA), it was to get a little extra credit for a philosophy class I was taking.

If you had of told me back then that PWA would be—as of today—downloaded well over 
10 million
timesin over
150 countries
, and that just to keep up I'd have to hire a small team of people to help with the recording, planning, editing, and distribution of the show ... I'm not sure I would have believed you.
We have been blown away by the amount of emails received from folks telling us they became or are becoming Catholic because of this show. Here's what what man wrote:
Hey Matt!! I just joined your Patreon and wanted to say that you have been a blessing in my wife and I's life. I've been listening to you for 4-5 months now and I have learned so much. I am in the beginning phases of joining the Catholic church. I start RCIA classes this Tuesday and I am PUMPED. Keep doing what you are doing man. God is using you to reach people and be a blessing to them. Hope to one day meet you just to say thank you. Be blessed.Here's why your support is essential for PWA
to keep going strong. In a word, water is free, whisky costs money (ever heard that saying? I love it). We have many expenses. Here's what your generous donation will help cover:
A team of people making this happen (social media marketing, graphic design, fulfillment and shipping, video and audio editing, etc. etc.).
Flights and hotels for my guests who fly in from all over the country to be on PWA.
Website development (a brand new one is about to drop).
Our missions into developing countries (long story but basically every year we go to a few. developing countries for free to help them share and defend the faith. They pay $0).
The cost of writing books (Those suckers don't write themselves).
Our online book studies for patrons.
and much more. ... Seriously. I know people usually say "much more" when they mean "nothing more," but we have much more ... it's just hard to sum up in bullet points.
Hey, you! Yes, you. ... Thank you for being apart of this.
Matt Fradd 

Once we reach this goal I'll be able to hire a full time video person. Think of him as Joe Rogan's Jamie. I need a Jamie. Desperately. Hoping y'all can help.
1 of 1
Become a patron to
Unlock 1,143 exclusive posts
Connect via private message
Recent posts by Matt Fradd & Team
How it works
Get started in 2 minutes