WHO IS THIS GOOBER?
My name is Matt Magnone and I own a YouTube channel
and make videos about
those infamous claw machines as well as other arcade games. I was an extremely shy kid growing up and never knew what I was good at in life. Ever since being partnered with YouTube in December of 2011, I've been living my dream and doing what passion lies in my heart, and that is making videos that people enjoy, and entertaining a worldwide audience that shares this interest about claw and arcade games I've had my entire life. Many people enjoy my craziness and enthusiasm for these games, and others I have made a positive impact on their personal life... and that to me is priceless.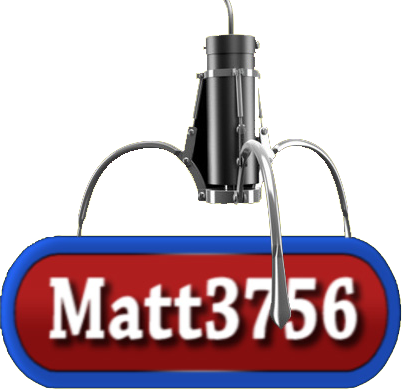 WHY AM I HERE?
I decided to join Patreon as a chance to help keep improving my videos and reach my goals of doing positive things in this world, as well as being a good influence / role model for my younger viewers. I've worked very hard over the past several years to grow my viewer base to what it currently is, and I'd like to make the best, most entertaining videos as possible for all of my awesome viewers as well as do good gestures on a more grand scale to make the world a better place in general!
OH EM GEE, ARE YOU MAKING PEOPLE PAY TO VIEW VIDEOS NOW?
HECK NO! Please read on...
I'd like to reiterate this next statement and make it very clear to everyone that Patreon WILL NOT replace the videos I am doing for YouTube normally every week. If zero people pledge, I will still be doing what I love which is making my YouTube videos for you guys.
PLEASE do not feel obligated to pledge if your finances are insecure, or if you feel that my videos will stop if you don't pledge... not true! If you are able to pledge, fantastic, and I greatly appreciate it. If you don't want to pledge, not a problem at all, and keep watching my weekly videos like always! Your support either way means the world to me! :)
Since most of my videos require me to spend money on the claw + arcade games that I play in my videos, I'm hoping Patreon will allow me to do even more for my viewers by being able to travel more to play different machines, make longer videos, do cooler giveaways, and more awesome stuff. I'm doing Patreon in hopes to benefit my fans more, because without the awesome support of all my viewers, I wouldn't be where I am today.
EXACTLY HOW DOES THIS WORK?


Pledges for me are based on a month to month basis. You simply specify the amount you'd like to contribute each month. Even as little as $1 is cool beans. You can set caps so you don't go over your budget, and you can cancel at anytime. No bullcrap. It's pretty simple.
WHAT DO I GET IF I PLEDGE?
Mosty importantly, patrons will help IMPROVE my videos. Here are some things funding will go toward. Keep in mind some of these might change and I will also be taking suggestions from my viewers on what they would like some of the pledging money to go toward:
Longer videos more frequently -  (20 minutes or longer)
Traveling - assist me with traveling to different cities and even different states to play games. Not only does this give you guys an awesome, fresh variety of new and different locations for videos, I will also be able to travel to do free meet and greets out of state at malls, arcades, etc. 
Invitations to exclusive live shows like Google Hangouts and blog shows where fans will get the chance to talk one on one with me and more. Heck, maybe even over the phone!
"Behind the scenes" videos available only on here. 
Better filming equipment - From lighting, to better cameras, to microphones so you can hear me in the arcades better, funding also goes towards new gear to keep improving my videos for you guys! 
Better FREE giveaways - Giving back to my viewers is TOP priority. Not only will patrons who fund have access to exclusive free giveaways on this site, I will be able to offer better prize giveaways for the entire channel as well. Some prizes might include Ipods, tablets, cameras, and more! Patrons, as well as all viewers, will both have access to free Matt3756 merchandise giveaways including shirts, hats, tote bags, + more!
Thanks for checking out my channel and hearing my goals!
Piggy thanks you as well...