Maxima Kahn
is creating magic through poems, essays, music, dance and more
Select a membership level
IMAGINATION
Welcome and thank you! You are an extraordinary being.
For buying me a coffee each month, you receive:
My love and deep gratitude.
First access to my new creations, hot-off-the-press, long before anyone else sees them.
Access to my patron-only posts, featuring an intimate, insider look at my creative projects, process and methods, updates on my creative life and the low-down on how I navigate being an artist in the world.
Links to new blog posts, essays and published pieces.
Invitations to readings and performances. 
The opportunity to make comments and ask questions about anything I share here. I love to respond!
The joy of knowing you are bringing forth art into our world and contributing to a world where artists are valued for their contributions.
INSPIRATION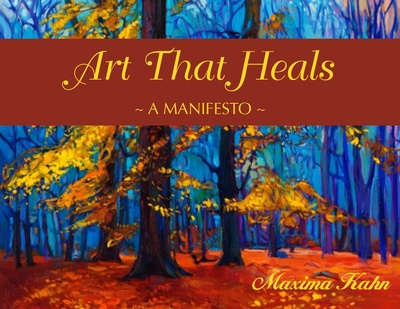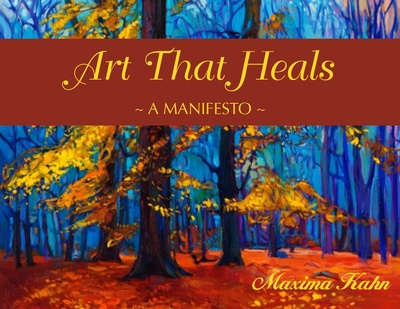 You are a light in the world. It makes a big difference when patrons join at this level. Thank you!
You get ALL of the benefits of the previous tier PLUS:
"What's Inspiring Me Now"—regular posts in which I share recommendations to the music, books, movies, art, ideas and other things that are rocking my world, so you can get inspired too.
My exquisite PDF e-book "Art That Heals" sent to you.
PLAY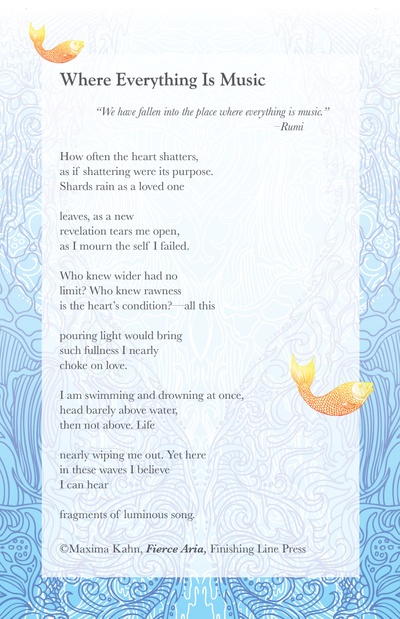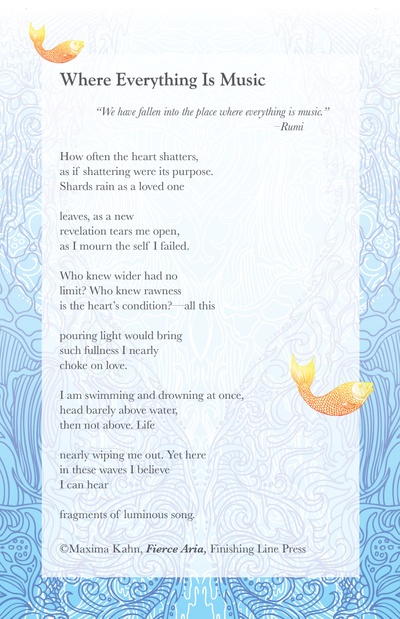 Oh wow! You are a priceless creation. You get ALL of the above benefits, PLUS:                     
A signed, illustrated broadside of my poem "Where Everything Is Music" mailed to you with a personal message from me.
The monthly Creative Theme & Prompt—exciting ideas and topics to inspire your own creativity.
My yearly "Feast," a gorgeous, illustrated collection of selected pieces of mine that were published during the previous year, in downloadable PDF e-book form, just for patrons.
My e-book "6 Essential Ingredients of a Thriving Creative Life."
About Maxima Kahn
Thank you for finding your way here!



I have been obsessed with making art and the creative process my whole life. And if I don't do it for even a few weeks at a time, I start to feel very, very bad indeed.
I am a poet and writer, dancer and musician and teacher of creativity. I seek to bring beauty and truth, wonder and imagination, play and connection into the world and help others to unleash their creativity and aliveness.
I'm eager to share that with you.
But it's not easy to survive as an artist in this world, so that's where Patreon is such an amazing win-win for all. Let me explain.
As a patron of mine, you'll get insider access to my creations and the process of creating them and getting them out in the world. Things I share nowhere else. You'll see some of my art long before anyone else does. Plus works-in-progress and how they evolve. I'll share creative tools, ideas and inspirations with you. You'll even get to give input at vital points along the journey. And you'll get a bunch of other extremely cool bonuses, which you can see in the tiers.
Read on or just become a patron now!
What do I create?
Writing:
I write poems and essays that have been published in numerous literary magazines and on popular blog sites. My full-length collection of poems,
Fierce Aria,
was published by Finishing Line Press in Spring 2020, and I am already at work on another collection of poems.
I also write my own blog on creativity and artful, soulful living. (Links to my websites are at the end of this.)
Lately, I am working on a book on how to ignite and sustain the fires of a creative life.
Music:
I am an award-winning composer and avant-garde violinist. These days I occasionally create and play music with my amazing music partner, Randy McKean, as the duo Sawbones.
Dance:
I have met nearly every week for coming up on 20 years with a small, devoted group of dancers. As the troupe Shadow Cabinet, we create semi-improvisational dance-theater performances with live music
,
and have a devoted local following.
When you become a patron, you'll learn about these projects, share in them, and get to support their birth into the world.

Win Win
Society needs its artists to be trailblazers, way-showers,
to make human life navigable and inspiring, to remind us of what matters most.
Artists need to eat, to have a roof overhead, and time and space to create.
Since I write poems and make avant-garde music and dance, the money has not exactly come flooding in every time I contribute a little gem of beauty, truth, inspiration or grace to our world. I've lived most of my adult life with a heavy dose of financial challenge, as I've tried to salvage as much time as possible to make my art. The demands of making a living often rob me of so much creative time and energy.
I love teaching and don't plan to stop, but doing less and having a source of steady income would make a huge difference in my being able to make more beautiful, astonishing things, grow as an artist, and be of better service to our world.
My aim is to earn $1000 a month from Patreon, at which point it begins to make a real difference in my creative life. That will probably require around 150-175 patrons. If I can earn more than $1000 a month, I can better support my creativity by attending more workshops and conferences and hiring editors and such. This is vital to my ongoing growth as an artist.
Our world is in dire need of the best that each of us can give. But I can't do that alone.
If you support me here, I can avoid imploding, which would be messy.
In the End, the Love You Take Is Equal to the Love You Make
You will be making a big difference by joining my merry band o' art-lovers here.
More creations will flow into our world, upsetting the power balance of the power mongers, who aren't very fond of values like compassion, generosity, heart, soul, wisdom, beauty and wildness—the very values my art upholds and seeks to bring forth. You'll get the amazing boost of juicy goodness from knowing that you had a hand in these creations being born.


But that's not all. . . Immense waves of gratitude will immediately start winging their way to you, along with poems, essays, beauty, inspiration, guidance and tools you can use to foster your own creative life.


You can be a part of my creative tribe for as little as $3 a month (the price of a coffee these days). If you can join at the $6/month level or above, that is really helpful, as it adds up a whole lot quicker.
What goes around comes around
For the past bazillion years I have donated over 10% of my gross income to charities, including a combination of social justice, environmental and arts causes.
I donate because I know the money I receive comes from Source. It is a blessing and a gift and is meant to flow where it's needed. It feels incredibly good to be a part of that flow of giving and receiving, and it promotes right relationship with money.
I want to invite you to step into the flow more fully by becoming one of my patrons, and see how it can bless your life.
To a world of art!
Love, big thanks and magic to you,
Maxima
P.S. You can find my teaching work and my fabulous blog
Creative Sparks
at
https://brilliantplayground.com
. My poems and writing life live at
https://www.maximakahn.com/
This is my first goal and I would be absolutely thrilled to reach it! This provides me with enough to buy about half of my groceries each month. We don't want our artists to be starving!

1 of 4
Become a patron to
Unlock 200 exclusive posts
Connect via private message
Recent posts by Maxima Kahn
How it works
Get started in 2 minutes