Mecca Bos
is creating Food Writing, Culinary Pop Ups, Podcasts, Black Girl Magic
Select a membership level
Taster
Support a starving artist:
Fact:
Journalism, in the blog economy, doesn't pay much. Even when you are working for the big time titles. True story: 
When I had my first piece in the New York Times placed this July, the editor I was working with said: 
"We're not the biggest money bags in the industry," when we broached the subject of what they could pay. I laughed, and said I had heard that somewhere before (read: everywhere.) 
I don't know who the biggest money bags in the industry are, but I've never met them, just like I've never met a rich man I could fall in love with, but that's another story. 
Or, maybe it isn't. Because the truth is, I've fallen in love with this industry, and just like the food industry, journalism can be a cruel mistress. You rarely reap what you sow, but you accept that fact as the cost of doing business, and of being in love. 
At this tier, you will help me offset the general expenses of what it takes to try and be a freelance writer in the blog economy during a global pandemic. (Just typing that made my bank account whimper.) 
UPDATE:
Since Abe has started his J School grad program (whoo hoo, Abe!) I will be embarking on a quest for a solo podcast or radio show.
Over the summer, Abe did all of the editing for the podcast that we co-hosted, Super Delicious, and I'm ever grateful. But now it's time for us both to fly solo. At this tier, you will be supporting my search for a new editor, possibly someone I can pay, and the general crusade towards finding and securing a platform for a pro show.
Gratitude:
Please know that I take none of this for granted. Each and every dollar of your support makes me feel like someone cares. And it keeps me going. And that is priceless. 
*Surprises in all levels
can (and will!) include bonus musings, peeks into my kitchen, recipes, kitchen tips and tricks, edible and audible pop-ups, more. 
Slurper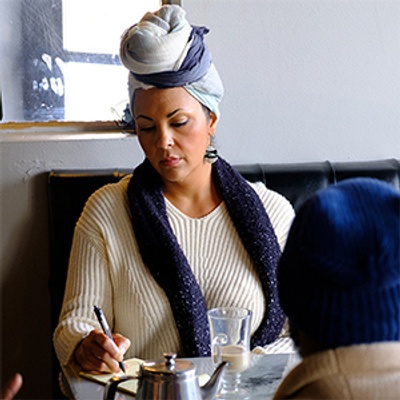 Weekly blog updates (with recipes and kitchen tips!) from my office (my couch):
If writing does anything, it offers an outlet, a repository, for pent up thoughts and "the feels." Writing is arguably one of the most vulnerable things a person can do. You're literally reaching into your soul to make an offering to your community. Lots of people won't like what they see. But a few will.
At the beginning of the pandemic, I started writing a "25 Minute Quarantine Stories"-- quick and potent shots that captured the mystery, poignancy, and oftentimes sadness and fear of the times, as well as a medium to express my love of faux cheese products of all kinds. 
I've pressed pause on the quarantine stories for the moment, as we all bid farewell to the summer and attempt to understand what "Back to School" means during this unprecedented moment. Instead, I'll be posting a weekly update here, seen through the lens of food, often with "the feels" of the pandemic and the social justice uprising infused within, like the subtle waft of cardamom (not subtle.)

Often, these posts will include recipes and other musings from my couch (my office). 
Plus everything in previous tiers. 
Bon Vivant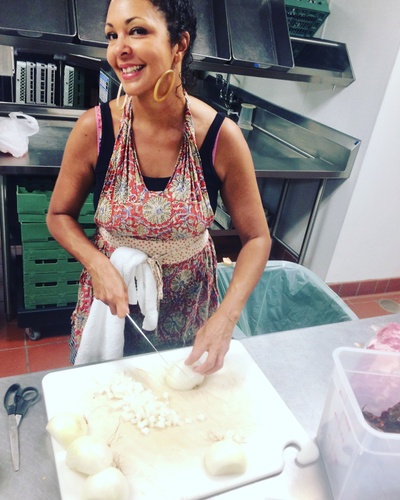 Support (and get first and exclusive access to) larger writing projects:
My first large independent writing project will be a deep-dive into Black Northerner food personalities that have been invariably overlooked or whitewashed by mainstream media. 
After 20 years in the business, I have noticed an acute lack of stories that highlight Black people doing important food work in the North. 
Since I have no strong familial ties to the South, my status as a Black chef hinges on understanding African American foodways as it pertains to the place I am from-- Minnesota and it's surrounding communities. 
As I enter my third decade (!) as a chef and food writer, I consider this topic to be my life's work for this phase going forward, and I expect it to evolve and change accordingly. 
At this level, you will get a first look at this work, and it will be exclusive until it (hopefully!) finds a wider, national audience. 
Stay tuned. 
Plus everything in previous tiers. 
About
If you've made it this far, you probably already know me a little bit, but if not, here goes:

I'm an unlikely dining critic, because I know too much about what goes on beyond the plate. I'm a reluctant food blogger because click bait is cheap. I'm a passionate chef, who, like so many in this moment cannot feasibly or safely ply my trade. I'm a reluctant influencer, because my grandparents taught me to be humble and self-effacing, and the thought of self-styling celebrity makes me recoil. I mix real life into social media, because I believe reality is more fascinating than any facsimile by a long mile.

For six years, I conceived and wrote the food section of the long, lost, but beloved Metro Magazine in what was still the golden age of magazines (no blogging!); I spent nearly three years as food writer and dining critic for City Pages, and my list of bylines and contributions locally and nationally is long: Mpls. St. Paul Magazine, Minnesota Monthly, GoMN, MEAL, MPR, Twin Cities Live, Travel and Leisure, VICE, TASTE, PASTE, NYT, others.

While I'm grateful for these opportunities, many MANY of my ideas die an unnatural death because there's no home for them-- mainstream media is still filled with strictures and gatekeepers, and if there's one thing I've always demanded it's FREEDOM! Seriously, like Braveheart level shit. Come to me and read, so that neither of us have to be chained to the unnecessary shackles of corporate media (or even "alternative" media, which in this town is a misnomer, since the alternative paper we used to rely on is now owned by big media-- just sayin').

I'm a black woman cooking professionally for twenty years-- for this alone I deserve a medal of endurance, believe me. I've worked in many of Minneapolis' most lauded restaurants and other kitchens, most recently as chef of Eat for Equity, but also Grand Cafe, Lucia's, The Birchwood, and many more that have come and gone; and I can't forget some thrilling moments behind cheese counters (yes, cheese is thrilling!) on farms, in refrigerated delivery trucks, under tents, on canoes, in firetrucks, in broom closets--all while slinging food. Well, mostly slinging food, anyway.

With one foot firmly planted in the newsroom and the other in the kitchen, I've found it maddening to have to choose, so I haven't. Why would I? I get to make the tamale pie and write about it too. My self-styled career has often led to a do-things-my-way approach to life which often results in one-way plane tickets and travel blogs to nowhere. Now they're going to have a somewhere. When the world opens back again, I'll take you with me. Won't you come with me?

Come with me to get scoops (I got 'em! ) 25 minute quarantine stories, longer quarantine stories, forget-about-the-quarantine-stories, things about my industry that I REALLY HATE (these would be hot takes) hot tips (from my kitchen to yours) recipes, hand-delivered (from a distance) edible surprises, audible surprises from my podcast Super Delicious, and more, more, more!

Since we can't go to the restaurant, the bar, the dinner party like we once did, can we gather together, like this? Let's have each other's back until we can raise a toast again.

Cheers, babe.

Become a patron to
Unlock 19 exclusive posts
Connect via private message
Recent posts by Mecca Bos
How it works
Get started in 2 minutes