Meghan Taylor
is creating Art, Writing, and Comics
Select a membership level
First Dibs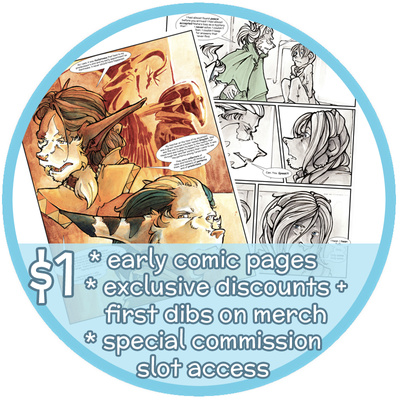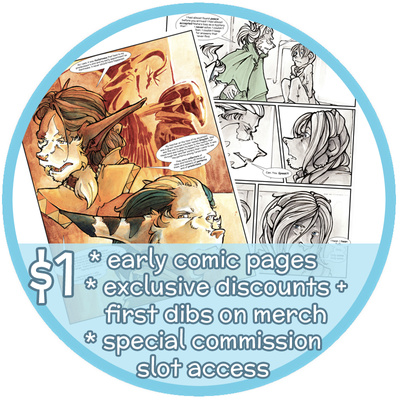 Early Access Tier! New Prophecy of the Circle pages are posted here on the weekend prior to when the public gets to see them. You get to know the secrets before anyone else does. ;D

Commission Access! Occasionally I'll do commission runs exclusively for Patrons, and starting at this tier I offer exclusive commission discounts for Patrons.

Suggest-a-Sketch posts are also available starting at this tier. These give you guys the opportunity to give me ideas to doodle from (Doodles pop up in the $2 tier and go public a couple of days later). There's no guarantee that I can sketch all of what's suggested, but I'd sure as heck try. :)

$1 Tier Commission Bonus - 5% off

A Look Inside My Head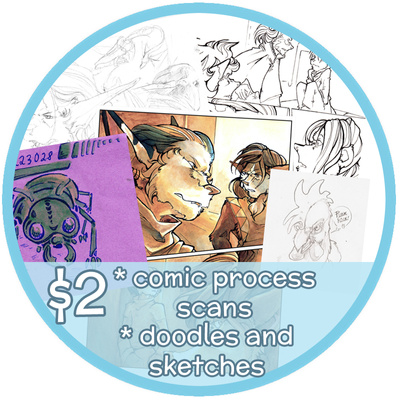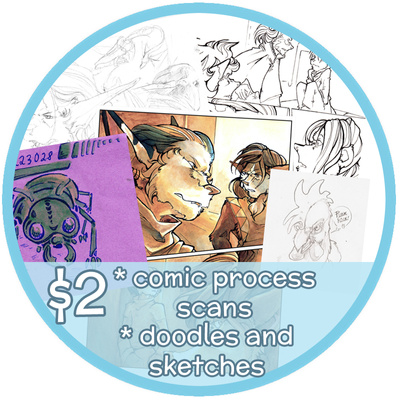 There are considerably fewer brains involved in this one than one might expect...

You get everything in the $1 Tier, plus:

At this tier you get to see process scans for Prophecy of the Circle like initial page sketches, pencils, inks, and what the pages look like without all of those word bubbles on them.

You also get early access to the doodles: warm-up sketches that I do before drawing comics or larger projects and the things I scribble onto paper scraps when I'm bored. If they've been coloured, these have Patreon-exclusive extras in the form of the original pencil sketches.

$2 Tier Commission Bonus - 10% Off

Watch Me Work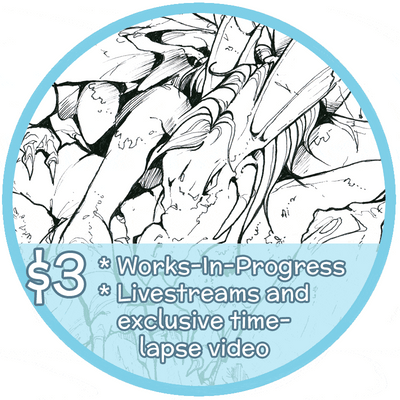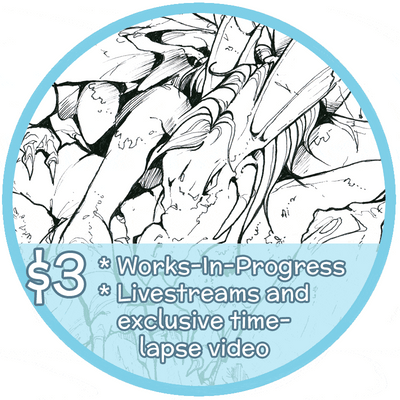 You get everything in the $1 and $2 tiers plus you get to watch me draw non-comic art. Here is where I post pencils, inked pieces, and progress shots of all of my art as I work on it and, sometimes, time-lapse watch-me-draw videos (and maybe Livestreams*? *(not a thing I've mastered yet))
$3 Tier Commission Bonus - 15% Off
About Meghan Taylor
-----------------------------------------------------------------------
There has never been anything more important to me than telling stories and making art, and the thing with telling stories and art is that they don't mean much if no one is around to see them or read them. With your help, I can not only get those stories finished faster and better, but I can spread them to a wider audience and give them real life. That's the dream. 
I currently have a whole passel of novels trapped in my head and wanting to get out. As a patron, you can access my world-building sketches, read what I write before anyone else has a chance to see a word of it, and even get a chance to offer feedback and make those stories even better before they're released into the world. Since 2010 I've also been creating a serial webcomic called The Prophecy of the Circle, and here you can both watch me create it and read it earlier than anyone else. You can watch me make art. You can get a shot at directing what I sketch during the month. You can help me in so many ways.
And if I reach enough funding, the reward is that I can do even more. Money is time, and if I could spend all of my time on making new things for others to enjoy, you absolutely bet that I would. You can make it happen, and, to play off an old and obnoxious but true adage, most of it costs less than a fancy drink from Starbucks. At its most elaborate, all this costs is about equivalent to two really fancy drinks from Starbucks! One for you and one for a friend. 
Thanks for reading! I hope you enjoy what you see.
Bonus Materials Note!
I also often appear on my boyfriend 
Tim's Patreon page
where he creates cosplay costumes and props for the both of us.
Part Time Artist!

If we reach this goal, you're paying me about half of what a basic full-time day job pays me in a month! Whoo! That's a better stress reliever than anything on the market right there. 
1 of 4
By becoming a patron, you'll instantly unlock access to 1,697 exclusive posts
By becoming a patron, you'll instantly unlock access to 1,697 exclusive posts
Recent posts by Meghan Taylor
How it works
Get started in 2 minutes