I'm
Steve Troop
and I created
Melonpool
in 1978. That's not a typo. I've been drawing this little spaceman since I was six years old. My comic strip has appeared in four school papers (1984-1998), a four-issue comic book series in 1996 and as a (mostly) daily webcomic from 1996-2005. This last run produced 14 books, all available through 
my website
.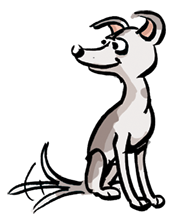 Melonpool
is the story of the crew of the
"Steel Duck,
" a giant-hamster powered spaceship commanded by a sci-fi addicted captain as he explores the galaxy with his crew consisting of a hyper-intelligent dog, a mad scientist and the mad scientist's "evil" clone (who's actually a nice guy).
In 2014, I rebooted the strip, which runs daily at 
melonpool.com
. There are multiple perks to supporting me through Patreon, including access to
Melonpool
works that are no longer online (or never were). It also puts food on my table and keeps my dog happy.
Thanks for your support!