Meokwainee
is creating Illustration & comics.
About Meokwainee
Well hello there, I'm Meokwainee.

I'm a French ambitious artist who loves fantasy and monsters so this is what I mainly draw. First of all, I learned pretty much all my English watching videos & vlog of my favorites artists on youtube so I have to apologize by advance for my mistakes. Please excuse my French!

On this Patreon I want you to have a better clue of what I do because if no one knows how could they even care? It would mean having a youtube channel ( gosh I am as excited as scared :D ) showing "behind the scene" videos and vlog. Even if, whatever happened, I will start showing videos on youtube, I want my patreons to enjoy the exclusivity in a few things :

> Strawpolls and personal advice ... What about for each print I send I make a theme for each month. I make you choose between 3 propositions. For example: Vampires, Fairy, creatures from the swamp ...

> Special Patreon streaming as soon as I could manage the settings for this you definitely will benefit special exclusive streaming, And you could see before it gets to the vlog special events and important moments of my art path.

I feel like I need this today in order to improve my art instead of always making everything all by myself. I'm already thanking you if you already just had the intention to help me, and chose to follow me on that journey, You are awesome! I should thank you with prints, Postcards, and Zines and maybe, with time and money, stickers and much other stuff that should come over!

Your contribution, in addition to everything that has already been said, helps me to get better material and propose you a better content (better sound, better features ....) But mostly helps me to get better in my art and live on it. So thank you for your consideration, your help, and your support. It will always mean the most.

_______________________________________________________________________________

Coucou tout le monde moi c'est Meokwainee.

J'ai toujours eu une obsession pour ce qui touchait au Fantastique : les monstres, le médiéval, le steam punk, la sorcellerie et j'en passe. Le but de ce Patreon est de m'imposer un rythme de travail, autour d'une thèmatique que mes patreons et moi-même auront choisi ensemble. Même si j'ai déjà commencé cet exercice, et me suis mise à lancer des vidéos sur youtube qui resteront libre à la portée de tous, je voudrais que mes patreons aient l'exclusivité sur certaines choses.

> Votre avis compte beaucoup pour moi. Les Patreons ont une influence importante sur ce que je produit et choisissent avec moi la thématique du mois. (par exemple : vampire, fées, monstre du marais ... )

> Accès exclusif à des streamings "spécial patreons", des FAQs. Vous serez aussi les premiers au courant d'évènements importants qui seront postés avec décallage sur les réseaux sociaux.

J'ai plein de projet pour la suite (zines, prints, stickers, badges ...) que j'espère mettre en avant, selon si cette page et mes aspirations vont dans le bon sens. Je suis plus que d'attaque pour vous proposer le meilleur contenu possible ! Voyons ensemble ou ce voyage nous mène :)


Select a membership level
Little Crow.
You are now a Patron and you may see everything on this page ! Watch me grow ! :) 

Vous êtes maintenant un Patreon ! Vous avez accès et pouvez voir tout ce qui est posté sur la page !  Bienvenue !!
Great Crow
Each month, you will receive a few prints of what I do around the theme we will have chosen together.

Chaque mois, vous recevrez  des impressions que j'aurai réalisé autour de la thèmatique que nous aurons choisi ensemble.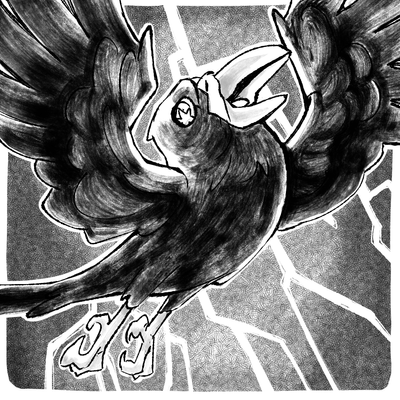 Majestic Raven
Limited (20 of 20 remaining)
Great Crow pledge + you will receive a signed original art I'll do specially for you each month.

Vous recevez tout ce que contient le pledge du Grand Corbeau, plus un original signé que je vous enverrai chaque mois.
Recent posts by Meokwainee