MercifulServant
is creating Powerful Video Content
Select a membership level
MERCIFULSERVANT MEMBER
Basic membership to MercifulServant media with vip access to all digital content online.
MERCIFULSERVANT MEMBER (+4 Reward)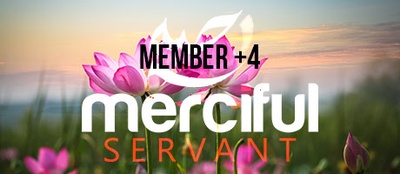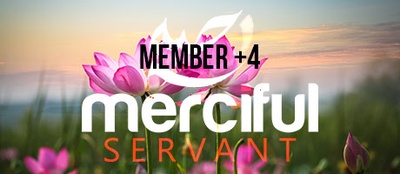 Basic membership to MercifulServant media with vip digital access to all content online and contribution towards 4 FREE MEMBERSHIPS!
MERCIFULSERVANT MEMBER (+9 REWARD)
Advanced Membership
VIP membership to all digital content online
Contribution towards 9 Free members (for those less fortunate)

About MercifulServant
Asalamualaikum Warahmatullahi Wabarakatuhu,
Bismillah, Our YouTube channel was terminated recently (without any reason), we had to contact YouTube to get it restored Alhamdulillah!! the down time was only a few hours but this was a wake up call, so for the safety of our content and community we have taken steps to create this membership page for the mercifulservant channel, so we may continue to produce content and deliver our work to our viewers and members with safety.
MERCIFULSERVANT MEMBERSHIP BENEFITS?
Members will receive our exclusive video content directly!
(before it is released on YouTube or anywhere else online!)


ALL Patrons will have early VIP access to our digital content online!
Download our videos with just one click and watch them offline
Receive Audio Versions with every new reminder we produce
There will be no adverts to worry about on the videos we send you!
You will be given lifetime access to our video platform (once launched) where all our older videos will also be available to stream.
Unreleased Reminders (produced for members on patreon only)
Direct Contact with our team via Patreon Message (we will respond to all messages here)
Make Video Requests (directly with our team)
$10+ Patrons will also receive physical copies of books and magazines (every time the knowledge from our channel is compiled together) - delivered to you worldwide!
$20+ Patrons will receive all our content physically (EXCLUSIVE MERCIFULSERVANT USB BOX) with all our video content and certificate of support from mercifulservant media will be sent to your door every Ramadan. + Bonus USB drives will be created and shipped for every complete series on our channel! accompanied with limited edition books.
More Rewards and Perks will be added as we grow!
None of the membership rewards we offer are available for purchase, they are exclusive collectable items for our members only and are created with a supply only limited to our members on patreon, if you are a member and would like to request additional free items for your friends or family please inbox us once we notify you of shipping.
Alhamdulillah we believe that this is the best and most secure way to move forward.
with this system in place we can continue with our work and operate completely ad free for our members with safety and security.


If anything happens to our channel or our social media accounts then we will continue making videos regardless and get them sent to you directly!
If anything is shutdown we will simply migrate to a new platform and inform all our members by email or text with instructions.

Alhamdulillah (All Praise belongs to Allah)

So how does it work and how much does it cost to be a member?
If you are unemployed, under age, or do not have a card or no means to support us financially then you will be granted free membership! just email us with details of your circumstance and we will grant this to you with love, peace and compassion. 

For everyone else who is able, We ask that you support us with as little as $1 a month (that's only $12 a year Subhan Allah) we have made our membership plan affordable for everyone leaving nobody out! 

For those who have been blessed financially and can offer a little more support for our work your reward will be from Allah (swt) anything more you donate above $1 you will be contributing towards the memberships of those who cannot afford a membership! thus we work collectively as an ummah helping

 

each other. 

We believe that this is the best and most beautiful way to operate.
Allah (swt) is indeed the most merciful and has provided us with these solutions to be prepared if and when the oppressors decide to censor those who spread the truth… we truly believe that the recent events were a warning for us from Allah (swt) to be prepared for the worst, and not to be among the heedless!

YouTube have also warned us recently that the laws are changing (with Article 13 for example) it will mean that billions of videos will be lost and no longer viewable, and many channels shutdown! not just on youtube but on ALL platforms including facebook, instagram and others!





Email received from YouTube



Unfortunately we are moving towards a world where the internet will be controlled (by the wealthy few who control the mass media) anything that does not support their agenda will be stopped!

Alhamdulillah this has not happened yet… But we cannot guarantee that our channel will be here tomorrow so if you are truly a supporter please join us and become a Patron of our channel today.

All information the required information will be collected when you sign up as a Patron (please use a valid email address and if you change it then email us with your new contact details) 

We will be launching our new membership system next month (December 2018) and will provide video instructions to all our Patrons right here with what steps need to be taken.

Our non-Patron Members will be emailed directly, for all enquires and free memberships please email us at [email protected] or message us here.

Jazzak Allahu Khairan.


BUT WAIT.... 
WHY SHOULD I SUPPORT MUSLIM VIDEOS?


For those who claim that muslims producing content should not accept any sort of funding do not understand how videos are made or the costs that are involved in video production, the faithless spend millions if not billions on media because they have understood the power that comes with visuals and sound (digital media)... but some muslims do not wish for us to excel in this field even though our message is the most important message that will ever exist! May Allah have mercy on them and grant them understanding.
Who is MercifulServant?

MercifulServant was launched in 2010 we are one of the early pioneers of Islamic reminders on YouTube dedicated to creating high quality educational content about Islam, since the channel was launched we have created over 1100 high quality videos reaching over
380 Million viewers
(on YouTube alone!) and we have gained the support of nearly 2 Million unique Subscribers on YouTube Subhan Allah making us today the worlds largest Muslim YouTube channel. 
Alhamdulillah thousands of people have embraced Islam and gained guidance (by the will of Allah) through our channel, the quality of our content and videos have been improving every year! but we are still nowhere near the vision we have for our work.
Our goal is to inspire muslims to learn and love their religion and to educate those who do not know about Islam, we have many non-muslim viewers who are keen to learn more about Islam before taking the steps to embracing the religion In sha Allah.
Unfortunately we live in a time where the media has a grip on the minds of the masses and the mass-media paints a very negative picture of Islam, we hope to counter the negativity by spreading the
true and pure message of Islam 
with powerful engaging content.
Why do we need your support and donations to do this?
creating professional videos can be expensive and time consuming, a lot of work goes into each and every individual video, below are just some of our general monthly costs;

- Video editor (to complete all video subtitles)
- Nasheed Artists (to record exclusive backing vocals)
- Professional Voice Artists
- Speakers for exclusive content and series work
- 3D Animators for exclusive graphics
- Royalty Free Images (Copyright free images for production)
- Monthly Costs for Editing Software
- Visual Graphics (After Effects and 3D Visuals)
- Buy High Quality Footage (for some videos we spend thousands just to cover the costs for footage alone)
In sha Allah with more Patrons we can increase the budget for our videos and you will notice our video quality improving more and more!
Your support will allow us to continue to produce the highest quality content possible which reaches more than 9 million viewers every month! (the reward for your support is truly priceless) this is one of the
greatest forms of Sadaqah Jariya
(which will continue to benefit you and others even after you leave this world)
By donating as little as $1 you will be contributing towards a positive change in this world through muslim media which is most definitely lacking in the world today. 
Future Goals
In sha Allah 
If we can reach a high level of support from our viewers we plan to setup
MercifulServantStudios
, this is our
ultimate vision
... our own production studio with Animators, 3D Graphics Designers, Visual Artists and much more... to produce amazing content.
MercifulServant TV & Radio - In sha Allah If we can reach this target we can expand even further with our dawah!

1 of 1
By becoming a patron, you'll instantly unlock access to 138 exclusive posts
By becoming a patron, you'll instantly unlock access to 138 exclusive posts
Recent posts by MercifulServant
How it works
Get started in 2 minutes