Michael Hackney
is creating art and science in 3D Printing
Select a membership level
Slack help and hang outs
Anyone who pledges at any level will get access to a private Slack chat room where I'll answer questions or just pontificate on 3D printing or other topics of interest! I'll be adding other perks along the way too.
Become A Patron and get early digital access to review copies of my upcoming book.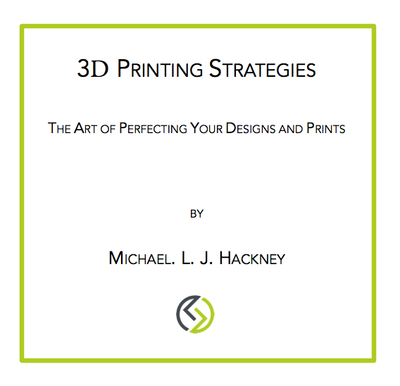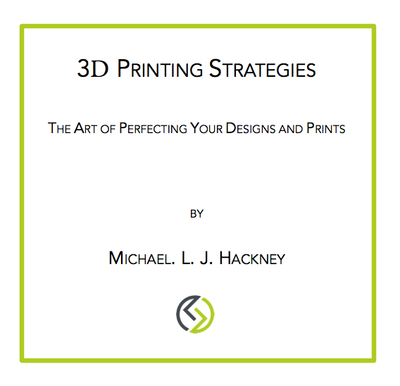 Early access to review copies of my upcoming book "3D Printing Strategies". You will be able to provide your review, questions and even make requests to improve the book. Thank you!
Access to patron-only content
Connect with other patrons
KISSlicer Tutorial Request and Guest Star
Tell me what you'd like to learn about KISSlicer and I'll create a video tutorial for it. On top of that, I'll do a short Q&A Skype session with you (if you'd like to be on the video!) as a guest star.
About Michael Hackney
I'm a 
polymath
with an inordinate attention to details. Most of my life my friends have called me a Renaissance Man – well before I even knew what that meant.
I've been pushing the envelope in FFF (fused filament fabrication) 3D printing for over 12 years. I have over a million views on my posts on 
SeeMeCNC
, 
Lulzbot
, 
UltiBots
, many other forums and Facebook groups and my blog 
Sublime Layers
is doubling in readership every 60 days! I've joined Patreon simply because many of my followers have asked if they could give me something in appreciation for the help and advice I've given them and for the unbiased, to the point technologies I explore or review. So here I am!
I got started in 3D printing in early 2005 - about a year after 
RepRap
was founded. When I came across RepRap, I realized that I had the core of a 3D printer in a CNC milling machine that I converted from an X2 mini mill. The "only" thing it needed was a hot end and extruder! Little did I realize that additive manufacturing would become an obsession and passion. I spent several years with that simple printer, tinkering off and on and making a lot of really horrid parts. But I recognized the potential and, on the rare occasion when one of my CAD designs became a real part, it was magic - and very addictive. I know where my followers and compatriots are coming from when I see the glimmer of excitement in their eyes or read their emails.
Over the years I've made some significant contributions to the art and science of 3D printing. In the early days of all-metal hot ends and the E3D V5 hot end, many of us experienced odd - barely reproducible - problems with filament jams. I spent an inordinate amount of time designing and conducting experiments that ultimately led 
E3D Online to redesign the nozzle geometry
for their (awesome) V6 hot end. I was also an early advocate for PEI print surfaces and my instructions on how to install and use them have helped literally 10s of 1000s of printers world wide. In fact, Lulzbot sent me one of their Taz printers as a thank you for my work. Several years ago I developed a functional, completely 3D printed fly fishing reel.
Field & Stream
magazine asked me for one and 
created this amazing video
. I've had a few other firsts too. I could go on and on but I'll spare you unless you ask!
Although this Patreon is focused on my work in 3D printing I do have many, many other interests and expertise, starting with my Ph.D. in Inorganic Main Group Chemistry. I hold three patents in three completely different fields of chemistry, materials science and software. I find that my expertise and experience in many other areas often provide a different way of looking at a problem or design in 3D printing - everything is oddly intertwined in that way. I own and operate 
Eclectic Angler
where I offer machined fly fishing reel kits that I develop and manufacture. I also run 
Reel Lines Press
where I publish books I've written on fly fishing as well as books from several other authors.
To sum it all up...
I'm constantly seeking knowledge, sometimes in very odd places. I am a technologist, scientist, artist (frustrated), designer, manufacturer, author, publisher and many other things. What I'm not is bored or boring!
If you've benefitted from my work or even direct help, I hope you will support me by pledging here on Patreon. Although I do what I do simply for the love and pursuit of knowledge, your contributions are a big motivator to keep me forging the new trail.
When I reach $100 per month, I'll hold a random drawing of all patrons and send the winner one of my Tranquility 3D printed fly reels customized with your first initial. I'll add one "ticket" to the drawing for each $1 you pledge. So $1 supporters will get 1 chance, $5 supporters get 5 chances.

1 of 2
By becoming a patron, you'll instantly unlock access to 5 exclusive posts
By becoming a patron, you'll instantly unlock access to 5 exclusive posts
Recent posts by Michael Hackney
How it works
Get started in 2 minutes