Michael Hopkins
is creating Caricatures, Aviation Caricatures, Webcomics and Photography
Select a membership level
Chuckle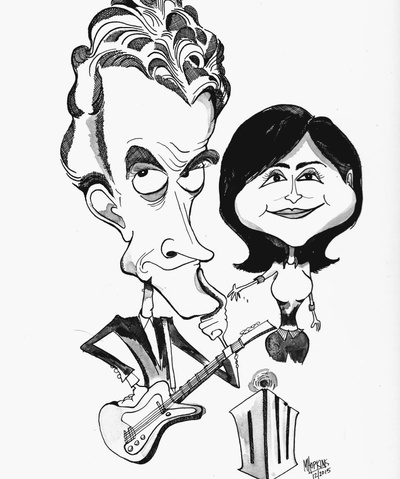 Access to patron-only content
My Eternal Gratitude
A signed Birthday Card from Michael on your birthday, including an original Michael Hopkins scribble! (You must be a patron of Michael Hopkins your birthday) and, of course, I'll need to know your birthday!
Belly Laugh
Access to patron-only content
My Eternal Gratitude
A signed Birthday Card from Michael on your birthday, including an original Michael Hopkins scribble! (You must be a patron of Michael Hopkins your birthday) and, of course, I'll need to know your birthday!
One free "Event Caricature" of the person of your choice. The Caricature will be sent to you via your email address, so make sure you include one!
About
Hello and thank you for visiting! My name is Michael Hopkins and I'm a Cartoonist. I was born and raised in Renton, Washington, a city about 13 miles southwest of Seattle Washington. I've been drawing for as long as I can remember (and those memories get shorter as I get older…). I believe I started drawing caricatures in grade school and at the same time, drawing cartoons down the side or my homework (a' la, Mad Magazine) My early caricatures, were mostly of my family, friends and making fun of teachers. The caricaturization of teachers, continued through High School, where I was encouraged by certain teachers wanting me to draw caricatures of other teachers. So basically, I was encouraged by teachers in High School, to make fun of teachers.(a nice gig, if you can get it, eh?).
After High School, although I continued to draw and develop my skills, my drawing took a backseat to getting married, raising a family and concentrating on a career that could support my family more reliably than drawing funny pictures. I found my career... the hospitality industry! I spent over 25 years in the hospitality industry, 10 of those as a Hotel Manager. Looking back, I probably would have been further in my artistic career by now, if I had concentrated full time on drawing. However, when you have five children, one needs to have one's priorities in place and feeding those children was much more important.
So fast forward to 2010 when I had my epiphany. Since I was single again (with one child left at home) and the first four children moving on in their own lives I decided to follow my passion and become an artist again. This required that I give up Hotel Management, a 24/7 position. So I gave up hotel management and started pursuing the dream.
So how's the dream been going for the last seven years? If I was writing a book, I would title this chapter of my life, "Wet Dreams and Nightmares". Although I have made inroads toward my goal of being a self employed artist, there is still not enough time in they day (while also working a full-time job) to accomplish my goal. What have I been doing? Drawing and Valet. Drawing and refueling aircraft. Drawing and bartending. Even though I believe the drawings are getting better, the output is not what it needs to be achieve my goal of self employment. This is due to the fact that I still have to work a full time job to exist. Which leads me to why I am opening a Patreon account. I want to be able to give my art the priority it needs to flourish and hopefully inspire other people to follow their dreams. I want to share my art (my passion) with as many people as possible.
How would I accomplish this? Hopefully, through the support of Patreon, I can decrease the amount of hours spent punching a time clock and increase the number of hours creating my art. Besides having time to create more Pen & Ink Caricatures, I would like to increase the number of art shows and special events I attend, where I sell these original Pen & Ink Caricatures (including my Aviation Caricatures). I would also increase the number of events (weddings, private parties and corporate events) where I draw my Event Caricatures
https://www.gigmasters.com/caricaturist/michael-ho...
.
I also have my own Web Comics, 
Missed Approach
and 
Cosmic Fowl!
and my own personal Blog, 
The Michael Hopkins Cartoons Blog
, in which I share my thoughts, experiences,  drawings and photography, with everyone who's interested.
I have future plans (dreams??) as well, maybe animation, personal appearances (to share my love of art and hopefully inspire people how to follow their own dreams). Although I have many ideas, the only thing I know for sure is that I'm not getting any younger and the future starts right now.
Join me on my journey!
Through experience, I've found the the life of a Caricaturist is similar to the life of a traveling salesman. Sure, one can stay in your area and make some extra income by performing at local gigs and local art shows, however if one wants to make a full time living from the life of a Caricaturist, one must travel. In order to make this traveling part of my profession more cost effective, I want to purchase a company studio on wheels. As such (when I reach 500 patrons), my first goal will be purchase a small van or RV, so I can travel and expand Michael Hopkins Caricatures, beyond my back yard. I'll be able travel to more art shows, air shows and special events without the added cost of airfares and hotels. This should not only increase the amount of art I sell every month, it should also (along with my Blog, The Michael Hopkins Cartoons Blog) increase the awareness of my art, beyond my local base. Also,by using this vehicle as an advertising platform for Michael Hopkins Caricatures (though the use of a banner and/or vehicle wrap) and at the same time, Vlogging  during my events, It should increase the awareness of my Michael Hopkins Caricatures, everywhere I travel.
1 of 2
Become a patron to
Connect via private message
Recent posts by Michael Hopkins