Michelle and Ollie
is creating caring collective liberation
Select a membership level
Seeds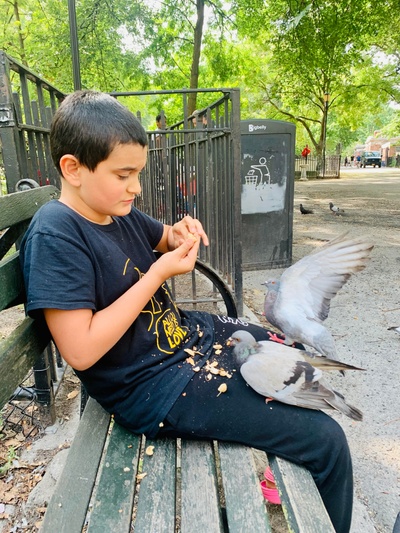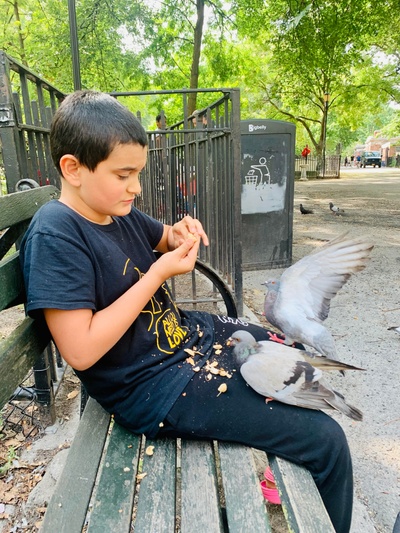 Caring Collective Liberation starts in our backyards. Literally! We feed local wildlife on a daily basis. This tier helps us provide the seeds, peanuts, and food that keep this patch of land alive. 
Patron-only posts and messages
Tolls
Much of our weekly life is spent shlepping donations. Wether it's food, clothing, furniture, books, groceries, we really rack up our Easy Pass toll fees! Having this covered will help us say yes to even more pick ups! Less things in the landfill, and more things in the hands of people who really really need them!
Patron-only posts and messages
Books
As unschoolers we know learning happens every minute of the day, wether we realize it or not. Books are so important in our growing! This tier helps us both stay in a perpetual learning mode, and also, stocking the library portion of our soon to come Lil' Vegan Pantry & Library in New Jersey. 
Patron-only posts and messages
About Michelle and Ollie
WHO ARE MICHELLE AND OLLIE?
We are a
Vegan
Mother-Son Activist/Founder Duo. We are the founders of
Chilis on Wheels
, a vegan food-relief nonprofit. In the aftermath of Hurricane Maria in 2017, we served 15,000 meals and established
Casa Vegana de la Comunidad
, a vegan and sustainable community center in Puerto Rico. We are the founders and owners of
Plantbased Plants
, a small veganic plantcare business. (Scroll all the way down for a more thorough bio, also detailing press and awards of our work) 
We are
unschoolers
,
minimalists
, and
creatives
.
Mutual aid
is part of our daily lives.
Social Justice
is our Guiding Light.
Cooking vegan food
to nourish ourselves, to strengthen our cultural identity, and to share with others, is a pillar.
Gardening
and establishing a relationship to the land in a way that not only does not harm anyone, but helps move along the process of regeneration, is a priority. Michelle is a trained
death doula
, shining a light through grief, and developing a positive and joyous filter to all of life, and death. Ollie is an avid
gamer
, with a critical eye for justice. We contain multitudes, and we work hard for the
collective
.
PATREON: WHAT/WHY?
Patreon is a membership platform for creators. We are turning to Patreon to help support us in our pursuit of caring collective liberation.
After the arduous pandemic relief efforts during NYC's lockdown in 2020, where as a team, Chilis on Wheels served thousands and thousands of families, students, and individuals with groceries, pantry items, PPE supplies, and hot meals, Ollie and I collapsed into exhaustion. Burnout, Compassion Fatigue are dangerous, and we had not had a real rest in 7 years. Leadership was transferred to the individual chapters, and in Chilis on Wheels NY was transferred over to Eloisa Trinidad who has continued to organize great vegan mutual aid work. And Ollie and I continue on a reduced volunteer basis.
In the last year, we have dedicated ourselves to heal, and we are ready now to slowly rebuild our community lives, and take up our civic duties. Between POINT A and POINT B, there is a space, that is not empty, just hazy. What's the next big project? We don't know yet. We're figuring out our Present. We're in the here and the now, breathing, grounding, listening. We do small things, and hope that you trust us and our work to know that we will get there.


CURRENT PROJECTS:
*Lil Vegan Pantry & Library in Hillside, New Jersey (in development)
*We're All Connected Podcast (in production)
*Weekly Open Office Hours (free of charge counsel for people wanting to start a vegan food relief program in their community. I'm booked most weeks!)
*Weekly Community Fridge Restocking (NJ and NYC)
*Weekly Grocery deliveries to families in need in Brooklyn (with Chilis on Wheels)
*Weekly meal shares in Tompkins Sq. Park where we've been going for the last 7 years. Still cooking! (with Chilis on Wheels) 
*Veganic-Gardening Consultations, Implementations, Workshops (with Plantbased Plants)
*Pending Permit: Thanksgiving Community Feast 2021 (with Chilis on Wheels)

YOU MIGHT BECOME A PATRON IF:
You have been inspired by our work, believe in what we have contributed and built so far in the world, and want to see more from us…
You would like to receive a monthly vegan recipe, a monthly story from "the field", behind the scene glimpses into our community projects, weekly inspiration that we find helpful, access to our creative projects (a podcast is under production co-hosted by Michelle and Ollie!), and 25% off zines, vegan recipe booklets, and veganic garden zines we are busy creating! All Patreon levels receive all this- Pay What You Can model is our everyday life.
If a one-time support donation is best for you, this is the best link for that: 
PayPal

THANK YOU!
We know we can count on you, our beloved community, to support us as we continue pursuing caring collective liberation, and as the path ahead becomes more clear. Because taking care of the most vulnerable shouldn't be a sacrifice. Because with all we give, we should be able to find some food in our fridge and pay for a roof over our heads. By supporting us, YOU get to be a change maker too. Thank you for joining us on our journey!
******************************************
For a more thorough bio:
Michelle Carrera is the founder of
Plantbased Plants
, a veganic plantcare small business. Together with Ollie, they founded
Chilis on Wheels
in 2014, making veganism accessible to communities in need; and
Casa Vegana de la Comunidad
in Puerto Rico in 2018, a vegan sustainability community center.
Michelle co-founded Latinos for Animal Protection in 2009 which served animal protection organizations in Latin America, and organized a Vegan Latinos in NYC Meetup which fundraised for Latin American vegan organizations from 2015-2017.
Personal reflections can be found in Veganism in an Oppressive World and in Food Justice: a Primer both produced by Sanctuary Publishers; and in Janet Holme's photography book, Nest. Michelle was also published in several issues of T.O.F.U. magazine. Her work has been featured in a number of vegan media, including VegNews, Vegan Italy, Thrive, Vegan Health and Fitness, Raise Vegan, Edible Brooklyn, among many others. Her work has also been featured in local news NY1, AMNY, NYC Media, and country-wide in Univision.
Michelle was listed 20 Most Influential Vegans of 2019 by VegNews, was voted New Yorker of the Year in 2015 by NY1, and 30 under 40 by the Hispanic Coalition of New York in 2016. Ollie has worked alongside her throughout it all, engaging with children on veganism and social justice, and thriving as an unschooler.
By becoming a patron, you'll instantly unlock access to 4 exclusive posts
By becoming a patron, you'll instantly unlock access to 4 exclusive posts
Recent posts by Michelle and Ollie
How it works
Get started in 2 minutes