Mighty Brother
is creating music, music videos, and community.
Select a membership level
♡ Ante-Up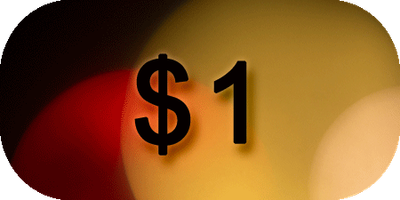 Thank you so much for buying in, and welcome to the table! It's a good table.  In interest of this metaphor, we are trying something a little different. You get all this:
Patron-only Feed
Discount in the Merch Store
Thank You Postcard to Your Mailbox
PLUS Entry into the Monthly Lottery*
Yep, once a month, we draw a winner to receive free artwork, stickers, a physical CD, personalized stuff. Y'all are winners in our ledgerbook, but we want to send a little love back your way each month.
*The more patrons that ante-up, the bigger the prize will become.
💕 Double-Down
You've got a problem, friend, but we're here for you (and we truly appreciate your support in the world outside of this metaphor). You want to double your chances to win that good good monthly prize. Let's sweeten the deal:
Patron-only Feed
Double Discount in the Merch Store
Thank You Postcard
Double Entry into the Monthly Lottery
⚄ Yahtzee!
We're powerful grateful for your support! You're not really the gambling type, but if we're talking dice... Five bucks a month means a ton to us. You get access to all this, PLUS a free download of The Vibe EP.
Patron-only Feed
Discount in the Merch Store
Digital EP in the Digital Age
Thank You Postcard to Your Mailbox <3
About
Welcome to the Mighty Brother Patreon page, my friend! 
Ari and Nick here, and welcome to our little scheme (steeples fingers ominously). Nick and I spearhead the very underground indie rock project known as Mighty Brother. Our creative accomplices Jonah and Quinn are stirring up trouble elsewhere at present, but make no mistake. Your support directly affects our collective ability to see these many goals through to fruition. Mighty Brother can be imagined as a magic carpet, the four of us riding abreast, joined regularly by collaborators, engineers, and lovely supporters. Y'all are the magic keeping that carpet aloft!
If this imagery feels inconsistent, like, why the misfit imagery and also the fantasy antics of a Disney flick? Well, it's because pursuing a career in music today requires a certain rebellious gumption and an idyllic belief that the magic is everywhere. Every beautiful soul that comes up after a show, every generous host on the road, every ounce of sweat shed toiling in the studio, it's all magic. Every bit carries us a bit farther, a little higher.
And so, we are equestrian wizard-bandits atop a hurling tabriz thoroughbred. It's a gamble, what we're doing. We have 4 years, thousands of miles, and many hundreds of shows behind us as Mighty Brother, but our biggest endeavor, a fabled double album, is still to come (slated for Spring 2020). Now is the perfect time to hop on!
Your support means the world to us. We are, have been, and will continue to be, with your loving support, Mighty Brother.
<3  Ari, Nick, Jonah, Quinn
One Hundred by Hanukkah!  💯✨

We are shooting for 100 Patrons by Hanukkah! Why Hanukkah? Hanukkah is so IN right now. Plus, it's a flexible goal as it is a small range of days. Just roll with us on this one! 🎲

At 100 Patrons, we will give you 8 DAYS of thanks in the form of videos and drawings and such! More on that later;)
1 of 1
By becoming a patron, you'll instantly unlock access to 4 exclusive posts
By becoming a patron, you'll instantly unlock access to 4 exclusive posts
Recent posts by Mighty Brother