The Mind Noodler
is creating Comedy Magic Shows and Podcasts!
Select a membership level
Abbracababble Podcast Access and More!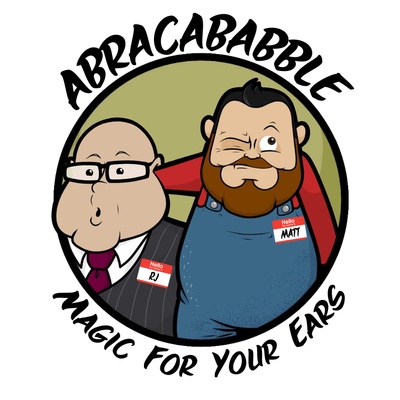 Gain access to our podcast, Abracababble! Each week, RJ and Matt will nerd out, tell stories about magic and performance as well as document the progress of The Mind Noodler. We also give a very exclusive behind the scenes breakdown of every episode of Penn & Teller Fool Us. And more!
-Plus, whenever possible, you get a vote on The Mind Noodler's next trick, move or merchandise item.
-A coupon for one bear hug from The Mind Noodler.
-A discount code on all merchandise.
Video Vault Access, On Air Thanks, Votes
Video Vault Access of all full length and short clips videos of Mind Noodler Shows, past and future shows. 
Plus:
-We will thank you on air once a month at the end of an episode.
-You get 10 VOTES when we put anything up for a vote..
-Everything from the $2 tier.
Magic Trick Vault, Magician's Thank You!
We have a Video Vault that gives you access on how to perform fun and kick ass magic tricks. Close up, parlor or stage, we offer a variety of magic tricks for you to learn and perform.
Plus:
-We will give you a magician's name and thank you on air once a month at the end of an Abracababble episode.
-30 VOTES! Whenever there is a Mind Noodler vote.
-Everything from the $10 tier.
-Everything from the $2 tier.
About
Matt Donnelly: The Mind Noodler's comedy magic show began when Penn Jillette (Penn & Teller) dared the comedian and head writer for Penn & Teller: Fool Us to "learn a goddamn trick". That dare lead Matt to call in every favor he had and have some of the world's best magicians each teach him one trick. Once they did, The Mind Noodler show was born. From an initial Las Vegas run, to touring across the country opening for Piff The Magic Dragon, to filling in for Mac King; The Mind Noodler show continues to grow. We want to take this fun, unique, and rugged brand of hilarious magic to the next level.

So... What's next? Well, the ultimate goal is headlining on the strip at a Las Vegas Casino. Under the direction of RJ Owens (Mystere). And that show already exists... on paper.

Yet, Las Vegas doesn't exactly welcome grass roots efforts that allow a show to grow and earn access to a showroom on "The Strip". So to accomplish this, we need to take Matt Donnelly: The Mind Noodler to comedy, theater and fringe festivals all over the world. It will involve trying to get on television shows like America's Got Talent and Penn & Teller: Fool Us. By accomplishing these tasks, we can get a headlining show. As we grow, we will need bigger badass tricks, plenty of rehearsals, props, performance rights, trial and error, research and development, -and some lucky breaks.

We want you to join us for every step of the way from here on out. Let's finish what we started.

$2,671 of $11,999
per month
NOODLER'S LAS VEGAS SHOWROOM SHOW

We hit this and we are the producers we need and we don't need TV fame for leverage. We rent a showrooom, advertise, build set and props and go to work on the Hill Bill Hootenanny: Magic, Comedy and Variety Show. All the Patreon backers get 1st class, VIP, full red carpet treatment for years and years. WE pull out all the stops for you as we accomplished the impossible.

3 of 3
Become a patron to
Unlock 119 exclusive posts
Connect via private message
Recent posts by The Mind Noodler