Minelab Gold
is creating In Depth Educational Gold Detecting Videos - Full Training
Select a membership level
YOUTUBE CHANNEL SUPPORT
To help get more content as you all know even the smallest contribution can go a long way. If you support us even with a donation of $1.00 or more this will be used to go towards many things which helps get even better quality video or audio. Or it may assist in editing time spent, which always makes for better viewing.
These contributions are your way of saying thanks to us for getting such great content out, and also makes you a part of our community even more. It will certainly help in trying to get content either more frequently or on a weekly basis
I was hoping to get - ok let me tell you - its just a thought but we always need to have goals. I was hoping to get at least a Monthly Premiere Special for you guys to watch. Or possibly a series of Video's. 
The end goal is my Documentary of 7 days in 7 locations, I will try my best to hit this goal, And the continued support will certainly contribute to making it happen, so I can share it with you all. 
You will also receive Youtube early access video links 
Patron only content
Become A Patron Miner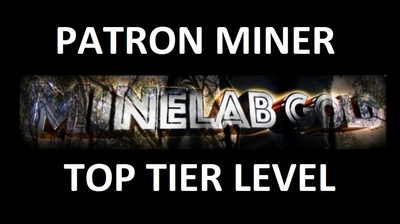 This is the highest level of patrons, you will now become one of my Patron Miners with this Tier Level, Thank you!  
All previous rewards that Panners and Operators get access to
Access to patron -  Miners only content
Connect with other patrons in all classes.
Exclusive Video Content 
Trade Secrets, Detector settings basic and advanced, Grounds reading, GPS Co-Ord Help, Setting Up Google Earth to Help Improve your finds, Sites of Interest, System and Strategy Improvement and much much more.  
Help to develop Video content accustomed to what you need with voting Polls. 
Early Youtube video access
Links to my unlisted private Youtube Content 
About
Wondering Whether To Pledge a Small Amount?
Let me tell you why and what you will get in return.
Before we do firstly if you look at the top of the page there are 2 tabs, overview which is here.

The next tab is all of our wonderful posts, some are for public and a lot are Patron only posts, if you support us for a less amount it means you are contributing to help keep us publishing and it goes towards getting more Youtube video's out for you all.

If you become a Patron you can choose your tier, this is the red button at the top right, yep thats it Become A Patron - and this gives you exclusive access content for that tier level. But please keep in mind Patreon is a US based company and billing is in USD$ - I have tried to keep the cost as low as I can based on the very in depth knowledge you guys will get in a short time.

Lastly you will notice a Tab missing, well thats silly you wont notice it is missing because its not there yet, when you become a Patron you will have access to a Community tab, this is where all members share their own posts and comments. A really cool feature to interact with each other while we are busy.

Anyhow without further a due lets continue

Hi fellow gold hunters, I wanted to create this Patreon page for the simple reason of adding content that can for those who see the potential advantage on how it can help them in the search for gold. It takes a lot of resources from start to finish to put this content together, and of course it has only been gained by myself over the many years. You will get exclusive access to the following if you pledge from $0.50 cents upwards. People pay more for a can of coke these days. Maybe you can pledge a slab of coke ;)
For that very small cost of $0.50 cents per day you may feel this suits you in the early stages, just to get a feel on what great things we have. As your knowledge level increases upgrading to the advanced content in the higher levels, or you can simply jump straight into the full access of everything available and not delay very important video access.
Make sure to understand that the Higher Level gets you access to the important crucial knowledge, you can also choose the Top Tier Level and simply contact me for a one on one day in the fields if that suits you, with the Elite Tier Level, one on one training can be which ever date suits you. As long as we have an available day, but its ok we always work around the best date and weather conditions.
Anyway long story short then long again, to keep making better content I have so many great idea's to deliver really good content to you all, but we need additional resources. Trust me you wont be disappointed every dollar helps.
In the videos you will get access to the following, depending on the amount or tier level you choose. As you can see majority of the operators choose the Top Tier Level because it has everything for a low cost of $1.00 per day. Take this into account with the amount of money it costs for a basic day out training and you dont get anywhere near the knowledge you will here. And another benefit is you get to talk with other members who share a big passion for gold detecting.
Setting up a solid foundation
How and What to Study and Research - of course mostly these videos
Safety Gear - And how to Protect Your Passion
Latest Technology Advancements
Machine and Coils
Basic and Advanced Machine Settings
Advanced Testing for Your Machine
Understanding Grounds, Ground Reading and Selecting Grounds
GPS Locations of interest - Who does this?
Finding Windows and how to work them.
Techniques to increase return
Systems and Strategies - PDF Excel and Video Explanation
Documenting each find and the grounds - Google Earth Showing you how and what to do
System Development
Geological Formation and importance of what I look for
Assessing each Gold Find
Psychology and Goal Setting
Also many other videos - thats just a brief overview
And of course you will see my live gold finds each and every time I am out on the hunt.
You may ask why would you share this knowledge and not just spend all this added time and find the gold yourself, well it all started over 15 years ago, I know too well how hard it was in the early years of detecting for gold, no one really wants to share information. The constant struggles in the fields, always questioning why I cant find gold and many others always find it. What was I doing wrong?
That's when I started to turn things around, over the years of constantly working hard each and every find, these things started to fall into place and everything became a lot clearer. I was starting to find gold on a daily basis.
Passion for Prospecting.
Another reason that I want to share this knowledge is because I like helping others, if this content that I can share will help to inspire those watching it and helps them on their journey to learn from mistakes made then it will increase your chances. I have so much fun out in the fields and sharing this fun can also be great for everyone to enjoy the hobby as a whole, not just the Gold.
all throughout my video's you will gain a wealth of knowledge from in field experience of 20 years and counting in field experience on the hunt for gold, that's not once or twice a month for 20 years its more than 4544 in field days and over 27264 hours and climbing. Whether you are a long time veteran or a newcomer to metal detecting for gold, many of my videos will help to inspire and set a good foundation for when you approach the fields.
Why we need a small amount to keep going?
The only way I can keep providing great content for you all, I really want to do it because there is so much you can gain but the costs and extra time adds up, taking the video footage, extra locations for filming the documentary type stuff for you all, compiling, editing, uploading. You guys know what it takes to put together this content, it all adds up and if I can get all to help cover a small amount of this cost its a win win, for such a small cost compared to even how much a coil costs this is a very low amount, you guys get content that isn't available anywhere, because it is developed by me, and some which is available but having it all in one place. You will find gold a lot faster by speeding up your learning curve at a very fast rate, and I win as well because I enjoy doing these video's and helping others. Otherwise I would just continue my passion and keep finding gold with more time and less filming.
After watching this content and getting this invaluable information is only a scratch on the surface of what you will find in gold from gaining this knowledge. Just think about the information you will get access to, what the pro's don't want you to know. I went from finding gold once a week or even once a month to 4 days out of 5 days finding gold on each outing.
Psychology in the Fields Is Crucial.
Maintaining that great mindset from the very beginning is crucial, we certainly have setbacks but failure is never an option. I hope that you will gain great knowledge and get yourself on the way to finding those large gold deposits which are still out there waiting for us.
In the fields it can be a battle having that perfect mindset on each and every outing, If you follow my videos and keep up to date you will see how even after more than 15 years I still manage to laugh when I dig a big piece of rust, because its not always about the gold. Of course we would love to have it that way every time we hit the fields, but it just doesnt happen. Its always about each and every target no matter what it is.
In my years after battling away I have formulated a great strategy which works very well, in the last 90 days I cant even count on one hand the amount of days I havent managed to find gold on each outing. In my earlier days this number was reversed to finding gold only 5 times out of 90 days.
IF THIS IS FOR YOU - DONT WAIT BECAUSE MAJORITY OF MEMBERS ARE UP TO SPEED AND THE LONGER YOU WAIT THE LONGER IT WILL TAKE - IF YOU DO SIGN UP PLEASE MAKE SURE TO GET FAMILIAR WITH THE PAGE LAYOUT AND NAVIGATION - THEN START AT THE VERY FIRST POST AND WORK YOUR WAY TO THE TOP
I hope you enjoy this in depth training and crucial knowledge - Kind Regards Minelab Gold
I have set a goal to be able to provide my viewers with a very disclosed location and gold finds, I am looking at putting together a 7 day documentation with gold finds in the Golden Triangle Area 

Showing operators how to go about researching an area. things to look for, GPS Locations and then going to that location, surveying the ground prior to detecting. And then finally detecting that area.

7 days 7 locations in the wonderful Victorian Golden Triangle. Hopefully we can hit this goal to help cover some costs and provide you with such great content and especially those disclosed GPS Co-Ords for each Gold Find - the more patrons we get and the more pledges will all go towards providing you with this content.

1 of 1
By becoming a patron, you'll instantly unlock access to 205 exclusive posts
By becoming a patron, you'll instantly unlock access to 205 exclusive posts
Recent posts by Minelab Gold
How it works
Get started in 2 minutes