MS.Pol
is creating Where The Giants Roar & The Steps In Love
Select a membership level
Full Package
For just $2 you'll get access to everything in this Patreon!
Tip Jar
First access to new comic pages & art - You'll be the first to see pages of current projects and artwork!

(Trigger) Warnings will be given if pages contain a certain NSFW-theme

Thank you online - Your Patreon name plus (if you have and want) link to your site or social media will be on a Thank You-page on my official site
Thank you in print - Your name (real/nickname/anonymous) will be on a Thank You-page in future publications
Holiday Art Suggestion Poll - Help me find a theme for my holiday artwork or seasonal pinups
Sketches & WiPs - You'll get access to any sketch of pages or artwork I am currently working on.
Behind the scenes - You'll get peeks at sketches of future projects.
Erotic doodles - Plus erotic doodles will be available to you too!
About MS.Pol
WARNING AHEAD: Can and will contain content more suitable for an older audience, like horror content (blood, gore, body horror) and 18+ works with sexual themes. This content will be added in the attachments of posts with (trigger) warnings ahead, leaving you the decision to check it our or not.


~ Who am I?
Hi! My name is MissDutch aka MS Pol. I am an independent comic artist from a little country called the Netherlands and I've started publishing comics of various genres under the name of 
AppleDragon Comics
.
My main goal is to tell stories with a diverse representation in cast.
I've always loved telling stories since I was a toddler. My dream goal is to make comics my parttime job. By just donating $1 a month, you can help me to make it real and of course you'll be rewarded in return!
But please, do not feel forced to donate. Comics will always be free to read online. Spreading the word about my work would also help a lot.
If you want to give a one-time tip/donation, treat me on a cup of coffee at my
Ko-Fi account
.
~ What will you currently be supporting?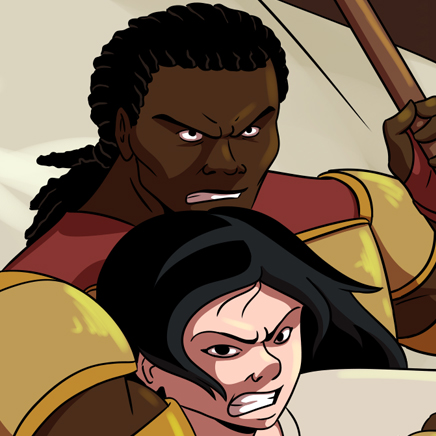 Where The Giants Roar
- Fantasy / Comedy
A fantasy where we follow a squad of the Guards, the police and peacekeepers of a fantasy world where humans, giants and other creatures have to live together. The story concentrates on themes as ego, self esteem and how it's effected by the relationships of the people around you.
Inspired by mythology worldwide about giants and Western European mythological creatures.
~This comic contains 
soft horror
and
violence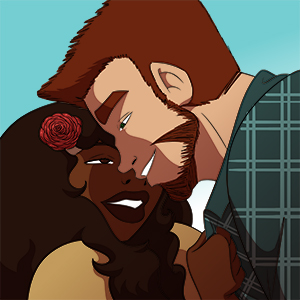 The Steps in Love
- 
Romance / Comedy

A simple comedy-romance about the love between Cage Tannen en Yani Anderson. A comic not only about healthy relationships, but also safe sex, body image, fat positivity and sex positivity.
This main storyline of this comic is finished, but Cage and Yani will continue in one-pagers showing cute little snippets of their relationship.
~This comic contains soft nudity and sexual themes


~ What can you make possible/expect in the future?
Hollandse Horror - Horror (like that wasn't obvious)


This series will contain horror themes as blood, body horror and gore

The return of Black Lollipop - Drama/Comedy
Black Lollipop was my first serious comic project, which I sadly had to broke off, cause the story didn't work with me. But I still love the main theme, so I am planning to redo this for 1 book or 2.

This comic will contain strong language

Action/Sci-fi comic - Title is a secret at the moment


This comic will contain violence and soft gore

Naughty Apples - 18+/Erotica


This series will (obviously) contain sexual content
$33.61 of $1,000
per month
Reaching this goal will fill in some financial holes and help me keep the regular schedule update I have now (twice a week with no breaks) and I'll try to do more.


Double updates will be there for special holidays (Xmas, easter, anniversaries)
Regular art pieces
1 of 3
By becoming a patron, you'll instantly unlock access to 1,280 exclusive posts
By becoming a patron, you'll instantly unlock access to 1,280 exclusive posts
How it works
Get started in 2 minutes