Select a membership level
Daisies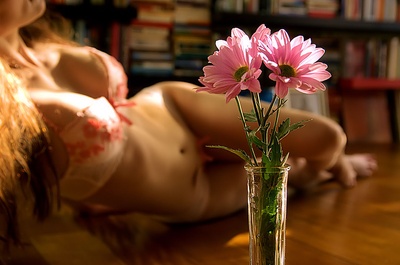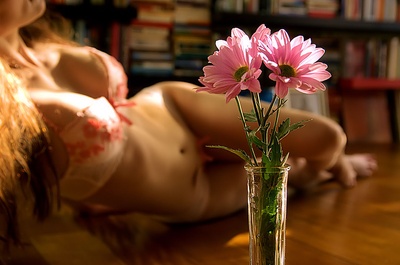 PHOTOS, GIFS, IN CASUAL TEES/PANTIES!
What you get:
Access to bonus photos of my everyday life.
Access to the entire Daisies archive that includes the photos I've used to illustrate my stories in 2017, 2018, and 2019. The "PHOTOS FROM THE BOOKS" ARCHIVE includes over 1,000 photos. 
Access to 5-10 photos in graphic tees/graphic underwear, twice a month, usually on the 10th and the 20th.
IMPORTANT: NEW GRAPHIC TEE/GRAPHIC UNDERWEAR CONTENT IS ADDED EVERY MONTH ON THE 10TH and THE 20TH
Daffodils
PHOTOSETS OF GRAPHIC TEES AND/OR GRAPHIC UNDERWEAR!
What you get:
Everything from the previous level.
Access to the extended photoshoot from my bi-monthly shoot in graphic tee/graphic underwear, 20-30 photos.
My entire "BOOK PHOTOSHOOTS" ARCHIVE that includes about 10,000 photos that I've taken for my erotica stories in 2017, 2018 and 2019.
Screengrabs from the videos I post for the Tulips.
Previews of the galleries I post for the Tulips.
A free story every month by request. Just let me know which story you want from my bookstore and I'll give you a coupon code.
IMPORTANT: NEW CONTENT IN GRAPHIC TEES/GRAPHIC UNDERWEAR ADDED EVERY MONTH ON THE 10TH and THE 20TH
Tulips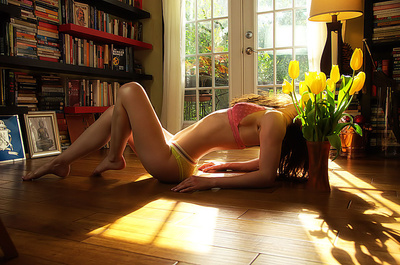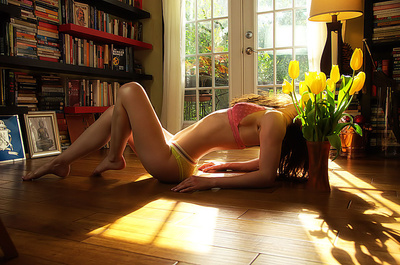 PHOTOSETS AND VIDEOS FEATURING THE SATIN PANTIES FROM K&L! PLUS, EXTRA PHOTOS AND VIDEOS IN CASUAL UNDERWEAR/WHITE TOPS/GRAPHIC TEES/GRAPHIC PANITES etc.
What you get: 
Everything that the Daisies and the Daffodils are getting. 
A SATIN PANTY GALLERY EVERY MONTH. The satin panties I use in my photos are from Katie & Laura (fancysatinpantystore.com). 
AT LEAST ONE SATIN PANTY VIDEO EVERY MONTH, plus BONUS VIDEOS IN CASUAL UNDERWEAR/WHITE TOP/ GRAPHIC TEES/GRAPHIC UNDERWEAR etc. 
ACCESS TO THE TULIPS VIDEO GALLERY that includes videos I've taken for my stories in 2017, 2018, and 2019, satin panty videos, the videos that YouTube deletes because the t-shirt is too see-through, and others. VIDEOS ADDED MONTHLY!
My entire TULIPS PHOTO ARCHIVE, over 10,000 photos, and growing. The archive includes beach bikini galleries, skin-tight, bodycon galleries, yoga pants and tights galleries, jeans galleries, t-shirts and panties galleries. NEW PHOTOS ADDED MONTHLY!
TWO FREE STORIES A MONTH from my bookstore. Just let me know which stories you want and I'll give you a coupon code.
IMPORTANT: NEW SATIN PANTY CONTENT - SATIN PANTY GALLERY AND COMPLEMENTARY VIDEO - ADDED EVERY MONTH ON THE 15TH. All other videos and photo galleries added throughout the month.
About Misty Macallister
Hi, I'm Misty Macallister. Welcome to my Patreon page, yay!
PLEASE NOTE THAT MY CONTENT IS NOT EXPLICIT OR PORNOGRAPHIC!
If you don't already know, Patreon is the place where Patrons (hopefully, you!) support Creators (me, me, me!) by giving them money (MONEY!!!), but I'm guessing you already know that since you're on Patreon looking around. Then let me tell you what you most likely don't know, like who I am and why I need your support.
Well, I'm a self-published writer, and I write sexy stories, and suspenseful stories, and sci-fi stories, and mystery stories, and every other kind of story you can think of. But writing isn't all I do. I do all my own editing, so if there's a comma missing blame me. I also design my book covers. I'm very proud of my covers, so go to 
MistyMacBookStore
and take a look, then come back and tell me your favorite! Also, I model for the covers - so yes, that's me you're seeing on the covers of my books - and I take most of the photos. Oh, and I run my own bookstore.
Boy, I'm busy!!!
So that's me: writer, photographer, book cover designer, cover girl, and online bookstore owner. But all this doing, the writing, the photo taking, the photo posing, and everything else, is a whole production, and production takes time and money. Good photos require a good camera and expensive equipment - lenses don't buy themselves - and looking good in the photos requires buying beautiful lingerie because thongs don't grow on trees. And processing photos requires a computer with a smart processor and a ton of memory. And writing requires a fancy mechanical keyboard, and notebooks, and pens, and chocolate. And then there's the wine; you can't create without the wine.
So, your help will make it easier for me to take care of the costly production, and with the worries of production taken care of, I can write more stories and take more photos and make better covers and make everyone who reads my stories happy.
That's in a nutshell why I need your support.
OK, that's the who and the why of it. Now it's time for the sell. This is where I roll up my figurative sleeves and convince you to support me.
Hm...well...um...to be perfectly honest, I'm not sure how to convince you. I've thought about it, and then I've thought about it some more until there was nothing else to think about. I came up with the tiers and the rewards for the patrons who decide to support me. I wrote down my goals because Patreon assures me that showing specific goals helps convince the patrons. I made a video (what do you think?). I've done all these things, but is it enough to get me your support?
I don't know. I hope so (big grin)!
In any case I'd like you to know that I appreciate any support, even the moral kind (big grin).
Thank you,
Misty
IMPORTANT: WHEN YOU JOIN, I WILL DM YOU THE PASSWORDS TO ACCESS THE CONTENT FOR YOUR LEVEL. 

DISCLAIMER:
All content shared with my PATRONS is for the members' personal use ONLY and not to be used for resale, advertising, or shared on any other 3rd party platform or website. The photos and videos I produce are protected by copyright and may not otherwise be used, reproduced, distributed, or publicly displayed without my permission in writing. In simpler terms, what I do for my patrons is for my patrons. What happens on Patreon, stays on Patreon.
Anyone in violation of these terms will be subject to legal action. If you have any questions, please send me a message.
OK, this is a fantasy goal - I'm shooting for the stars with this goal and the stars can't dodge - and I think it should be everyone's goal.

If the world stopped spinning and I reached this goal, I'd spend a month in Paris where I'd write a beautiful novel about being in Paris. Also, I'd eat croissants every morning, but before I ate too many croissants to make myself sick, I'd make a special video for all my Patreon supporters involving night trains in Europe and all the nudity.

Oh, and I'd take a photo naked under the Eiffel Tower, but not at night because France has this crazy licensing fee for photos of the Eiffel Tower at night and I'm not paying to show my naked butt and some big scaffold, even if it is the Eiffel Tower.
5 of 5
By becoming a patron, you'll instantly unlock access to 2,075 exclusive posts
By becoming a patron, you'll instantly unlock access to 2,075 exclusive posts
Recent posts by Misty Macallister
How it works
Get started in 2 minutes