My name is Rachel Dukes. I'm the creator of the webcomic series 
Frankie Comics
. (You may have seen the strip 
Life with/out a Cat
from
Frankie Comics
on your Facebook feed once or twice.)
I've been drawing comics for 15 years and have created freelance work for publishers including Boom Studios, Lion Forge, Beyond Press, Ninth Art Press, Silver Sprocket, and The Nib. I'm ready to transition away from freelance to create 
Frankie Comics
full time. Patreon is a great way for me to raise funds for 
Frankie Comics
 and give Frankie fans special access, content, and rewards for their pledges.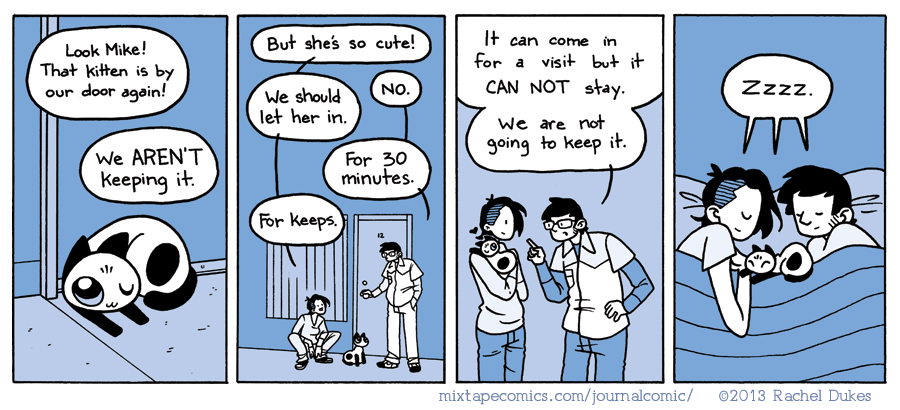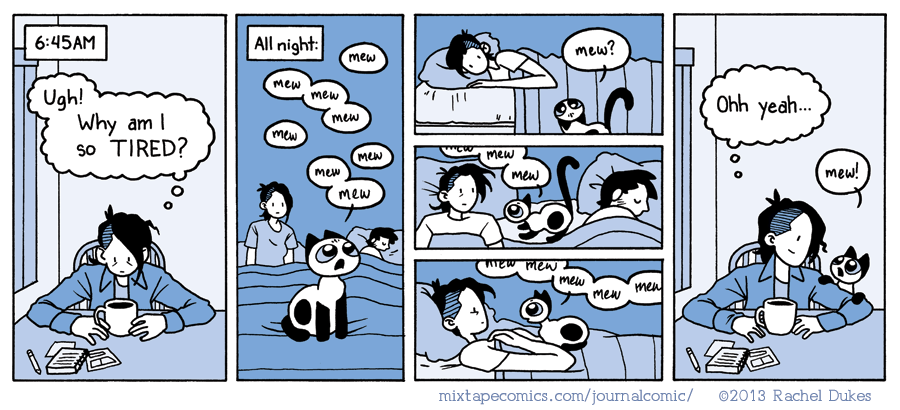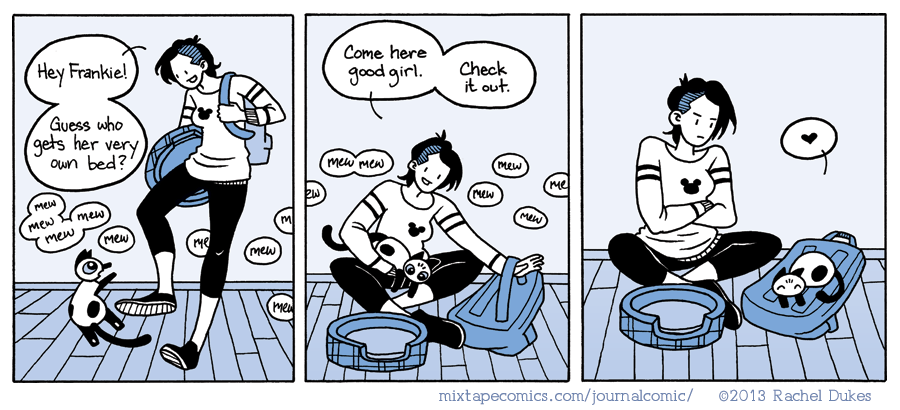 How does it work?
Click "Become a Patron." Then choose how much you want to pledge per month. (Different pledge amounts correspond to different rewards.)
Rewards:
In return for your support, you'll get rewards like: behind-the-scenes updates on
Frankie Comics
#5 and the upcoming 120-page full-colour
Frankie Comics
collection (with bonus content exclusive to Patreon), early access to new projects, digital downloads and more!
Pledge $1

a month and you'll get my gratitude for helping me create comics and access to the (secret, exclusive) Cute Cat Butt Club server on Discord. (There, we can talk comics, cats, and creative stuff. I'll also host a monthly video hangout once a month.)
Pledge $2

a month and you'll get my gratitude, access to work-in-progress shots from Frankie Comics (and other current work), and an exclusive first-look at completed Frankie Comics strips at least one week before they're posted elsewhere online.
Pledge $5

a month and you get all previous tier perks, digital downloads of the first three issues of Frankie Comics, and occasional exclusive digital content (wallpapers, e-cards, icons, etc). You'll be included in a monthly contest to win a custom full-colour drawing.
There's also
additional content
on my Patreon blog that you'll gain access to (including some comics that were never published and are Patreon-exclusive)!
Additional content includes (but is not limited to) comics for:
My Body My Voice
by Protein Press, 
Tim'rous Beastie
 by Iron Circus Comics, 
Destiny NY
by Pat Shand, the
Bottoms Up
anthology by Birdcage Bottom Books,
Frankie Comics #4
, 
No Gods No Dungeon Masters
by Silver Sprocket, 
Not-So-Secret Society
, 
Shitty Watchmen
 (Chapter VI), 
Adventure Time
,
Care Bears
, 
Steven Universe
, the 
Oath: Anthology of New Heroes
, 
Frankie Comics #3
, and my never-published 170-page graphic novel 
Let Me Walk You Home
.
Thanks!
Even a small pledge does a world of good to help me bring you new
Frankie Comics
faster than ever. ❤️