M L Clark
is creating books, stories, essays, poetry, reviews
Select a membership level
Nadie Me Debe Nada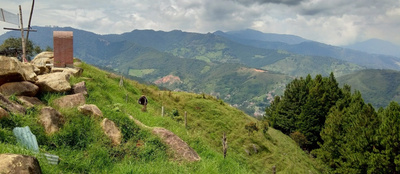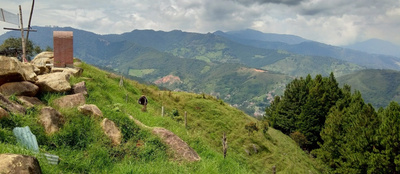 The name of this tier is Spanish for, loosely, "No one owes me anything". This strongly held personal philosophy allows me to let go of disappointment and frustration over what I do not receive (whether it be as complex as a job or as simple as basic human decency), and focus on gratitude for what *is* gifted to me--in the way of kindness, opportunity, and presence--as well as on those who offer it. There are no other tiers. Kindness simply is or it isn't--so thank you for yours, if you choose to bestow it. And thank you for reading this far, even if you do not. 
About M L Clark
I never expected uprooting my life in Canada would be easy.

But when I moved to Colombia in February 2018, I took this huge risk because I knew I could never be the writer I wanted to be--or the human I wanted to be!--if I stayed.

I'm a writer of speculative fiction, cultural essays, poetry, and reviews. I've been fortunate to be published in top-tier sci-fi publications like Clarkesworld and Analog, and even had three short stories in Year's Best anthologies. But just as I started to build this momentum, the grind of working as hard as I had been caught up. I was working all the time--often seven days a week, for months on end, between multiple jobs. I couldn't write. I had no time or money to socialize. I was angry with myself, anxious and tense around others, and generally feeling helpless to change my circumstances.

So, I saved up on the leanest diet and lifestyle I could manage--during a term when my fellow post-secondary teaching staff and I all found ourselves out on the picket line!--and... I leapt. I started over somewhere new. 

In the last 3.5 years in Medellín, Colombia, I have been assimilating. It hasn't been easy as a single person, and certainly as a feminized person there have been... setbacks. I've also hit a frustrating wall related to building a future here -- all sorts of run-ins with corner-cutting and dishonest professionals, along with government organizations for whom the written laws are often quite arbitrarily applied (and even more so, alack, during pandemic).

I worked very hard here for two years as an English teacher for a private company that helps local businesses. Now I work with a local media-campaign company, as a freelance translator, when I'm not working on other writing projects. 

I had such grand plans before pandemic and government red-tape threw everything into endless uncertainty. I wanted to start a bilingual press that would advance science fiction and fantasy on three fronts -- past, present, and future -- for fellow residents in Colombia, with an emphasis on building an interventionist SF&F workshop that we could take into the poorer barrios, using SF&F to help children develop Spanish and English literacy, as well as digital literacy and a tangible feeling of accomplishment. But everything in that department is on pause until more stability rains down on... well, all of us, really.

What a few years, eh?

In the meantime, though -- while all this chaos is being sorted out -- my own career as a writer has been growing, thanks in very large part to all the Patrons who have been with me on the journey to date. I have an agent with whom I'm moving through the slings and arrows of novel publishing -- first, for a science-fiction reimagining of The Brothers Karamazov; next, for an SF-mystery series involving AI, aliens, and a whole lot of neoliberalist critique. I continue to write and sell short SF stories, too, with my most recent out in Clarkesworld and my next forthcoming in F&SF. After a brief stint as a columnist at Patheos.com, I've taken my non-fiction writings, on secular storytelling for 21st-century global humanism, to a new home, a website set to launch at the end of 2021. (More intel when I can disclose it!)

Every month, I'm also now posting a pretty long newsletter, Threedom!, which you can sign up for at tinyletter.com/MLClark. Threedom! is a monthly assortment of literary and current-events commentary, recommendations (articles, books, a/v media), personal reflections, and even the occasional recipe -- all offered in groups of three, to improve the odds that something strikes your fancy.

If any of these goals and projects interest you, I do hope you'll not only join me on my journey, but also tell me a little about your own -- because if any of this intrigues, it's quite possibly because you've got some resonant dreaming on the go yourself. If so, I'd love to wish you both good luck and good skill, as you take the necessary risks to find yourself a better creative home.

I know the whole world is in upheaval right now, and most of us are struggling with serious setbacks. My own circumstances, with a deeply disrupted path to residency in my new home, hurt terrifically right now, because I know I can contribute *so very much here* with the skills I have. I just need the stability to do so.

And I'm working on it. I really am, in most any way I can.

Many thanks, then, to anyone able to support me while I undergo yet another in a series of daunting transitions toward that better end. And if you can't, or simply aren't inclined? If you have far too much you're already juggling -- or if other dreams merit your support a little more right now? Then I wish you all success in finding and supporting the work that means the most to you.

Be kind to yourselves, and seek justice where you can.

May we meet again, in some better world ahead.
By becoming a patron, you'll instantly unlock access to 44 exclusive posts
By becoming a patron, you'll instantly unlock access to 44 exclusive posts
Recent posts by M L Clark
How it works
Get started in 2 minutes