The Modern Rogue
is creating disastrous lessons in badassery.
Select a membership level
Rogue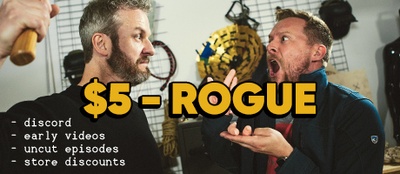 Access to the Modern Rogue Discord server
Quarterly store discounts/credit for ScamStuff.com
Access to uncut episodes
Early outtakes
With the Modern Rogue Discord server, you can chat with other rogues, including Brian, Jason, and the rest of the team. Have a direct line to submit your best ideas for prospective episodes. You'll get the outtakes before the rest of the world does. And you'll get to watch the LONG uncut episodes. 
Includes Discord benefits
Operative
Exclusive access to episode livestreams
Exclusive guest interviews
Plus all previous rewards
Get everything from the $5 level, plus you'll get to see some of the episodes being filmed LIVE. You'll also get interviews and bonus conversations with guests featured on the show.
Includes Discord benefits
Vanguard
An exclusive, Patron-only T-shirt once per quarter
Plus all previous rewards
Once per quarter, we'll reach out and ask for your shirt size and a mailing address, because we want to send you a free, exclusive, patron-only T-shirt. they're awesome. 
Includes Discord benefits
About
Hello. Brian Brushwood and Jason Murphy here. For 10 years we've explored, tested, and demystified all things underhanded, dangerous, and badass. You've seen us both on 
Scam School
, 
Hacking the System
, and now 
Modern Rogue
.
...and we 100%, absolutely, positively owe it all to you.
 From the bottom of our hearts,
thank you
for making everything that's come before now possible.
The time has come to
build a proper studio and make the Modern Rogue our real-life day jobs,
and we need your help to make it happen.
With your patronage, we've already been able to:
Purchase a 7 acre property for complete autonomy, this is an important one.
Build out our website with many new articles.
Provide reliable closed captions for every episode going forward.
Get equipment upgrades, with now publishing episodes in 4K.
Hire another editor to publish videos more often.
Better fund episodes, including a few that otherwise would not have been possible.
But we're hoping it won't stop there, we would still like to:
Afford better safety gear (especially to cover Brian's hands).
Fly in special guests and experts.
Travel out to shoot special episodes on-location.
Build a truly roguish studio set.
Behind the scenes, we're a team of a half-dozen people who want to eat, sleep, and breath Modern Rogue. It's going to take support from fellow rogues like yourself to make this sustainable and a living project that can grow to new heights of the insane, ridiculous, and sublime.
You're gonna love it, and we want you to be our boss.
What's the Modern Rogue?
Equal parts gentleman, warrior, and scoundrel, what would a 21st century Modern Rogue know?
In short: 
Everything.
How to hotwire a car, how to talk your way out of a speeding ticket, counterfeiting, how to properly appreciate whisky, how to craft improvised weaponry--the Modern Rogue would even debunk the secrets of the supernatural!
Our goal is to produce an unbelievably extensive catalog of fascinating and dangerous knowledge, an
Encyclopedia Brittanica
of everything you're not supposed to know.
We want you on our team, and we want you to have a blast being a part of this.
Whether it's your ideas, your votes, or (yes) your cash, we need you to help us hit this moonshot goal of turning Modern Rogue into a Mythbusters-level franchise. 
Join the team and become one of us today. Become a bonafide Modern Rogue and you'll get to contribute ideas for shows, workshop new episodes, see behind the scenes, and have a direct line to the Modern Rogue team, including other rogues like yourself.
Become a patron to
Unlock 209 exclusive posts
Connect via private message
Recent posts by The Modern Rogue