Select a membership level
Pledge $1 or more per thing
You'll get
big
love
, most importantly, and
huge
thanks
! 
You'll have access to my patron-only feed, where I'll be posting new poems, new commentary, and photos of new paintings, as well as reporting on my progress and asking you questions about the world, life, trees, language, what's going on in your town, etc., if you feel like chiming in.

Pledge $3 or more per thing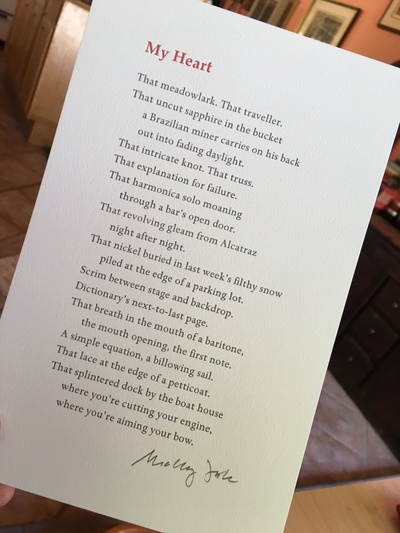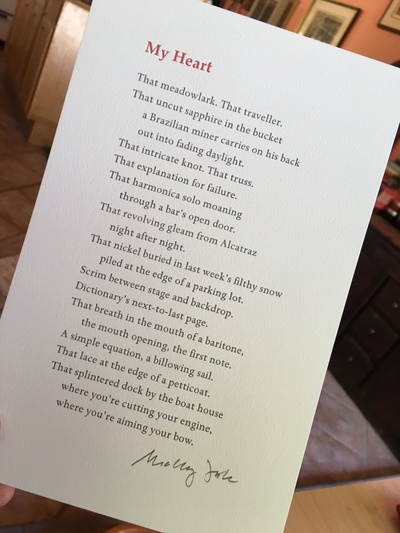 You'll get
big
love
, most importantly, and
huge
thanks
! In addition to: 
access to my patron-only feed
I'll answer any questions you have about my process, methods, artistic habits, experience, nearly-completed-plans, & what's brewing. We can foment a little art and revolution together. 
I'll send you the letter-press broadside of a poem, printed by my friends at Full Circle Press in Grass Valley, CA. (Not necessarily this poem...)

Pledge $5 or more per thing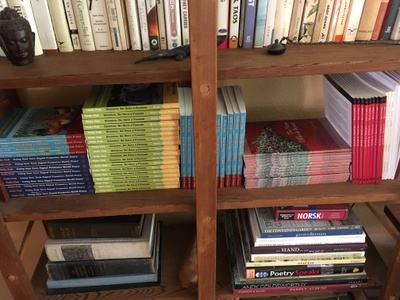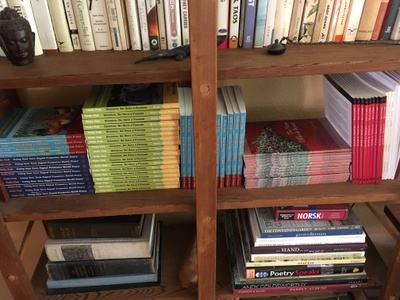 You'll get
big
love
, like every patron, most importantly, and
huge
thanks
! $5 a thing is really generous of you. As well as the swell perks listed above, I'll send you:
one of my books, your choice. 
I'll also e-mail you 8 tips on writing from my class How to Write Good, so you can have fun messing with your own work in glorious writerly solitude. These are useful for everyone, since we're all writing online so much, and they're not hard. You know, like avoiding the Rule of Three.
You are eligible to join my Poem-a-Day group for free. I do these five or six times a year, at on-line classrooms or on Facebook. It's not a class, per se, I don't teach; it's a place to generate new work and be in poetical community (priceless, really).

About Molly Fisk
HELLO, DEAR PEEPS!
  Thank you for visiting! If you don't know me, the short version is this: I'm a seasoned writer who's gotten less productive in recent years in order to make a living, and I'm finding that a dreadful trend. I want to become
more
productive while making a living, and am exploring Patreon's
crowd-sourcing, Medici-inspired
method
, where you can support, with a pledge, the creation of something (poem, radio essay, blog post, painting, book) as well as the finished product.
This is a way to help creative people carve out time to do their work (and afford supplies, equipment, help, etc., too). It's also a strong motivation for me to create. If you'd like to participate and join my merry band, I thank you! I love crowd-sourcing because it's a radical break with our current economic system and fosters community instead of competition.
UPDATE
After one year (2017), I have 41 patrons and many of my hopes have been realized. I've been much more productive, have started a new project (my long-planned book about teach writing to cancer patients to boost their immune systems), and through your steady donations accomplished a big goal: to redo the rotten floor of my writing/painting studio, which now just needs two more coats of paint and then I'll be able to reinhabit it. I am busting with gratitude and will be sending everyone a surprise present in February. Thank you so much. If you're new to my page, read on...
PATREON?
In 15th-century Italy, the Medicis supported Michelangelo and Leonardo Da Vinci at various times, so they didn't have to be grave diggers and sculpt or paint on the side. Patreon's version of support is built of
many people contributing a little
, rather than one family contributing a lot (and getting influence over the work because of that). It's a way to support a creative person
as
they create, rather than after the fact. This ensures that they
do
create, which is one reason I'm revamping my life to include Patreon and, if you're interested,
you
.
MY WRITER/ARTIST HISTORY
I've been writing poems since 1990, and have published
four collections
(see
my website
). Ten years ago I was asked to do three-minute commentary on my local community radio station, and am now up to about
400
of those, give or take, some of them
collected into books
that I published myself (see banner photo, above). On paper, the commentary are called essays. You may or may not know that being a poet is perhaps the least-well-paid profession in the solar system, and
community radio
comes in as a close second. This is not why I chose them. I didn't choose them, they chose me, the way sometimes love will wash over you and there you are, suddenly married, or the sole emotional support of a traumatized Queensland heeler named Ruby, or sitting on the couch under a pile of sleeping cats. (Five cats, in my case.)
All this time, I've worked to pay my bills, sometimes outside the writing life (restaurant book keeper, office manager), sometimes in it (newsletter editor, writing festival director, writing teacher, copy writer, freelance editor). I've been
lucky
enough to receive grants in support of my work (NEA, California Arts Council, Corporation for Public Broadcasting), and ran a
successful
Kickstarter campaign in 2008 to match the CPB funding and get my commentary heard farther afield than Northern California, where I live.
For the last few years I've been training to become, and then working as a life coach in the Skills for Change tradition, an offshoot of transactional analysis. I love this work, which supports about half my bill-paying life and all my poetic life, because it involves emotional inquiry as well as
looking at the world sideways and upside down
, something poets are quite good at. I don't want to stop coaching. I do want to stop teaching, which is how I pay the other half of my bills. Even though I love teaching, it seems to use up all my creativity and leave me with none for my own writing and painting.
WHY PARTICIPATE?
The reason to do this is because
you want more of what I know how to do
. You want there to be a next poem, essay, blog post, and book, and you want to read it. You want to watch my painting evolve and see how painting and writing get mingled together in my particular way. And maybe you want to be part of a group, a community. No algorithms. Maybe you're looking for a way to belong to the world more directly than, say, futures options trading.
HOW DOES IT WORK?
You choose the level you'd like to participate (on the right side bar), and sign up. I start making things and posting them here on this page. I send you your presents. The
unknown variable
is how much I will create once I'm let loose. But Patreon allows you to cap your funding, so you could, say, pledge $3/thing and then cap your pledge at 4 things/$12 per month or 20 things/$60 per year or whatever works best for you. This is a
sustainability
model, not a one-time event. (If you'd like to participate but only make one donation, the way to do that is with me directly, instructions
here
.) It's like the CSA idea many of us use for food these days (Community Supported Agriculture). We pay farmers in advance to plant crops and grow our food, which we then get in weekly portions throughout the growing season. You're paying me in advance to write poems, which you then get in random portions throughout the writing season. And poems don't need to be composted! It's fabulous.
Thank you for reading this whole darn thing, and welcome, if you decide to join in.
I MEAN IT. THANK YOU, THANK YOU, THANK YOU!!! AND LOVE.
$366.75 of $375
per creation
This amount of support per thing, and an average of eight things per month, would be enough to replace my paid work so that I could create full-time and treat life coaching as a hobby. [Note that when Patreon shows my current pledges, the total is for the first "thing" of the month only. Because of how people structure their pledges, the second "thing" is about half that, and then each subsequent one is slightly less. So I am looking a little closer to the goal than is actually the case, just fyi. ;) ]

2 of 3
By becoming a patron, you'll instantly unlock access to 463 exclusive posts
By becoming a patron, you'll instantly unlock access to 463 exclusive posts
Recent posts by Molly Fisk
How it works
Get started in 2 minutes