My Old Man Said
is creating a podcast, website & supporter group.
Select a membership level
Supporter
SUPPORTER - £1.85 (inc VAT) approx 
You're more than just a fan, you're a MOMS supporter and that's huge to us. Thank you very much for backing an independent voice and believing there's a better way to run a website than with clickbait & vanilla content. UTV
- You'll get access to patron-only content
- Newsletter
- Access to Patron-only insider 'LENS' video/photo behind-the-scenes updates
- Please note - there's NO access to bonus podcasts at this tier 

Player
PLAYER - £2.75 (inc VAT) approx 
A huge thanks! Like tipping MOMS a cup of coffee a month. You're a real player when it comes to helping the My Old Man Said podcast show.
- You'll get all the MOMS 'Supporter' rewards above.
- Podcast shout out
-  Access to the extra exclusive Patron bonus podcast episodes.
- Get  your questions answered on the podcast.
- MOMS weekly despatch article for Patrons only
Manager
MANAGER - £4.60 (inc VAT) approx In English money that's the equivalent of buying MOMS a pint. Cheers! You're really supporting the podcast and My Old Man Said.
- You'll get all of the above - shout-out, patron bonus shows, articles & content
- In addition to the standard bonus podcasts, you'll get our additional ad hoc podcast experiment shows and ad-free advance sneaks
- Occasional thank you physical rewards (books, DVD etc), that pass through MOMS HQ
- Priority on having podcast questions answered
- Priority on any Patron opportunities
About My Old Man Said
Online advertising makes many websites increasingly look like pinball machines with annoying flashing ads and auto-play videos. While small publishers like My Old Man Said used to be dependent on it for the revenue it provides, it's now nowhere near enough to justify keeping the site going.

That's why local newspaper websites and clickbait football sites put out up to 30 stories-a-day and practice all kinds of dark arts to get you to click.

Likewise, the hours it currently takes to put together the podcast also are not compensated through advertising.

The business model of creating content and giving it away for free was never going to be a sustainable one.

There is another way though to exist and that's from support from our readers and listeners. If you enjoy what we do, and you'd like access to exclusive podcasts, articles and even bonus rewards, then sign up as an MOMS patron member.

Doing clickbait headlines to articles that begin with 'Villa fans took to Twitter...' is not a path MOMS wants to ever go down. Also, we don't want to bombard you with pop-ups, pop-unders, those auto-playing videos and pointless no-news 'churnalism'.

What we do is create great quality writing and podcasts and that's what we want to be able to focus on. Sometimes, it's crazy to think MOMS been doing this for over seven years, but it's because we love the Villa. We love our readers and listeners too, and we'll love you even more, if you stand beside us as a My Old Man Said patron. It's like you'll be a member of what we do.

Everything that already happens on My Old Man Said remains free, the same as it always has been, but if you sign up to become an MOMS patron member on Patreon you get a little bit more with some podcasts and writing that won't be available anywhere else but here. There's also exclusive information updates, a newsletter, the odd bonus reward gift and sometimes an opportunity that money can't buy.
We recommend you come in at the
$5 
US level (that's barely the cost of a pint) to access the bonus podcasts, but it's all good whatever level you chose.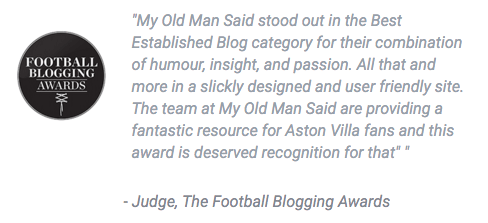 PATRON BONUS REWARD GIFTS
If you're a patron of $5 and above you could receive bonus rewards, as and when they come into MOMS Towers.
For example, lucky MOMS Patrons have received free rewards such as a copy of Playstation FIFA, Film Premiere tickets, several football-related books, DVDs, T-shirts, Under Armour sports kit, Classic Football Shirt credit, official Mitre Delta official EFL match balls (RRP £115), Mitre Star Wars goodies, art prints of Villa Park and Villa Store gift vouchers. 
Also, we've passed on unique opportunities to MOMS Patrons, such as:
* Playing with Stan Petrov (and against Dion Dublin and Emile Heskey) at a Villa kit launch event at Bodymoor Heath (and taking home a free Villa kit & boots).
* Having a full away trip (tickets, food and travel) for two people reimbursed
* Having a tour around Bodymoor Heath and watching the players train and then meeting them.
* One lucky patron got hospitality and a top seat at Villa's Wembley play-off final win.
* Paid appearance in Coca Cola's Premier League TV advert
It's just an extra way, when MOMS can, of saying thanks for the support.
Sign up to become an
MOMS patron member
on Patreon today!
UTV
PS - If you are in the UK, you'll notice there is an additional VAT amount when you sign up, but I have included that in the UK conversion estimates that you see here.

Recent posts by My Old Man Said