Monica Roxburgh Sears
is creating masks & mask-making tutorials
Select a membership level
The Tip Jar
Show your appreciation of the work that goes into developing new mask-making techniques and tutorials.

A monthly tip from $1 up to whatever seems fair and affordable is appreciated and helps keep the content coming.

"Tip Jar" tier supporters can view all my tutorial posts and behind-the-scenes photos from my mask-making projects.
Behind-the-scenes content
The Mask-maker's Apprentice
Limited (3 remaining)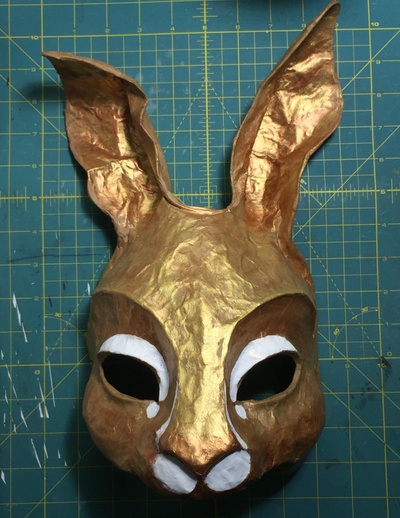 If you're ready to make masks but you desire more guidance than tutorial posts and behind-the-scenes photos can offer, I am accepting a limited number of  pateons at the "Mask-maker's Apprentice" tier.

This includes feedback via photos of your work, and a monthly one-on-one Q&A video session to assist you with your process.
Behind-the-scenes content
The Benefic Benefactor
The "Benefic Benefactor" tier is for those who are able to provide ongoing support for the creation of tutorials, and for the development of ecologically-conscious art creating methods, and who see the value of these techniques being accessible.

With enough patron support to make tutorials I will be able to offer my tutorials to everyone for free!

Behind-the-scenes content

Ability to commission work
About
The masks and I, 2002
Portland Tribune photo by Kyle Green
"Monica of the Masks". I've been a mask-maker for over 25 years now. It seems no matter what happens in my life, I always come back to them.
Many of you know me through my old business Goblin Art, where from 1999-2012 I sold more than a thousand handmade masks to customers around the world.
Curly Masquerade Mask, 2004
Synthetic cast neoprene
In those early days the masks were typically made from synthetic materials like slip-cast neoprene, vaccuformed thermoplastic, and acrylic paint.
But the further I tried to push my artistic vision, the more of my time was spent trying to simulate the appearance of natural materials.
Custom helmet mask, 2004
"When I See the Wild God", Llewellyn Books
This vision involved creations that looked like ancient relics, or as if they'd fallen from a parallel universe that had never become industrialized.
And over that same time period I was also becoming more aware of the environmental impact of the synthetic materials I was using.
So bit by bit a question grew in my mind: "Why not make the masks from natural materials in the first place?"
"Mask Night" at Echoes in Time, 2018
Photo by Lauren Johnson
So in 2012 I put my mask business on the back-burner and immersed myself in the world of ancestral skills.
I wove baskets and felted wool. I played with plant-based dyes and ground earth pigments. I assembled plant material into simple masks inspired by traditional mummer's costumes. I even (briefly) explored hide tanning with the idea of making leather masks from my own vegetable-tanned leather.
The results of all this came together under a project called "
Wildland Roots
". But ultimately, my ideas and experiments from that time would converge into something both ancient and modern...
Revisiting the fox mask, 2019
Bioplastic starch and reclaimed burlap
Learning about ancestral ways of doing things taught me that "plastic" doesn't have to be made from petroleum. Plants, animals, insects, fungi and bacteria have been building with
natural
polymers since the start of life on this planet—something our pre-industrial ancestors were well aware of, and often strove to harness or emulate. And that is a field that people are exploring once again as "bioplastics" research takes off.
Mask for Portland Mardi Gras 2020
"Bioplastic"-based sculpting compound and salvaged materials


So this past year has been very exciting as I have finally started to integrate my previously developed mask-making skills with a more modern approach to natural materials, thanks to the use of simple, safe and easy to make bioplastic mixtures.
And although I still consider all this to be an ongoing work in process, the results just keep getting better. So I invite you—the current or potential mask-maker, mixed-media artist, or sculptor—to join me and see where these materials might be able to take you too.
Basic mask-making process with
burlap and bioplastic starch
Patrons can view mask-making tutorials and step-by-step photos as I create new works from natural materials. This will include the recipes I use for bioplastic starch, flexible sculpting compounds, and natural paint. Access to these posts starts at $1 per month, though higher contributions are always welcome.
Occasionally tutorials may focus on making masks from low-impact recycled or salvaged materials, or go beyond mask-making altogether to explore other art forms I have started making from natural materials, such as parade lanterns.
I also invite everyone interested in my work to follow my public posts. I will share photos of some of my previous work in addition to more current works—especially when there is the opportunity to compare and contrast my old and new techniques and materials. (Just select "Follow" on my page instead of "Become a patron").
Tree hobgoblin from three different materials:
1. Synthetic cast neoprene, 2005
2. Paper mache over vaccuformed plastic, 2005
3. Bioplastic sculpting compound, 2020
Lastly, if there is sufficient interest, I might share my research and thoughts on historic mask traditions, with a primary focus on those of Europe and the European-diaspora. This includes mummers and guisers, "Wilder mann" and Kukeri type masks, and ancient Greek votive masks. (These topics may become a separate tier level at a future time).
Masks and mummer-type traditions have long been a part of cultures around the world where there is a strong respect for nature and a connection to place. And when we learn to make art from the natural materials around us, it gives us an opportunity to enter into an important dialogue with the natural world too, and to share it with others. And that is something I believe this modern age can only benefit from.
"Earth Mother" (in process), 2020
Burlap and "Bioplastic"-based sculpting compound including clay and plant husks
By becoming a patron, you'll instantly unlock access to 3 exclusive posts
By becoming a patron, you'll instantly unlock access to 3 exclusive posts
Recent posts by Monica Roxburgh Sears