Morgan Lees
is creating fantasy/sci-fi art and writing
Select a membership level
Watcher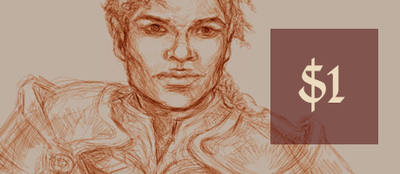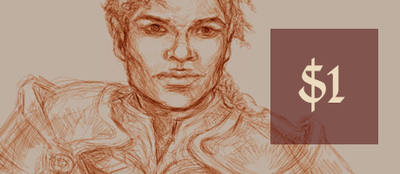 Thanks so much! You are a patron of the arts, and every bit helps.

Access to Patreon feed: Includes artwork progress posts, story snippets, bits of world building, and more!

Helper
Thanks, you're awesome! 

You get everything from the Watcher tier, plus... 

Monthly wallpaper: Once every month I make up a wallpaper with one of my pieces of art, and you get access to that!

Discount at my Etsy shop: An unlimited15% off all prints and commission types at my Etsy shop!

Assistant
Limited (29 remaining)
Thanks so much, you are awesome! 

You get everything from the Helper tier, plus... 

Free yearly commission: Once per year, you get one free pencil or digital linework commission of your choice! (Must have been a patron for at least three months.)

About Morgan Lees
Hi, welcome to my Patreon page!
If you're here, you probably have some idea about what I do - but if not, read on to find out!
About Me


My name is Morgan Lees, and I'm an artist and writer from Michigan, USA.
I focused on traditional black and white pencil and ink art for most of my life, but in the last five years I've turned towards colorful digital work that keeps the strong basis of line that I learned from my work in comics (I made
Corner the Maze
).
Both in my art and in my writing I like to explore traditional fantasy and science fiction narratives with characters less often seen in those roles, filling gaps that I found missing when I was growing up. A background in stage combat and historical martial arts helps me keep the armor and weaponry I depict grounded in reality.
I've loved fantasy and science fiction since I was a small child when I first read
The Lord of the Rings
and began working my way through my parents' science fiction collection. I started getting serious about drawing in order to portray my own characters from roleplaying games and stories that I was writing, and that's still one of my biggest motivations - bringing characters, both mine and others', to life.
I studied fine art at Lansing Community College for two years but am otherwise self taught, having learned from my artistic family as I grew up.
I'm a member of the
Arts Council of Greater Lansing
and
Art of Combat
.
This is the place where you can find snippets and excerpts of stories and novels that I'm working on, occasional full stories, explanations and in-progress shots for art pieces that I'm working on, and potentially more! I'm starting out relatively small with this re-launched page, focusing on giving insight into what I'm already doing, but I'm planning on expanding and refining that later. There are also some cool perks to being a Patron here!  
Everyone
gets access to the feed with all the insights above, as well as four years of comic-related content.
At the
$5
tier, you also get access to wallpapers from artwork, and a 15% store-wide discount at my Etsy shop.
At the
$10
tier, you get all that and one free pencil or digital art commission per year.
At the
$25
tier, that commission can be any kind of art including a painting, and you can read short stories as I finish them - before they're published anywhere.
How does Patreon work?
There are a couple of different models, but this Patreon page works as a monthly subscription. This is really important for me and a lot of other creators, because freelance income is often unpredictable!
The reward tiers are all listed on the right side of the page. You can select what reward you want when you click on the "become a Patron" button, choosing from all the rewards at or below the amount of money you're pledging per month. (You can select no reward, too, if you want.)
You can pledge as much or as little as you like, down to $1/month, and cancel at any time.
When are rewards delivered? When is payment processed?
Payments are processed at the beginning of each month, starting on the 1st of that month. Wallpapers are delivered in the first week every month unless I'm unable to do so for some reason (such as being away on a trip or sick), and other rewards are delivered throughout the month - typically two to three per month.
You will be charged the first time after subscribing, and then monthly therafter.
Once you've pledged, you have access to all posts available to your reward tier. So, for example, if you sign up at any amount, you'll see everything since this Patreon was started. Since I set this Patreon up first in 2016 when I started my comic,
Corner the Maze
, that's a lot of stuff!
I don't really want to pay monthly, but I do want to support you. Is there a way I could do that?
Sure! You can cancel your pledge at any time, but you could also send a few dollars to my PayPal account (
[email protected]
), or via
my Ko-fi account
. Anything is greatly appreciated!
Liking and sharing my work on social media always helps, too, and that's free!
If you have other questions, you can check out the Patreon
Help Center
.
New Reward: Every month I'll set up a poll with a few options for people to chose from and do a piece of fan art that will become a wallpaper.

All unlocked rewards will be for all patrons.

1 of 3
By becoming a patron, you'll instantly unlock access to 280 exclusive posts
By becoming a patron, you'll instantly unlock access to 280 exclusive posts
Recent posts by Morgan Lees
How it works
Get started in 2 minutes