MovMEANT
is creating unapologetic real AF content to demystify REAL LIFE.
Select a membership level
Monthly MovMEANT Challenges
June MovMeant challenge: BODY AWARENESS CUCHISTYLE
JUNE 3-7

For the past five months we have been playing with the many facets of BODY AWARENESS. We dissected ourselves into PARTS, played with proprioception and spatial awareness. June completes our journey through BODY AWARENESS... CUCHISTYLE!

Body awareness, as well as just plain ol' good awareness as a whole, is the main component of the MovMEANT practice. Without that focused awareness it's not MovMEANT. It is precisely the intent awareness to the inner self as we move through our BODY TALK that creates such a fundamental positive change in the way one views their life and thus chooses better for themselves moving onwards.

June MovMEANT CHALLENGE offers five basic and super effective ways to gain clarity and peace FAST! FOR ALL LEVELS because YOU MOVE LIKE YOU!

Hope you'll join me JUNE 3-7th for CUCHISTYLE MovMEANT!
To join go to Patreon.com/movMEANT and become a Patreon to the monthly Movmeant tier. Buffet of goodness tier also offers this challenge PLUS all challenges up-to-date PLUS daily cuchiBLOGS.
Please be sure to read Patreon rules and policies before subscribing. There are absolutely no refunds!

*IMPORTANT! Content on this tier stays up from the first listed date of the challenege until the end of the month. Afterwards it is deleted and can only be found by joining the BUFFET OF GOODNESS TIER where you can also find every MovMEANT challenge since day one up till most recent challenge. This tier offers a new Movmeant challenges every month. 

*ABSOLUTELY NO REFUNDS. PLEASE READ PATREON'S RULES & POLICIES BEFORE SIGNING UP.


*For CLASSES go to patreon.com/MovMEANTclasses

BEYOUtiful : Monthly Challenges
June beyoutiful challenge: THE MASTERPLAN - Be the Creator Of Your Life.

The subconscious mind is your data bank, where all your experiences, memories, skills and beliefs are stored. I read somewhere that the subconscious mind is the gatekeeper of your comfort zone. So true! It not only regulates your physical self but will also get a strong hold of the mental self if you let it!⠀
⠀
Many of us are unaware of the subconscious mind and that's where it can have a scary hold on you and control of your life (without you even knowing it!). There are obviously many benefits to the subconscious, one of them protecting us from making similar past mistakes, potentially getting ourselves into deep poo-poo yet again. But one thing for sure, you do not want your subconscious mind ruling your kingdom. ⠀
⠀
The mind has some serious powers and if we don't learn how to command it (to some degree) it can lead us astray and drive us crazy! (Which is why I believe they should be teaching MovMEANT meditation in schools). I've been there, done that, not much interested in living in the mind's chaos anymore. MovMEANT has been my way out of the madness. The most healing practice I know. Grateful for it. MovMEANT.com has tons of offerings. ⠀
⠀
To continue reading my thoughts on the SUBCONSCIOUS MIND go to today's blog post on Patreon.com/MovMEANT (buffet of goodness tier). ⠀
⠀
June BEYOUtiful challenge: BE THE CREATOR OF YOUR LIFE focuses on learning to be friends with your subconscious mind. Or at least recognizing its presence. Hope you'll join me on Patreon.com/MovMEANT on the BEYOUTIFUL CHALLENGE TIER starting June 1st. This stuff is seriously life changing! ⠀⠀


❤️WHAT IS THE BEYOUTIFUL CHALLENGE? 
A practice in self healing that leads to the deep understanding of SELF LOVE. 
We are so quick to give our power away to sources outside of ourselves hoping they will "save" us. When we do this we disempower the self. You want to permanently feel empowered and loved? The answers are within you. ALL YOU SEEK YOU HAVE.
To help oneSELF you have to know oneSELF. The BEYOUtiful challenge provides a space to show up and work on just that! Think of them as LIFE CHALLENGES. Practice life as life is happening, so when life throws you curveballs, you're ready! 
*Please note: Tamara "Cuchira" Levinson is not a certified/licensed therapist or doctor. I'm just a girl who's been through stuff and I'm sharing what's worked for me. Please proceed carefully at your own risk. Tamara is not liable for the actions of how you choose to take on these challenges. 


❤️HOW DOES IT WORK? 
At the start of every month you will receive a BEYOUtiful challenge to take on throughout the entire month. These challenges will consist of physical exercises and journaling. They are meant to come back to throughout the month. Nothing of great importance is a one off. 


❤️WHAT DO THE EXERCISES CONSIST OF? 
All the exercises are designed to bring AWARENESS by deconstructing past behaviors thus being able to identify patterns. This brings a tremendous amount CLARITY which when observed in your TRUTH no longer ALLOWS you to make choices that no longer serve your happiness. 


❤️WHY JUST ONE CHALLENGE A MONTH? 
PROCESS! Processing takes time. Imagine all the time it took to build the habits and patterns that have gotten you to this point. It's only fair that you ALLOW time and space for healthier patterns to instill and settle. 
Reboot the system! One month diving into each BEYOUtiful challenge will allow the lessons to marinate, sink in and most importantly stay with you. SELF LOVE TAKES COMMITMENT! 

*ABSOLUTELY NO REFUNDS. PLEASE READ PATREON'S RULES & POLICIES BEFORE SIGNING UP.

*IMPORTANT! Content for this tier only stays up for a month (1st of the month till the end of the month). Afterwards it is deleted and the new monthly beyoutiful challenge begins.

**For CLASSES go to patreon.com/MovMEANTclasses
Buffet of Goodness!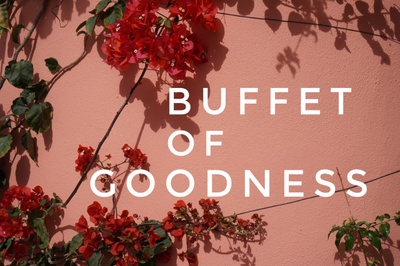 For just $50 a month I'm spicing up your palate with mind-body-spirit inspiration galore! Join me through my life journey as I share with you my day to day thoughts and experiences through love, heartbreak, hope, triumph and everything in-between. I'm here to inspire you to live your most free life! 


Expect lots of unapologetic self expression and deconstruction of mind movement through dancing, yoga, movMEANT, open journaling, motivational talks, photography, videos, travel stories and everything human that happens along the way. 


*Note: This tier also includes the MONTHLY MOVMEANT CHALLENGES up to date and the ones currently happening. It does NOT include the Beyoutiful Challenge. 

*ABSOLUTELY NO REFUNDS. PLEASE READ PATREON'S RULES & POLICIES BEFORE SIGNING UP.


*For CLASSES go to patreon.com/MovMEANTclasses

About
Enough of this politically correct content to get more views and followers. We need more leaders in the world and what makes a good leader?... empowered individulas who aren't afraid of being BEYOUtifully themselves! That's what I'm bringing to the table; Real AF, solid, honest, truthfully unapologetic self expression through MovMEANT and WORDS about all aspects of my life and lessons learned to inspire the truth seeker in you. Making uncomfortable the new comfortable. Let's get free togther!
BIO: 
Tamara "Cuchira" Levinson was born in Buenos Aires, Argentina. At the age of fifteen she represented the USA Rhythmic Gymnastics team at the 1992 Olympic Games. Her love for movement led her into a successful an ongoing over 20 year dance, aerial arts & choreography career. She performed along side Madonna on three world tours as well as many other well known artists.
Tamara took her talents to New York City, On and Off Broadway performing innovative underground theatre with the Argentine troupe De La Guarda in shows "Villa Villa" and "Fuerzabruta", of which she also was a part of the original creative company. She worked in Hollywood, California extensively choreographing music videos and film. During this time she created a unique dance-yoga fusion technique branded YOGANCE.
After all her success in the movement world her greatest accomplishment is her personal and occupational life's works manifested into what is now known as MovMEANT : a therapeutic movement medicine technique that heals eMOTIONal blockages through the Art of movement and free expression. She guides beyoutiful warriors all over the world to live in the true essence of their BEing by learning to listen and trust their intuitive body talk and felt sense. Using movement medicine to cleanse past traumatic body memory, transforming trauma into liberation!
Tamara uses all forms of creative expression to speak her truth and hopefully inspire others to do the same. When we live in our truth, we free ourselves and life turns into a beyoutiful dance!
Instagram :
http://www.instagram.com/cuchira
Website :
http://www.movmeant.com
MovMEANT Store:
http://www.etsy.com/shop/MovMEANT
Facebook:
http://www.facebook.com/movmeant

Facebook Group:
http://www.facebook.com/groups/564225047713694/?r...
Youtube:
http://www.youtube/.com/c/TamaraLevinsonMovMEANT
Email:
[email protected]
Donations:
http://www.paypal.me/movmeant
By becoming a patron, you'll instantly unlock access to 324 exclusive posts
By becoming a patron, you'll instantly unlock access to 324 exclusive posts