Mr. Biscuit
is creating feline webcomics
Select a membership level
Super Human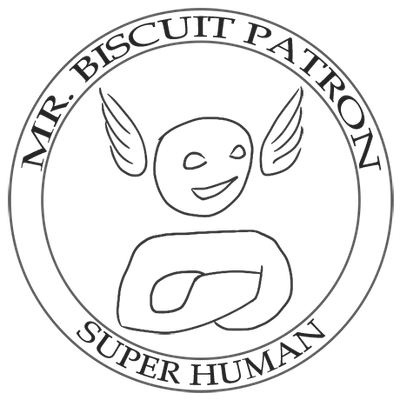 You are the best kind of human: one who cares about a cat. Here's some stuff for you:
Access to the comic two days before it releases on the website
Your name in the upcoming Mr. Biscuit book (a collection of published strips with extra content)
Chill Cat
You are one chill cat and my best friend. Forget Butterscotch. Here's some stuff for you:
Everything from the previous tier
Ten percent off the upcoming Mr. Biscuit book
Access to the full-size images and a look at the horrible sketch outlines
Access to the great timelapse videos generated through Procreate
Ceiling Cat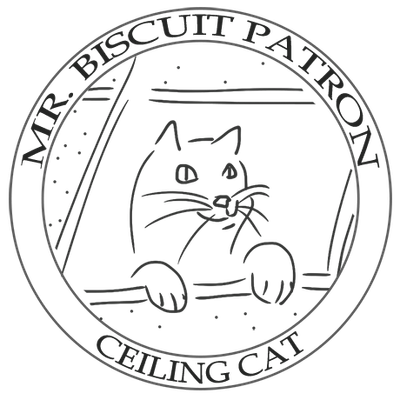 You are a god, goddess, or non-binary deity all cats pray to. Here's some stuff for you:
Everything from the previous tiers
Thirty percent off the upcoming Mr. Biscuit book
Your name featured in the thanks section of the next comic strip (or the one after if the strip is already finished)
Your name on a piece of paper placed in a picture with Biscuit and posted to Instagram
About
What is it?
One of the most awesome webcomics about cats ever drawn. Every week, a new strip is released and patrons get to read it two days before everyone else. There are already several strips you can read here (in the Posts section) or at 
mrbiscuit.blog
.
Why?
By supporting the comic, you'll be helping to pay for the care of its star and inspiration, the eponymous Mr. Biscuit.
Yes, that handsome fellow. Mr. Biscuit has rhinitis, but that's likely just a symptom. Of what? That's what we've been trying to find out, but the multiple tests we've run so far have come back negative. In the meantime, he's taking a daily steroid, which is not great for his life expectancy, and he's developed an eye issue that requires drops twice a day. He's a high-maintenance cat.
And that's why this webcomic was created. By subscribing to any of the tier, you will be helping to pay for his many medical expenses. Not just medicine, but the aforementioned tests and the many, many vet visits. Your support is extremely appreciated, as this kitty is uninsured, having suffered a seizure two days into the five-day wait period before he could qualify. The trip to the animal hospital voided his eligibility. What can we say? He's one of a kind. And so very adorable.
Is that not the sweetest face? You can learn more about Biscuit on his blog, where he writes entertaining and sometimes informative posts awash in cute pictures of himself and his adopted brother Butterscotch, who is as healthy as can be. Just check out
http://mrbiscuit.blog
On top of being entertaining, Biscuit is smart and affectionate. We love him deeply and humbly ask for your help in caring for him. Not only does it make you an awesome person, it gets you perks. 
The perks
By becoming a
Super Human
($1 a month or more), you get the comic two days early. Your name will also be printed in the upcoming book, which will be assembled once enough strips have been drawn. That's pretty sweet, 'cause you're pretty sweet.
If you decide to be a
Chill Cat
instead ($5 a month or more), you get all of the cool stuff Super Humans get, but also access to the full-size strips, the less-than-stellar sketch outlines, and the awesome timelapse videos, courtesy of Procreate, so you can see how it all comes together. You also get access to full-size versions of the best pictures posted on The Mr. Biscuit Blog that month, which are some of the cutest kitty photos around. Oh, and you get ten percent off the current Mr. Biscuit book (starting whenever the first book comes out). Most of all, you get that burgeoning warmth inside, because you know you are making a difference.
Are you
Ceiling Cat
? Biscuit may not be old enough to get that reference, and his biological parents probably aren't either, but we're throwing it in here because you're a godlike being. You are Awesome Sauce personified. You get everything, but thirty percent off the price of the current book instead of just ten (again, starting whenever the first book is published), and the most special of perks: your name written on a piece of paper in a picture with Biscuit or Butterscotch (to each their own), posted to Instagram, Facebook, or Twitter, whichever you prefer,
and
your name printed in the thanks section of the next comic. Did I mention you're the best?
Does one dollar a month really help?
You bet it does. Imagine one hundred people donating that much. That's quite a bit of help right there. If you're able and inclined to give more, please do, because beyond the perks, you'll be doing a good thing. But, seriously, one dollar can really help.
The initial sprint! Let's reach that magic number.
1 of 1
By becoming a patron, you'll instantly unlock access to 70 exclusive posts
By becoming a patron, you'll instantly unlock access to 70 exclusive posts
Recent posts by Mr. Biscuit