The Mu Mesons Archive
is creating an archive exploring the fringes of society and the strange
Select a membership level
Naked World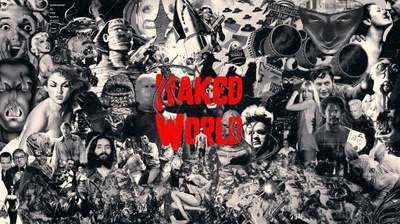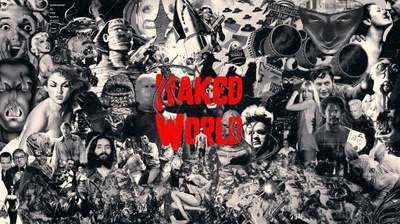 See Naked World, in complete streaming video, Jay Katz and Miss Death will be across your airwaves with interviews and conversations delving into the down right bizarre. 
Explore What Is In The Archives?: A scatological show and tell of 20th century ephemera that is colliding with the 21st century and lives permanently in the archives.
Mu Meson Archives UNEARTHED: Rare & Lost films that will make you wonder why you have never seen them until now.
The original Sounds Of Seduction (1995) album upon signing up (digital download)
Enter the Mu Mesons Archive to stay up to date with Jay Katz and Miss Deaths Naked World 
About The Mu Mesons Archive
Donate to the
Mu Meson Archives
:
Live from the Mu Meson Archive, four times a week, Jaimie and Aspasia Leonarder aka Jay Katz and Miss Death, will be streaming live from the archives with Naked World, Cult Sinema Obscura, and Live From Mu Mesons
Naked World Podcast
September 2020 will mark thirty years since Miss Death, and I declared our undying love and commitment to each other. We both meet working as diversional therapists devising activities for heavily disabled clients in a series of despicable nursing homes we won't name here. I was in awe of Aspasia's (Miss Death) compassion, patience and integrity. She left me and still leaves me for dead. Her commitment to the forgotten and institutionalised was astonishing and made my heart vulnerable to her advances when our love first took seed.
Now it is mid April 2020, the world is supposedly in lockdown flattening the curse oh sorry I mean curve. All ground-breaking front-line work especially in the world of the artist (miscreants) is evidently over! Well for now. What can a pair of naïve outsider artists who have lived by their wits and with a consistent policy of D.I.Y do? We need an audience to touch emotionally otherwise we may as well succumb to the virus. There is no solace in the fact that we are not alone in this moment. We feel deeply for all who have struggled and are struggling now. It's always been obvious to us that all that people need is people but right at this moment of true uncertainty we are told to stay at home or keep a responsible distance from each other. My daughter in law Bianka recently stated that when all this over let's just go into the city and start hugging everyone. I really miss being able to physically embrace my friends.
In this world of fast paced living you need!... No, you don't! Hold on, we have just come to a halt, could it be that our collective socially engineered obsessions with convenience and ever-changing technologies is what transplanted us here. The problem is that it comes at a price and I just don't mean the bottom line. Hey!, With every new improvement in technology we appear to lose more of our humility and humanity.
So right now, when the playing field has been levelled its time for the righteous grassroots artists of our world to stand together in rebellion. That's what the visual podcast" Naked World" is all about. Sure, there's Netflix, Amazon prime, Stan and literally a billion others, but why should we pay the platforms that are so blessed with overabundance? At the end of this palava when we all stretch our legs hopefully back into the real world, why shouldn't we demand more community and much less corporatocracy?
After thirty years of counter cultural hoarders buried alive it's about time for The End of the World Fire Sale. That means that everything we have ever done creatively is going up online. Philosophy: from the most esoteric of sources, Cult cinema that defies explanation (well psychotronic may do) and music to soothe the savage isolation. It's time to get proactive with our ever expanding archives. One last hurrah that simulates the way we lived our lives. Every home we had has become a venue open to the community against all odds including legality. Now instead of coming to our home (aka archives) we will be coming to yours, that's if you are kind enough to let us. No pressure, I know we are not everyones cup of tea, but we do offer real kinship and an avalanche of distraction. Even if that is not enough, these podcasts will become very interview heavy and maybe our subjects for discussion and the individuals involved will take your fancy.
Tons of love from up above! Jay Katz & Miss Death 2020.
By becoming a patron, you'll instantly unlock access to 472 exclusive posts
By becoming a patron, you'll instantly unlock access to 472 exclusive posts
Recent posts by The Mu Mesons Archive
How it works
Get started in 2 minutes