AC Dumlao (they/them)
is creating social justice edu by a trans enby 1st gen Fil-Am lens!
Select a membership level
You're the one!
Wahoo! Thank you for your mighty contribution. Every dollar actually DOES count. For example: I have 10,000 followers on Call Me They... if they each gave $1... well you get it!

You'll also get full access to my private Patron-only posts.

Shipping address requested for extra surprise prizes.

It Takes Two!
By special request, a tier for 2 (dollars)!

You'll also get full access to my private Patron-only posts.

Shipping address requested for extra surprise prizes :) 
High five!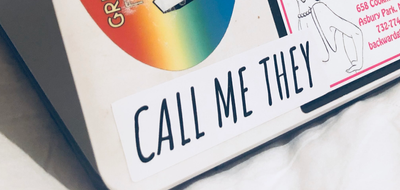 Whoa! High $5!
At the $5+ level, I will mail you a CALL ME THEY sticker for your sticking pleasure! 
You'll also get full access to my private Patron-only posts including my "CALL ME 'HEY'" roundups!  
About
Hello Call Me They patrons! During the COVID-19 pandemic and the re-ignited Black Lives Matter Movement, it's important for me to message each of you and say that you should please feel free to un-pledge from my page (I unfortunately cannot do that myself, otherwise I would).

If you would like to stay pledged, please know that I will be donating my monthly patron to trans orgs, particularly for Black trans folks, until further notice.

Please see the list of orgs below:

July 2020: SisTers PGH: Project T - Trans-Led Housing Justice
June 2020: Black Visions Collective
May 2020: Queer Detainee Empowerment Project
April 2020: Queer Detainee Empowerment Project

***

"I always go to AC to see what they'll say because I trust their opinion and that they'll come from a perspective that enriches and betters my own understanding and experience of the world–and I know that reading what AC has to say makes my own effect on the world more positive too!"
– Elly Belle, Writer & Advocate

* * *
Hi! My name is
Mx. AC
(Angela)
Dumlao
and I'm a
queer trans non-binary first-generation American and child of Filipino immigrants
. As an advocate + artist + educator, I'm dedicated to affirming and uplifting underrepresented folks and their intersectional experiences of oppression. I run the social justice Facebook
Call Me They
, which is the primary place that I create online content.
I also run the Instagram
@mx.acdumlao
(where #genderfull fashion and self-care/mental health reflection meet) and tweet at
@mxacdumlao
. I've been profiled by
NBC Asian America
's #RedefineAtoZ 2017. I've also guest edited for the QTPOC publication
EFNIKS.com
, been featured by
Allure Magazine
, been published by
The Huffington Post
,
Broadly (VICE)
, and
Autostraddle
, and been quoted by INTO, Business Insider, Mic.com, and The Root.
This patreon page was created because my
amazing
followers requested a place that they can pay me for my emotional and intellectual labor as an educator on queer, trans, POC, Asian-American, Filipino, Mental Health, social justice issues and more. I still have imposter syndrome about advocating for myself, so I thank my followers for their encouragement. I've posted a few quotes not only as endorsements but as a reminder to myself of the support and love I receive from you, my community.
If you've ever shared something I wrote, learned something from me, and/or felt that I put into words something that you care about, I humbly ask for your support.
Any funds I receive go toward travel expenses and supplemental income to make up for any freelance jobs or speaking events which I am either
unpaid
or
underpaid
. The truth is that living in NYC is hard, and many times after bills and debt, my monthly patreon payout is the cash I left on hand. Your monthly contribution makes a direct difference in my life.
A monthly donation of as little as
$1/month
($12/year) truly makes a huge difference. Think of it as 4 small quarters you found in your couch or pocket a month! Every cent counts :)
(Monthly giving not for you? I hear that! I can also receive one-time gifts at
Ko-Fi
,
Venmo (callmethey)
,
Cash.Me
($mxacdumlao) and
PayPal
(e-mail: mailmethey at gmail dot com). You can also open those links on mobile or in-app! Finally, have an Amazon "Wish List" of books I'd love to own
here
.)

Can't give? No worries!
There are so many other ways to support me that don't involve money. One of which is
sharing this page
on your Twitter, Facebook, or other social media -- totally FREE! If you're up for it,
adding a personal note about my work adds a lot!
Want to read more about me/find me all over the internet? You can check out my website:
callmethey.com
.
Thank you so much for any and all support. I couldn't do what I do without you.
xo AC
"If I love you, I have to make you conscious of the things you don't see." — James Baldwin
* * *

" A much-needed voice on campus, AC not only spoke on the intricacies of being multiply marginalized and how to elevate those who are, but grounded it in lived experiences and a thorough understanding of intersectionality. They not only walk the walk, they also talk the talk."
– A Guo, Student Leader, Queer Nonbinary Student of Colour, Asian Canadians Association of Carleton University

"AC Dumlao introduces such a refreshing perspective on intersectionality, advocacy, and activism. Their authenticity and dedication towards equitable representation for marginalized peoples has been so inspiring to me."
– Megan Wang, Student Leader

"AC describes their intersections of race, gender, and sexuality in a way that makes it easy to grasp for new readers, yet still refreshing and engaging for folks who are already familiar with some social justice terminology. Their style of writing is informative, but perhaps most importantly, affirming and encouraging."
– Charlene Vo, Nonbinary and Queer Student of Color
Read all testimonials here!
By becoming a patron, you'll instantly unlock access to 74 exclusive posts
By becoming a patron, you'll instantly unlock access to 74 exclusive posts
Recent posts by AC Dumlao (they/them)