My Friends Are Monsters
is creating the most REAL True Crime content on the planet!
Select a membership level
VIP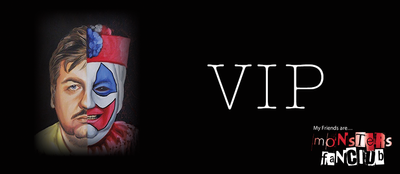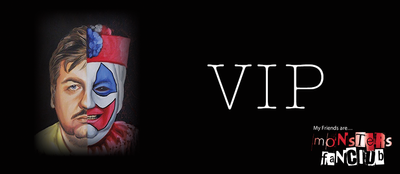 Patrons will receive:
Criminal Profiler Phil Chalmers uncut, unedited and uncensored interviews with serial killers, mass murderers, school shooters, family killers, and true crime experts
Download copies of letters and artwork from serial killers, school shooters, mass murderers, teen killers, and child predators. These pieces are suitable for framing to build your own true crime historical collection
Hear SHOCKING cold case confessions, and read letters from real SERIAL KILLERS
Hear first hand accounts of infamous crimes, like from the person who killed Jeffrey Dahmer, or the detective who interviewed Ted Bundy
Download, Print and Frame artwork, paintings and drawings straight from death row
VIP Meet and Greet at ALL of Phil's LIVE events
Early Ticket Access to Phil's LIVE events and Tours
Learn crime prevention tips garnered from dangerous killers to STAY ALIVE!
Peruse historical true crime pieces, like the hardware store receipt that got Ed Gein arrested
The ONLY place to interact with Phil Chalmers, since he no longer responds on social media
Weekly posts and videos from Phil discussing current cases, as well as major cases, both solved and unsolved
CONTENT IS POSTED EVERY WEEK, USUALLY ON THE WEEKEND.

Exclusive monthly content from Phil Chalmers

Unedited, Uncensored, & Uncut Interviews

VIP Meet & Greet at all LIVE events
About My Friends Are Monsters
Phil Chalmers and his My Friends are Monsters Fan Club are providing the most real and authentic true crime content on the planet. If you truly want to understand what makes violent killers tick, and you want to learn more about American serial killers, than this is the place for you.

Phil and his wife Wendi are super excited that you are here, and that you have decided to support their cause. Phil's work, along with his fan club content are perfect for fans of true crime, criminal justice students, and those whose job is to apprehend these monsters. Instead of doing what all the other podcasts do-talk about true crime, serial killers, and the latest crime shows, Phil Chalmers talks directly to the offenders, maintaining relationships with hundreds of serial killers, mass murderers, and school shooters. He gets a first-hand account of the "real" story directly from the mouths of the offenders, a unique perspective in today's true crime podcast arena.

Phil asks questions everyone secretly wants to ask, but most interviewers rarely dare. Chalmers explores their motivations, mindset, and methods, which are rarely explored (exposed) and scarcely reported by the media. The questions Chalmers asks create an interview that is raw, edgy, and intriguing. The crime details reported on his podcast are rarely heard in true crime cases-mostly reserved for fiction and movies. Chalmers has a gift for getting serial killers to open up and share information and details never heard before. Some confess to unsolved murders, discuss crime details never shared before, and some will even lead Phil and his team to the undiscovered bodies of their unhonored, nameless victims.

Phil's subscription package will be unlike any other true crime subscription package, and will allow the Patron member to receive a monthly treasure trove of serial killer gold. Imagine reading a letter actually written by Jeffrey Dahmer, Dennis Rader or Ted Bundy. Subscribers will also receive copies of artwork and drawings created by serial killers, like John Wayne Gary's painting of The Seven Dwarfs. There will also be surprise pieces, like the business card that Gacy handed out for his contracting business. All of this is high quality copies, allowing you to frame them and create your own special true crime collection.

On a serious note, Phil Chalmers is not a fan of serial killers.He understands the destruction and pain these heinous crimes bring to the families and loved ones of their victims. (As well as the offenders' own families). The driving force behind this project is to hear the killers' motivations in their own words, and understand the causes that compel them to cross the line from fantasy to murder. The interviews and research conducted by Phil Chalmers assists investigators and researchers with warning signs and triggers that ultimately manifest into the loss of innocent lives.The details from all interviews are proactively shared with investigators and detectives to help curtail and ultimately stop future monstrous acts of violence.
Thanks so much for your love and support.
Phil & Wendi Chalmers


You will be charged at the beginning of each month, and the packages are mailed around the middle of the month. The interviews will be emailed to you as we release them, usually four per month.

By becoming a patron, you'll instantly unlock access to 92 exclusive posts
By becoming a patron, you'll instantly unlock access to 92 exclusive posts
Recent posts by My Friends Are Monsters
How it works
Get started in 2 minutes