Alex's Migraine Journey
is creating awareness for migraine, chronic illness, and disability.
Select a membership level
Baby Leaf
Want to just stop in and say
hey, I appreciate you -  keep doing you girl! 
Here is the place to do it!
Tier Includes: 
Reading Lists
Horror Viewings
Occasional Updates
Temporary Tier Perks - you'll be charged upon sign up and then grandfathered in with no additional charges until Fall of 2022. All Patreon exclusive content will be available to this tier during this time. 
Clippings
Limited (0 remaining)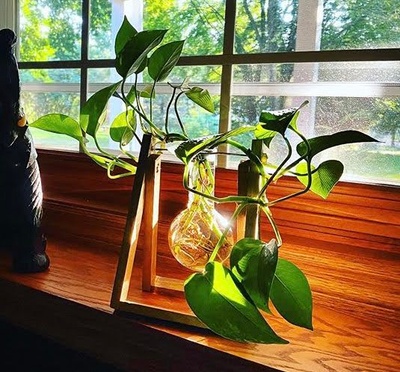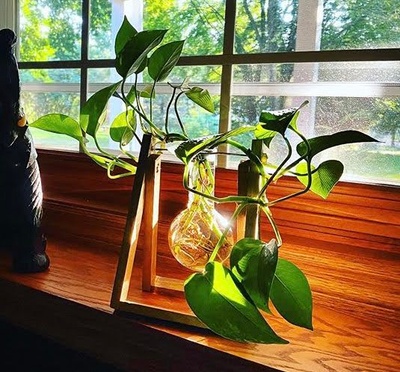 Tier Includes: 
Occasional Updates
Reading Lists
Content Previews
Some Vlogging Content
Big Leaf
Limited (0 remaining)
Tier Includes:
All blog related updates (includes midweek and occasional weekend blogs)
Reading Lists
Content Previews
All vlogging content
Occasional Long Essay Access
About Alex's Migraine Journey
Hey loves!

I'm Alex Tomlinson owner of MyLifeMyMigraine.com

I've been battling chronic migraine for half of my life. I am currently on my journey to recovering and reclaiming and redefining my life and in this process I'm striving to take what I learn to help educate others about migraine.

Redefining my life looks a lot like discovering what it is I'm passionate about, what interests me and finding unique ways to share this with the world around me. My strongest areas of interests include plants, the moon, horror movies, and interior design – which was my pre-disabling-migraine career.

What can you expect from my Patreon page?

Please note that any new subscribers as of October 2021 - November 2022 will only be charged upon sign up and all subsequent billing cycles are paused. Please refrain from editing your pledge upward as I will have to refund you. For tangible support beyond your initial sign up consider checking out my monthly threads on Twitter. Thank you.

During this time, all content will be published to my $1 Baby Leaf tier, below is the breakdown and goals of this page that will resume in December of 2022.

Primarily, Patreon serves as a shared space where I give more regular updates on my own health journey and insight into my personal life. These personal updates are available to all tiers, including Baby Leaf.

Updates are divided into a few categories: General Midweek Updates (all tiers), Weekend Blogs (Clippings, Big Leaf, Plant Haul, Fern tiers), and Weekend Vlogs (Big Leaf, Plant Haul, and Fern tiers).

You will also unlock access to Content Previews that range from upcoming blog topics, polling of interests for different subjects, and some early versions of work that will later be published to my site.

The newest addition to my Patreon page focuses on my writing and personal Long Essay pieces. Subjects will vary widely and are not limited to discussing chronic illness and disability. These Long Essays will be available to the top two tiers Plant Haul and Fern.

Where are earnings from Patreon used?

Patreon earnings cover 3 main categories: Web Hosting, Education/Research Events, and Medical Expenses.

Web Hosting costs include the yearly hosting and domain charges associated with my blog MyLifeMyMigraine. I opt for a paid version in order to eliminate ads within my blog. This is out of accessible necessity as I cannot control if ads may have a strobe like effect.

Education and Research costs include attendance to events (typically virtual) like the yearly Migraine World Summit. Events like this aid in my own migraine management and in my advocacy efforts.

Medical Expenses are as you'd expect. Although I have great insurance, prescription copays and non-covered items like devices and holistic therapies are not covered. The bulk of Patreon earnings are used to try new therapies and continue existing therapies without worry of covering the cost with my SSDI.

My Main Three Goals with Patreon:

1. Return to biweekly massage therapy. This is something I had while I was still able to work, but is no longer affordable on SSDI. I hope to reach an amount of Patreons that will allow for consistent massage therapy that works to reduce widespread chronic pain, relax my system, and keep the muscle tension in my neck and shoulders better controlled.

2. Combine my interior design/architecture background with awareness of disability and chronic illness to create a series of posts or perhaps a reference guide on the importance of the ADA, accessible design, and design adaptations for various needs.

3. Expand my advocacy and blogging work to be ever adapting to what people need for resources. In the beginning, my blog was formed because I didn't have many of these resources and wanted to share them. I want my blog to continue to grow and address more gaps within education and assistance to other people living with migraine.

A.


At a $100 a month, my medicine and non-pharmaceutical at home therapies are covered. Thank you for getting me to this level. When I reach $250 a month, I'll be able to resume monthly therapies such as massage therapy.
1 of 1
By becoming a patron, you'll instantly unlock access to 244 exclusive posts
By becoming a patron, you'll instantly unlock access to 244 exclusive posts
Recent posts by Alex's Migraine Journey
How it works
Get started in 2 minutes