Mysterious Radio
is creating The Mysterious Radio Truther
Select a membership level
The Truther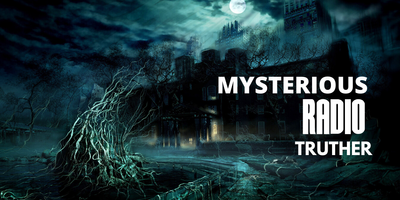 If you ONLY want access to early releases, exclusive and archived podcasts this is for you.
HERE'S WHAT YOU GET:
ACCESS TO ARCHIVED PODCASTS
 ACCESS TO EXCLUSIVE EDITION PODCASTS 
Truther - Plus (most popular)
Limited (1 remaining)
If you want access to EVERYTHING this is your spot!
HERE'S WHAT YOU GET:
ACCESS ARCHIVED PODCASTS 
ACCESS TO  EXCLUSIVE EDITION PODCASTS
ACCESS TO CASE FILES
ACCESS TO THE CHRONICLES PROJECT
ACCESS TO AUDIOBOOKS
ACCESS TO EBOOKS
REWARDS:
Exclusive Decal - 3 months continuous
Your choice of a T-shirt for 12 months continuous pledge
(Please include your shirt size in the address you provide)
About
GET "AD-FREE" ACCESS TO THE ULTIMATE FEAST FOR ALL THINGS STRANGE AND BIZARRE!
YOU GET ACCESS TO A TON OF PODCASTS AND RESOURCES AND HELP US AT THE SAME TIME. IT'S A WIN-WIN!!


WE NEED TO HIRE LOCAL TEAM MEMBERS! Podcasting at this level is NOT easy. It takes

thousands of hours every year

to produce top-quality podcast content. Becoming a Patreon supporters not only gives you access to amazing podcasts and other goodies but you also help us with the dire need to bring on local team members so we don't burn ourselves out.
WHAT SETS THIS SHOW APART?

(choose wisely)
Not only are you getting access to a hoard of amazing archives and exclusive podcasts but we also( depending on your level) give our supporters access to" bonus" material that you would normally have to PAY for!
WHAT KIND OF SUBJECTS WE COVER
WE COVER EVERYTHING!
You won't get bored just listening to ghost stories or true crime over here no, no, no!! I'll scour the planet to bring you something different and intriguing every month! You will hear the foremost experts, survivors, and witnesses from around the world

discuss aspects of the supernatural, conspiracy theories, UFO's, ancient history, cryptozoology, the occult, mysterious places, the unexplained, spirituality, true crime and much much more!!
By becoming a patron we will
REWARD YOU (depending on your level of support)
as expressions of our undying appreciation with awesome Graphic Tees, Sticker Packs, Decals, Buttons, Magnets, Books, Pens, Key-Chains, Water Bottles and more.
And, MOST importantly depending on your level you
also get:
NEVER LISTEN TO ADS!
ACCESS TO PATREON ONLY EPISODES!
ACCESS TO THE CHRONICLES PROJECT!
ACCESS TO FREE AUDIOBOOKS!
ACCESS TO FREE EBOOKS and MAGS!
ACCESS TO FREE EPISODES MONTHS AHEAD OF RELEASE!
AND DELIVERED STRAIGHT TO PODCAST APPS SUCH AS:


Apple Podcast
Radio Public


AND MORE!!


Plus
, you get a look
behind-the-scenes
and
get to know
K-Town a little bit better! Download the Patreon app for Android or IOS and get PREMIUM ACCESS to our amazing content TODAY!!

AND MUCH MORE!
OUR DEEPEST THANKS TO ALL OF OUR FANS THAT WANT TO SEE MYSTERIOUS RADIO CONTINUE OUR JOURNEY TO FIND TRUTH.

Listen to bi-weekly shows on iTunes and check out our website.
iTunes
Website
Become a patron to
Unlock 411 exclusive posts
Connect via private message
Recent posts by Mysterious Radio