Mystic Nerd
is creating epic mystical journeys through astrology, tarot and awesomeness
Select a membership level
Level 1
Thanks for tossing a coin my way! Your support allows me to keep creating cool content. You're awesome!

Level 2
1-UP your life with access to my Patreon-exclusive Discord server, where you can chat with other awesome nerds like yourself, and get some Star-Powered advice to help you out.

You also have my sincere thanks for your support! <3

Level 3
Limited (50 of 50 remaining)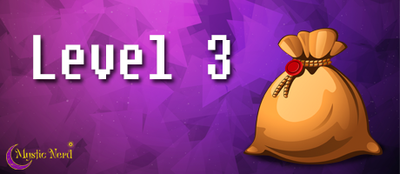 You get a whole loot bag full of content at this level!
- Once a month random mystical, nerdy gift in the mail, complete with letter of gratitude from yours truly

- Exclusive behind-the-scenes looks, participation polls, and other perks I randomly think of

- And of course, you get access to the Discord chat

About
Hey, awesome nerds! Thank's so much for checking out my
Patreon
. Stay a while...
~~~~~~~oooOOOooo~~~~~~~
If you happened to stumble upon this page randomly, I'm a nerdy astrologer, tarot reader, and biz mentor to creative millennial women. Using the power of psychology, astrology + tarot, and of course some practical problem-solving strategies, I help my clients LEVEL-UP their biz and life so they can get out of the Starting Zone and become an undefeatable
BOSS!
I'm also a gamer, anime watcher and cat enthusiast who's into all things kawaii... and purple. You can catch all my quirkiness over on my blog, Instagram, as well as on my Twitch streams. With your help I can keep creating more and more awesome content for you to enjoy!

~~~~~~~oooOOOooo~~~~~~~
Why should you pledge your hard-earned monies? Well, to be able to create more content, I need more time, equipment and supplies. Simply put, I need your help!
Your pledge will help me to work toward creating and meeting my goals, and will allow me the freedom to focus 100% on quality content for you.
In return for your support I offer you the best that I can give, along with my sincere gratitude and dedication.

~~~~~~~oooOOOooo~~~~~~~
Before you hit that button and change both our lives for the better, here's some info about how Patreon works:
Pledge as much or as little as you want

-- Hey, I KNOW how difficult things are when you don't have much money! No matter what you give, know that I truly am grateful.  And, you will get some really a

wesome stuff!

Charges are per month

-- Your account will be charged only once, at the beginning of every month.  No surprise charges...ever!

You can change your pledge amount anytime you want

-- You will definitely get your money's worth no matter what you pledge.  But, if you can no longer give the amount you originally pledged or want to cancel completely (I won't hold it against you!), or decide that you want all the good stuff a tier above yours is getting, you can change your pledge amount at any time!  The changes will take effect the following month automatically.

Each dollar you pledge will be cherished greatly, and used wisely!!
First, let me say thank you, from the bottom of my heart! If you can help me to reach this first funding goal I'll be able to upgrade my software and equipment!

I want to eventually create MORE videos with a wider variety of topics, and I can only do so with your help. Having better equipment will allow me to deliver higher quality content.

1 of 3
How it works
Get started in 2 minutes