JOIN THE JOURNEY...
We are here to
give a voice to the voiceless,
to lift the heads that hang low..
we are part of something so much bigger than just entertainment.. We are here to
change lives.YOUR DONATIONS IN ACTION RIGHT NOW-Operation Underground Railroad:Peter Hollens
 and I teamed up with O.U.R. to
create a music video
 to send a message to 
kids
who have been
rescued from Sex Trafficking-  You're worth has not changed.. You are have so much to offer this world! 
 I've been in awe watching Operation Underground Railroad
team members
walk into the situations, acting as buyers,
who then
buy and rescue the children
and then
arrest the Traffickers
.  They literally risk their lives to save these children. Peter Hollens, James the Mormon, Jenna Rammell, GLUE and I have become the face for #freedom4all Campaign running this July. 
Utah Foster Care:
Did you know that
86% of children who have been sex trafficked
were
at one time
in the Foster Care System
?  I met Aidree, a child in foster care in December.  My heart broke listening to her past.  Ever since then I have determined to help Aidree and so many other kids in foster care who need to know-
Maybe you can't control your past, but you can define your future.   
There are currently
3000 kids
in Utah in foster care and
1300 of them don't have homes
.  Evynne Hollens and I are donating proceeds of our song "Rockabye" to Utah Foster Care.  We are also soliciting donations through an online ad campaign with Aidree as the leading voice in the promotion.
Be a Part of the Journey..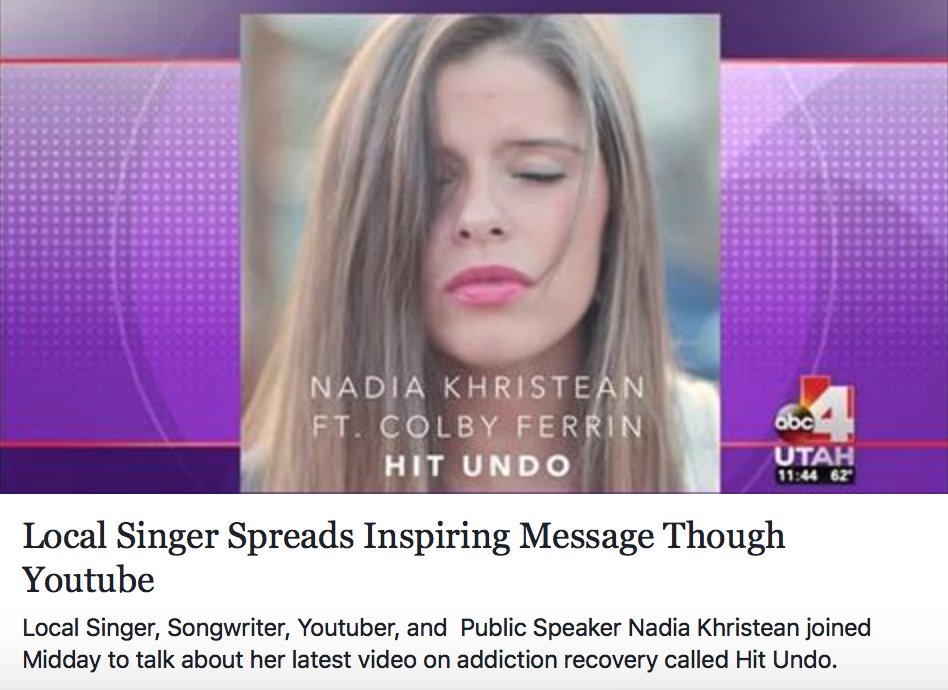 NADIA, WHAT THE HECK IS PATREON??It's a small tip or donation towards every video I make
. (1-2 times a month)  That tip will automatically be placed as you sign on, for each video.  
You can choose how much
to give.
And you can start or stop whenever.
Look to your right on the screen to check out rewards I offer you when you donate..
. 

SO WHERE DOES THE MONEY GO??

Your tips go toward goes towards
working with non-profit organizations, music production, video production, shoot location, ad campaigns, flights for collaborations, and team members
who focus time working with the charities to get the message right.
You make it
so I can focus on videos with messages that need to be heard
, rather than scrambling for funds and sponsors each time we want to work with another charity or church group or school group. 
THE WHY :)
My dream has always been to be a singer.  My family calls me a "radio that never shuts up".. haha I've always walked around the house singing.. But I knew that I wanted to do something that would be more than just singing or entertaining, but something that could be impactful, something that could make a difference.  I wrote my first song, "Daddy Come Home" when I was 11yrs old, thinking about another girl who might not have her daddy home for Christmas as he would be in war.. one thing led to the next and many incredible people were placed into my life, and I co-founded a non-profit to honor soldiers that we still do each year.  From there it created a sense of yearning to do more, after that I wrote a song from my experience of being bullied in school and created a music video to give hope to kids that have been bullied.  Then I wrote a song for Inner Beauty as I struggled with self-worth for many years.. Then, watching how people we're touched by what being made, I knew what my mission in life would be- a Singer that creates music for a Cause.  That was so much more fulfilling to me than any other type of position as a singer for pure entertainment.  I'm don't want to just creating music, I'm here to create a message from the voiceless that stimulates the desire inside someone's heart, to go out and make a difference- that's my life mission.  
When you join my Journey
- we're making a Difference Together. 
THANKS TO
YOU
and
YOUR SUPPORT
this is what we've done so far:
-
Music Video on Foster Care
:  So grateful to have Evynne Hollens collaborate with me on this project!  She is absolutely incredible!  So grateful to Utah Foster Care and so many others that are helping us raise donations for Foster Children!
-
Music Video on Suicide Prevention
More than 5,000 people have shared this video and have expressed their reasons why #ichoosetostay. I can't believe it's almost over 700K views on Facebook and its still being shared months later!
-Music Video for Anti-Bullying
and now I'm doing School Assemblies sharing my story of being bullied!
-Music Video for Women & Inner Beauty
and I've met many youth groups across the world to share how we can find our true beauty inside.
-Music Video on Addiction Recovery
and now there are several organizations who use that video as part of their program for recovering addicts!
-Music Video on Adopted Special Needs
and YOU GUYS made that sweet family feel like celebrities as you shared that video over and over and as the media picked up and shared their story!
-Music Video on Refugees
and helped a family find a home and stimulate service in many communities!
REWARDS for all my Patreons! :)

$1 Rewards
$1 or more per Music Video :) 
Access to patron-only content
Free Download of "Hit Undo"
$3 Rewards
$3 or more per Music Video :) 0 of 500 patrons
Free Download of every new music video!
Plus all the rewards above:)
$5 Rewards
$5 or more per Music Video :) 0 of 200 patrons
Free Karaoke tracks
And all the rewards before this
$10 Rewards

$10 or more per Music Video :) 0 of 150 patrons
Q&A Google Hangouts together! Once a month:)
Aaaaaaaaaand... guess.... All the rewards above:)
$20 Rewards

$20 or more per Music Video :) 0 of 75 patrons
Seriously... ahh thanks so much! I'll send you a personalized thank you message once a year!!
And I'll give you guys sneak peeks into my new and upcoming music videos!!
Pluuuuuussss... all rewards above:)
$35 Rewards 

$35 or more per Music Video :) 0 of 50 patrons
Your name in my videos!! I can't thank you guys enough!!
Pluuuus all above!!
$50 Rewards

$50 or more per Music Video :) 0 of 35 patrons
I'll sing you whatever you want! Personal video just for you:)
Pretty plus... all the above:)
$125 Rewards

$125 or more per Music Video :) 20 patrons
ARE YOU SERIOUS?!?!?!??! ahhhh..... Im going to call you personally and thank you!! Cause seriously... you are honestly helping my dreams come true and helping me just keep making music to help others! Honestly... Thank you so so so sooo much!
Of course, all the rewards!!
Let me know if there is something else you would like to see in the rewards! :)
$500 Rewards
I'm honestly speechless...
If you are supporting me at this level, there must be a story why... And I want to hear your story! Everyone has a life story to share, no matter how big or small it may be, your story has the potential to change lives. I not only want to hear it, but create a video about your story and share it with the world:) (Must be a Patron at this level for at least 5 months)
And of course.. every single one of the rewards above. Phonecalls, edits, downloads, name in credits.. everything:)