Bre Indigo
is creating Webcomics and Illustrations
Select a membership level
☆ Restless Reader
Preliminary versions of each page of "Jamie" with dialogue.
You get to see the process of the page as well as read ahead of everyone else! 
Preliminary and concept art of anything in the works. Sometimes videos!
+20% discounts on merch in store: http://bit.ly/336kGf5
Includes Discord benefits
★ Sticker collector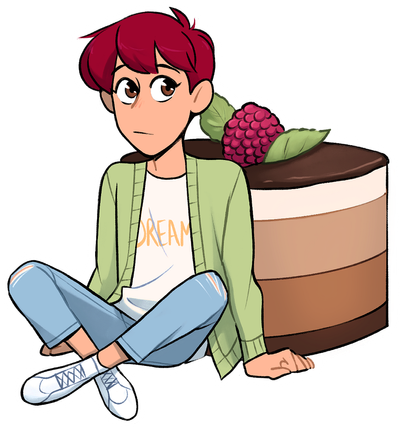 First month only:
Jamie and Aiden dessert themed
Stickers
(global shipping)
  PREVIOUS TIERS PLUS  
Includes Discord benefits
About

Greetings, I'm Bre Indigo!
I'm a passionate freelance creator & currently live
in Southern California with my wife, Tami!

Other than her, my true loves are astronomy, sushi,
our beautiful cat Riley and rainy-day naps.


★・・・・   CURRENT PROJECT   ・・・・★ 


"
Jamie
"
This is a coming-of-age, high school drama named after it's main protagonist with themes of identity, peer pressure, heartbreak, sacrifice and the difficult journey to self acceptance.
This story will touch on new friendships and experiences that blossom when Jamie (a young hopeless romantic) meets Aiden (a socially inept pretty boy).
+Available on 
Tapas ,
Smackjeeves, and 
Webtoons
+
(I receive ad revenue on Tapas, so that helps!)
!
Contains
: Mild cursing, alcohol and pot use, and typical teenage behavior. Recommended for ages 13 and up!
★・・・・  
FUTURE PROJECTS 
・・・・★ 
"Blood, Sweat, and Dandelions"

Pierce & Fletcher are from different sides of the track, but when fate sends them to the same boot camp for troubled youth, they discover the being exiled from society was the best thing to happen to them. Together they grow from the experiences they've faced apart & together, into almost-functioning adults in a world they once felt so distant from. 


"
Stratospheres
"
(A working title)
This story is a lot more up in the air, but it is a soft sci-fi with themes of exploration, chosen-family, and finding where you belong. 
★・・・・  
 PERK OF BECOMING A PATRON
・・・・★ 
☆   $1+ (all patrons)  ☆
+My gratitude and love
+Exclusive early updates
of "Jamie" as it's completed
+Access
to the patron only channels in our
Discord
server,
and yes I am in there!
☆   $3+   ☆

Previous tier, plus

+Exclusive access to
behind the scenes
process & concept art
+20% merch
discount
in 
store
☆   $5+  
☆ 

Previous tier, plus

+
Stickers
of Jamie & Aiden 
(1st month only)

+Bi-monthly
sticker
sent to your mailbox
+
Submit
ideas to the 
suggestion box
for stickers theme
+30% merch
discount
in
store


☆   $10+ (best deal!) ☆
Previous tier, plus
+
Stickers
 of the WHOLE CAST + an mystery character  
(1st month only)
+Bi-monthly
print
sent to your mailbox
+
Submit
ideas to the
suggestion box
for print/sticker theme
+40% merch
discount
in
store
★・・・・  
WHAT DOES THE FUTURE HOLD?
・・・・★
I'm kind of going by touch right now. I want to be able to post multiple pages of Jamie or start my future comics. I would love to make art my full time job.

For now, feel free to reach out to me through DM or Discord with feedback. All I can do is have a conversation with you all and ask what you'd like to see in the future, and hopefully we can make this a place where everyone is content 

Thank you so much,
for taking the time to check out this page, and for enjoying my artwork.
Warmly, Bre Indigo
★・・・・
TAGS
・・・・★
☆ Specific Titles
☆
#Jamie
|
|| 
chapter 1
| 
chapter 2
| 
chapter 3
| 
chapter 4
| 
chapter 5
#Dandelions
| 
#Stratospheres
| 
#Pleasant Company 
☆ 
Specific content 
☆ 
 #Process
||
  Thumbnails, pencils and art that will be rendered into illustrations or comic pages.
#Videos
|| 
Process art specifically in video format.
#Sketches
|| 
 Doodles  not likely to progress from its preliminary state.
Free to the public since it's usually random.
You're honestly more likely to see this content on Instagram.
#Concept
|| 
Refined and official art that develops character and world depth   

#Illustration
|| 
Any finished/rendered drawings in their final state.Feedback/ Other

#Newsletter
|| 
Usually posted at the beginning of the month to announce any changes or news.
#Livestream
|| 
There is only one post. I update it when I go live with any current information and resend the notification to your inbox.
#
Wallpaper 
|| 
Downloadable files of the wallpaper of the month.
#Poll
|| 
Polls pertaining to anything I need to get feedback on. Mostly used for $3+ tiers to vote on the bimonthly wallpaper/print prompt.

#Merch
|| 
This is where Ill give you first look at any merch that might be made available to the public. There will be discount codes for patrons so make sure you reach out to me for them.

★・・・・  
 CONTACT
・・・・★ 
visit my 
LINK TREE
for all links and social media
P.O box 28738
Santa Ana, CA 92799
United States
Covers my monthly essentials (rent, utilities etc.)
This will help me not have to get a part time job to make ends meet! Thank you so much! 
1 of 2
Become a patron to
Unlock 336 exclusive posts
Connect via private message
Recent posts by Bre Indigo