Necro Bunny Studios
is creating Adult Visual Novels
Select a membership level
Grave Robber
Our undying gratitude! <3 
Access to our Patron-only posts with regular updates on the development. 
A special role in our discord server!
"Hmm... These bones look kinda familiar. Have I stolen from this grave before?"
Includes Discord benefits
Wicked Apprentice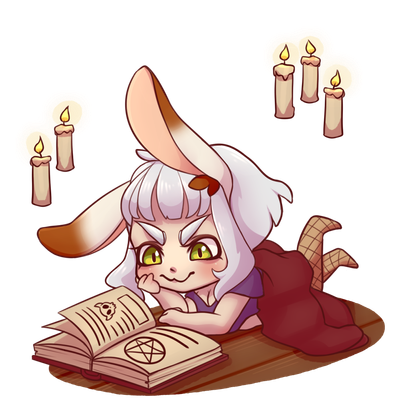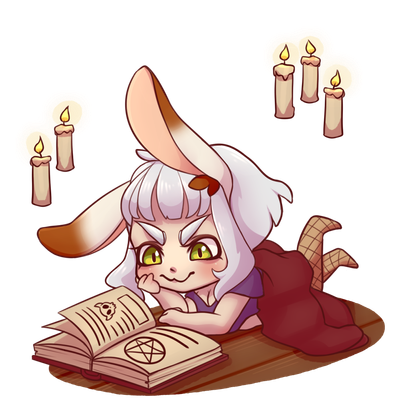 All previous tiers rewards!
Access to the patron build, which always comes 1 week before the public release.
Access to cheat menu in-game.
Vote on polls to help us decide what to add to the game next!
Access to an exclusive discord channel, where we will post all game progress daily. See new content, as it's being made, before everyone else!
"So, I broke into this guy's house and found this book in his basement... I think the cover is made from human skin... I like it!"
Includes Discord benefits
Dark Acolyte
All previous tiers rewards!
A pack with our game art in 4k.
Your name in the game credits! 
Your votes count 2x.
Acess to Beta builds
Suggest scenes for us to add to the game.
"Sorry about that Bob. But don't worry! I'll get you back up soon enough."
Includes Discord benefits
About Necro Bunny Studios
Why, hello there! Welcome to our Patreon page! Who are we? Well, I'm glad you asked!
We are a duo of game developers who have been working together for many years now. We are veterans of the gaming industry, and we worked on many games together. But we always dreamed of making our own games, so we decided to start this Patreon page and pursue that dream.
But why should you care and support us? Well, at the moment this is a project of passion for us, something that we will put our effort into, but might be relegated to a side project. With your support, we can give our games our full, undivided attention. We have worked in the game industry for close to 8 years, and so we have a lot of experience. We know how to deliver quality products in a reasonable amount of time, and we will continue to deliver quality adult games on a steady deadline.
Plus, we have quite a few perks to give to our supporters, if you pledge you will be able to look at the behind-the-scenes of game development and interact directly with us on our discord server. We would love to take your ideas and suggestions on board and to involve you in our creative process.
And finally, we are now just two people working on this project, but we would love to expand our team, we know a lot of professionals in the gaming industry that would love to help us develop these games, and as soon as we have the money to pay them, we will bring more people in to help us in making our games even better!
Thank you very much for showing an interest in our team and reading it this far. It would mean the world for us if you supported us in making our dream come true, but if you cannot, or remain unconvinced, we still hope that you will stick around and have fun with our games. We will be releasing builds periodically, and all of them will be available to the public, shortly after they are made available to our patrons.
The Rise of the White Flower
The Rise of the White Flower tells the story of Catherine Belrose, a commoner who has just graduated from the Academy of Magic in the capital of the Empire. While her training has made her into an elite in the Empire, studying in a school meant for nobles has left her with a soul-crushing debt to repay.
Knowing that the only way she can get as much cash as she needs is by joining the Adventurers Guild, an organization that employs mercenaries to deal with the ever-present threat of monsters, she does just that. But there are those that do not want to see her succeed, and she is going to have to work hard for everything she aims to achieve.
Guide Catherine in this epic quest, join forces with dozens of like-minded adventurers, and embark on many adventures. And while you are at it, discover how deeply the corruption runs in the heart of the empire, discover the secrets of the world of Valarien and its rich history, uncover dark secrets better left buried in the sands of time, and pursue romance, or just casual sex, with the many companions that will join Catherine on her journey.
Will Catherine be able to pay off her student loan? Or will she fail and become a slave? That is up to you.
GAME DOWNLOAD LINK
GAMEPLAY
Rise of the White Flower is a visual novel with a heavy emphasis on story and dialogue. The world is inspired by D&D, with a sprinkle of real-world history thrown in for good measure. You will guide Catherine Belrose in her journey by making decisions that will alter how the story plays out, define her personality, and how the world reacts to her.


Twitter & Discord Links!

   ~ Looking for even more lewd goodies? Check out these titles by our dear friends! ~
🩸 Love Sucks by Art Witch Studios 🩸
🔥 Melting Point by Astro Kaen 🔥
🍆 Reborn in Sin by Aphrodisia 🍆
$1,143.84 of $2,000
per month
At this point, we would be doing quite well for ourselves, so we would like to give back to all the wonderful people that helped us in getting this far. To do so, we would start to invest the extra money back into our games, we would be able to hire other people to work with us, and by bringing more expertise into the team, we could make our games better and have builds done faster, or at the same rate but with much more content in each of them.
4 of 4
Become a patron to
Unlock 72 exclusive posts
Connect via private message
Recent posts by Necro Bunny Studios
How it works
Get started in 2 minutes