Nicola Gray
is creating New Humans of Australia
Select a membership level
Story supporter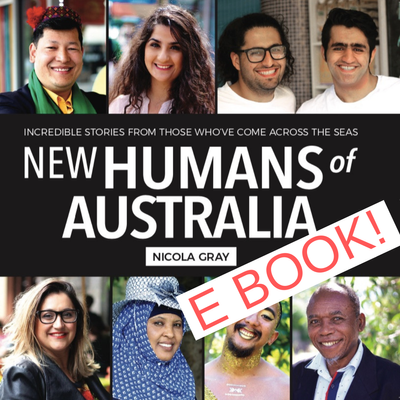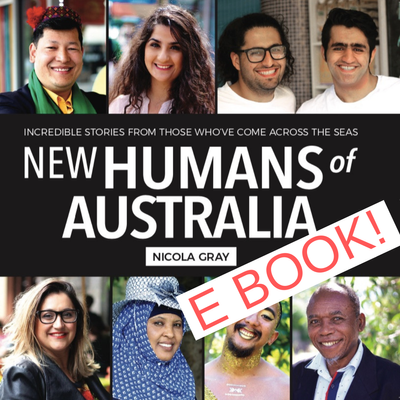 For less than $1.50 a week, become a story supporter and receive:

- creator updates
- weekly stories to your inbox
- a gift copy of the e-book version of the New Humans of Australia coffee table book.

Your support allows me to bring these important stories to the public every week, ad-free. 

Valued Benefactor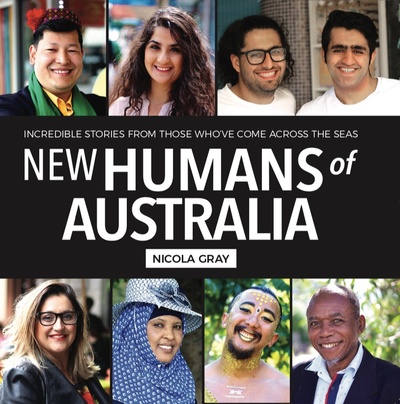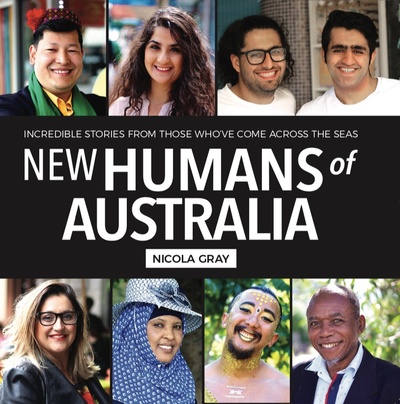 For less than a coffee a week, become a valued benefactor and receive:

- creator updates
- weekly stories to your inbox
- a gift copy of the New Humans of Australia coffee table book*.

Your support allows me to do work beyond storytelling, and supports my operating costs. :)

*Please be aware it takes 3 months of your support for me to cover the cost of the book and the postage. ❤
About Nicola Gray
What is 'New Humans of Australia'?
New Humans of Australia is a social media and web platform where refugees and migrants have the chance to tell their stories to the Australian people.
With over 120,000 followers, each story now reaches between 200 000 and 1 000 000 people. The first New Humans of Australia book was published in 2017, thus reaching many older readers who are less familiar with digital content, as well as being used as a teaching tool in schools across the country. Last year, the second book was published. Both books have been embraced by libraries across Australia.
Why am I doing this?
I believe passionately in an Australia that gives everyone a fair go, where people are judged on their achievements and contributions to society rather than their skin colour, religion or where they were born.
The stories of the New Humans of Australia project prove over and over again that refugees and migrants achieve amazing things and have a strong sense of wanting to give back to the country that took them in.
Why do I need your support?

I pour my whole heart and hundreds of hours into a labour of love creating these stories, but unfortunately love doesn't pay the bills! I conduct all the interviews myself, write and edit the stories, co-ordinate the team of over 50 volunteers, maintain and monitor the social media sites, promote and market the stories, produce and edit the books, manage book sales and distribution, and work with external organisations to find the best people to interview and the best platforms to enhance the reach of stories. I also pay for the running costs associated with the project, including advertising, website development and hosting services. This project is my life and my livelihood. 
What is Patreon?
Patreon is an amazing platform that supports creators by providing them with a regular, reliable income that makes the work they do sustainable. As a patron you provide a monthly pledge of your choice, either $5 or $10 per month, which can be cancelled at any time if your circumstances change. It's not much, less than a coffee a week, but the combined impact is powerful. 
What's my reward if I become a Patron?
Other than the feeling of knowing you are contributing directly to an amazing project, you will also get all the stories emailed directly to your inbox. Plus I will send you regular updates with feedback from interviewees and other news.
PLUS
$5 patrons get a gift copy of the 
e-book;
 and
$10 patrons get a gift copy of the
coffee table book
. 
Everybody involved in this endeavour, whether that be myself, the patrons donating money or the volunteers donating their time, is united in their efforts to create some lasting change to the way we in Australia view other human beings.
Please help me to further empathy and understanding, one story at a time. 
With many thanks,
Nicola (Founder)

*10% of all pledges cover the admin costs of Patreon and Paypal. New Humans of Australia receives 90% of your pledge.
*If you would like to pledge by credit card, you will be asked for your address, email and phone number. This is how Paypal avoids fraud. NHOA does not have access to any of these details, except your email address. NHOA will never pass on your email to any other person or organisation. 
*Don't want to become a patron, but want to buy the book? Just click here: www.newhumansofaustralia.org/shop

Earning this amount will cover the running costs of the project and allow me to pay myself a minimal salary for the work that I do. Can you help me to get there? 
1 of 3
By becoming a patron, you'll instantly unlock access to 34 exclusive posts
By becoming a patron, you'll instantly unlock access to 34 exclusive posts
Recent posts by Nicola Gray
How it works
Get started in 2 minutes