Nice Guy Digital
is creating Podcasts
Select a membership level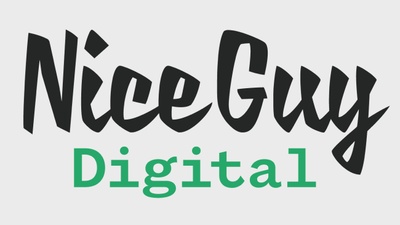 Friend of Nice Guy Digital
With this buck per month you're saying:
 "I appreciate what you do! Keep up the great work." 
We thank you for your support!
Better Friend of Nice Guy Digital
With these couple-a-bucks per month you're saying:
"I'm a better friend than the people who signed up for the cheaper one! You guys are awesome, and I appreciate what you do!"
You'll also unlock:
+ Yearly Nice Guy Digital Gift Package!
Once a year we send you stickers, posters, autographs, collectables, and more.
Our gratitude for being a better friend!
RadioActive Dads
Hey doodle-bugs! Become a patron of RadioActive Dads to unlock the following benefits:
+ Full VIDEO Episodes
Commercial free and uncut. Are you sick of only being able to listen to our show? Want to see Nathan or Brett's faces, or actually watch them and our guests on each episode? Tired of commercial breaks? Well champ, become a patron and unlock video versions of each episode!
+ Daddy Confession Tapes
Sometimes after the show Nathan, Brett and/or their guest's have confessions to make. Did Brett really let his 4 year old drive his car? Does Nathan enjoy a mini weenie from time to time? We film and upload these confessions then post them exclusively for patrons.
+ How Do I Look? With Your Eyes!
These guys are dads now. Dads tell jokes. Dads think these dad jokes are funny. You'll think it's funny to see how funny these dads think these dad jokes really are.
+ Don't Make Me Pull This Car Over!
Nathan and Brett are buds, and buds ride around together in cars sometimes. Join this tier and you can be a bug on their windshield. You never know what's going to come up on these videos!
+ Family Meeting
A couple times per year we make a video to let you know about all the new and exciting things we're working on, and to update you on anything else we're up to. This is also a time to address questions or comments you send in.
+ Yearly RadioActive Dads Gift Package
Once per year you'll get stickers, buttons, posters, autographs, collectables, a lock of Nathan's chest hair?
+ Future Stuff We Haven't Thought Of Yet
We are always working to improve and expand the show. As it evolves so will this tier. Each time we add something new you will receive the benefit!
Did we cover everything? I think we did... for now.
About Nice Guy Digital
Nice Guy Digital
is a podcast network producing four different programs for 
idobi Radio
.
"Become A Patron" of our bronze, silver, or gold tiers in order to to unlock ALL the benefits from each show and receive other exclusive content, gifts, and experiences! Or select the tier of one individual show to unlock it's benefits only. 
Each tier is unique, with it's own benefits. Read details carefully to select the tier that is right for you! All benefits listed in any tier are 100% exclusive to patrons of Nice Guy Digital's Patreon page, and cannot be found anywhere else on the internet.
RadioActive Dads
Premiering on July 24th, 2019... This is a weekly conversation between friends, actors, and new dads,
Nathan Kress
(
iCarly
, 
Pinky Malinky
), and
Brett Davern
(
Awkward
). Together they traverse the troubles and triumphs of raising kids in Los Angeles, all the while swapping hilarious on-set stories, reveling in the glory of millennial nostalgia, and unpacking intimate details about their personal lives. Sometimes they even bring in other celebrity parents to join the conversation!
WARNING:
these guys aren't shy and don't mind pulling back the curtain to reveal what dads
really
talk about.
Follow RadioActive Dads on Instagram

Follow RadioActive Dads on Twitter
The Brett Davern Show feat. Katie Leclerc
Turn up the volume daily with
Brett Davern
(
Awkward
) &
Katie Leclerc
(
Switched At Birth
)  who co-host & produce this silly show known for it's hilarious blend of conversation, celebrity guests, and great music; complete with incredible Hollywood-insider stories, and ridiculous made up games! For 400+ episodes their daily listeners look forward to unique banter, random topics and the ridiculous debates they find themselves in... Where do you keep your butter? How do you pronounce Whataburger? What is the best way to cut toast? And
most importantly
, what does your favorite fruit say about you?
Follow The Brett Davern Show on Instagram
Follow The Brett Davern Show on Twitter
Wesam's World
Wesam Keesh
, has been a working actor in Hollywood for close to a decade. He is best known for his leading role on ABC's 
For The People
and his crowd pleasing performance on MTV's comedy series
Awkward
, "Jenna Lives!" When not running up mountains at the crack of dawn, he's hosting Wesam's World, a podcast in which he invites celebrity guests & friends into the studio for one-of-a-kind long form, in-depth conversations that range from the eclectic, to the thought provoking, to the "oh wow, did he just say that?!?" 
Follow Wesam's World on Instagram

Follow Wesam's World on Twitter

The Way Highway
Pull the seat back, fire one up, and get comfortable… take a ride on The Way Highway, a show about the wild, weird and wonderful world of weed. 
Justin Ware
and 
Sean Cowhig
, the show's co-hosts, are members of the renowned Los Angeles comedy group 
Dr. God
, and their comedic backgrounds shine through on a show that occasionally dips into the serious, but more often celebrates the fun and goofy side of sparking up. It's a jam-packed hour of unique conversations with celebrity guests, reviews of 4/20 friendly products, and other Things You Learned While High. If you want to ride high… always take The Way Highway.
Follow The Way Highway on Instagram

Follow The Way Highway on Twitter
Recent posts by Nice Guy Digital