The Wandering Scholar
is creating stories, poetry, and confessional essays on life, love, and lore
Select a membership level
$1 Almost Free
"One Dollar, Almost Free." A phrase heard throughout the markets of Cairo. And hey, it's not so far from the mark. And that's the beauty here: if your really think about it, one dollar can change the world. I am truly grateful for your contribution and will write you a personalized email with some of my favorite quotes and suggested reading. 

The Poet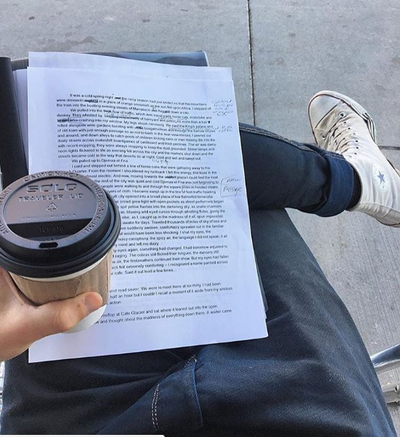 A personalized monthly letter, including a hitherto published poem. And yes, we're talking snail mail here! for those of you nostalgic as myself for the feel and experience of opening far-flung letters. Featuring background stories and updates from the website, unique finds in my constant hunt for vintage ephemera and bizarro objects, and other confessions of my meniacal, writerlyself. 


Think of this as a personal conversation.

About
Hello there,
Thanks for stopping by! For those of you who don't know me, I am a writer, an explorer, and an anthropologist with a background in folklore and archaeology. I created this space as a sort watering hole for us to explore, together, this wildly gorgeous and profoundly diverse world of myth, of lore. That means everything from the recipes that have inspired empires, to the legends and tales that continue to break hearts eons later.
It all began in 2011 when, in a wild moment of blinding spontaneity, I quit my job, sold my car, and bought a one-way ticket to Africa. And I've been on the move ever since sharing stories and experiences from the road less traveled to the places known but misrepresented.
It is our manifesto, our creed here to share the world in all its splendors and horrors. To view with honest, open eyes, reality, with an open mind.
Make Folk & Lore your go-to series on the cultures, customs, traditions, and histories of life and love, war and peace, belligerence, and fanaticism. From East to West and back again. We'll venture to the places that dwell on and off the map. In regions known and unknown. In the tradition of folklorists and Think of it as a highly integrated, educational travel blog-meets sensual, yes (I said sensual!) food blog. Full of quirky and meaningful, sometimes entertainingly random information -- all in the name of becoming a stronger global citizen. We'll head out there on foot or from the armrests of our desk to explore the quirks, quandaries, and curiosities that make us human.
Seeking those common denominators that make us human and I believe this can be done through our most ancient drive as storytellers.
In fact, the whole of mythology
could be taken as a sort of projection of the collective unconscious

Carl Jung
--------------
Oh, Academia
Those lofty snow-capped mind clouds -- visions of dusty roads -- you know the ones -- roads less traveled -- But where was I... I'm launching this campaign as a sort of fundraiser for the wayward student. You know the one who dropped out a thousand years ago and only now realizes the inherent pleasures of education.
Your generous contributions will directly impact my tuition, owed and pending, helping to relieve the weight of student debt.
ASTERISK
! Look, I understand this is an absurdly individualistic and self-serving request. And I am no way under the impression that I deserve handouts or financial assistance. But I'm reaching for this limb, honest about my financial setbacks. It never hurts to ask and take this next step towards achieving my dreams. So here I am, slightly -very- embarrassed and asking for your help, from the bottom of my heart, to support these dreams.
Thank you for your time and consideration. I am an open book, read me. If you have any comments, thoughts, or want to connect otherwise I'd love to get to know you!
Reach out here or email me at
[email protected]
Add me on Instagram at @NicholasAndriani
And Twitter at @nickandriani
Textbooks, materials, etc.
1 of 3
Become a patron to
Connect via private message
Recent posts by The Wandering Scholar
How it works
Get started in 2 minutes