Nick Sanders MBE
is creating films, books, festivals, motorcycling & e-cycling expeditions
Select a membership level
One Cup of Coffee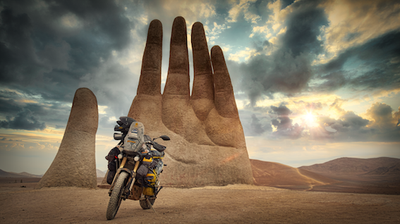 The lowest tier - enough for a coffee:) I will supply content 3 or 4 times a month which you can't get anywhere else, period. And thankyou, your help is sincerely appreciated.
The Free Book or DVD Tier
If you kindly support my work at this level for 3 months, you will receive a free signed book from me - UK Patrons only. Overseas Patrons get a free DVD of my life called, "Extraordinary Life of an Ordinary Man". 
Talk to Nick 1 to 1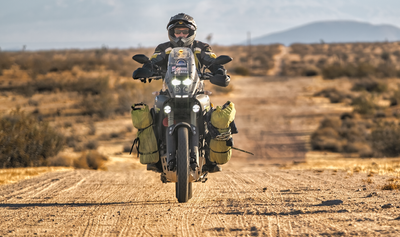 If you support me at this level how about we include a live 1 to 1 phone call for 5 mins once a month. You might have your own project you want to discuss and have me monitor it, advise you and generally support you in return. All other benefits apply. Take care.
About
Hi, I've been bicycling and motorbiking around the world for the last 40 years - 9 times in fact with several circumnavigational speed records broken on the way - around the world on a motorbike in 19 days for example, the length of the Americas in 21 days, both ways in 46 days. Much of this has been filmed and a significant amount never been released for view, as Patreon members you can go through my archives, be amused, be informed, see stuff about places you can no longer reach. Syria for example, I've been there three times.
I've also bicycled around the world twice, both times in Guinness records of 134 days then 79 days. No one in the world has motorbiked and bicycled around the world so we're in good shape to compare and contrast; see if we can make sense of what it means to 'adventure!' I cycled across the Sahara before Algeria went to war, I've cycled across Asia then to the source of the White Nile way back in 1983 when Uganda was actually in a civil war and became the first cyclist to do it. Then, I raced around the 4800+ mile coast of Britain twice.
Clearly transportation is a major feature of my life and in 1993 I sailed two traditional canal boats from the UK to the Black Sea - the longest such journey ever undertaken. Yet, there was a reason why I needed a boat - lots of interesting stories to be had!
So we have motorbikes, bicycles and boats as part of our content but also I've been writing books and making films since 1983. My latest book, 'Russia Mongolia Motorcycle Me' was in 2019 reviewed by The Guardian newspaper in London as "...a minor masterpiece." You may think differently if you get a shot at reading it, but the manuscript is about the mindset of travelling - 'A Journey into Solitude' might have been a better title and I want to share this with you, in fact all my 15 books will have special discount opportunities for Patreon members only, supported by film clips from places like Uganda, southern Egypt, places that can be hard to get to just now. With my new audible book reading series about to start I want to share my experiences in as many ways as possible. There is stuff I have witnessed, which in the new world order post pandemic may never be attainable again.
Yet, with help from people like me and also people like you, whilst the world has moved on from the epic style of long time solo expeditioning, we can become the guardians of adventure and resuscitate it so it may never be forgotten. A world where beauty and adventure has been replaced by year on year corporate profits and ongoing inequality is not what I want to see in a world I love.
I can show you how to inspire yourself. It's in you already, you just don't know it. Inspiration just needs to be unlocked, to be found and if energy is a motivating force, we have it in abundance to show and to share.
By becoming a patron, you'll instantly unlock access to 1 exclusive post
By becoming a patron, you'll instantly unlock access to 1 exclusive post
Recent posts by Nick Sanders MBE
How it works
Get started in 2 minutes