nique
is creating Illustrations and comics
Select a membership level
Knight / Dame
My most sincere thanks, dear outsider, for kindly helping out the artist of this Royal court. As a Knight you may call yourself a Sir (or a Dame) and be very proud about it. I salute you for your tithe and in return you now have access to this royal court, that means:
Full access to the exclusive Patreon content and timeline including things such as: Sneak peeks and behind the scenes (sketches, and WIP) content.
Ocassional wallpapers for computer and/or mobile devices.
//
Mi más sincero agradecimiento, querido extraño, por amablemente ayudar a la artista de esta Corte Real. Como Caballero (o Caballera) puede hacerse llamar Sir (o Dame) y sentirse muy orgulloso al respecto. Le agradezco el diezmo, en recompensa ahora tiene acceso a esta corte real, esto significa: 
Acceso al contenido exclusivo para Patreons incluyendo cosas como: Detrás de cámaras y vistazos a bocetos/trabajos en proceso.
Fondos de pantalla para la compu o los dispositivos móviles, ocasionalmente.  
Baron / Baroness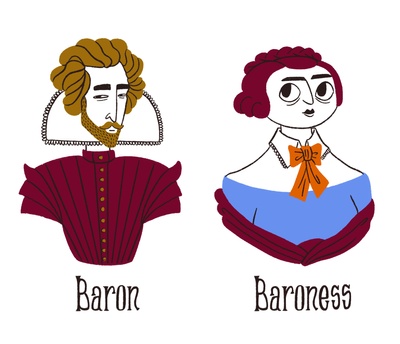 I see you are a person with a good taste and philanthropic manners. As a Baroon / Baroness you can call yourself Lord (or Lady) and be very snob about it. I salute you for your tithe and in return you have the privilege of being an active member of this royal court, that means:
All previous rewards
Access to exclusive timelapse videos of illustrations from scratch.
You have voice and vote. You can participate in the Q&As and polls except the monthly ballot for Dukes and Duchess.
 Monthly discount codes for print purchases at my inprnt.com shop. If you are near by, you can use the same code to have discount on any personal buy you made.
//
Veo que usted tiene muy buen gusto y es de costumbres filatrópicas. Como Baron/Baronesa puede hacerse llamar Lord (o Ladie) y presumir al respecto. Le agradezco el diezmo, en recompensa ahora tiene el privilegio de ser miembro activo de esta Corte Real, esto significa: 

Todas las recompensas anteriores.
Acceso exclusivo a videos en timelapse de los procesos de ilustraciones desde cero.
Tiene voz y voto. Puede participar en las rondas de preguntas y respuestas, en las encuestas y votaciones exceptuando la votación mensual para Duques y Duquesas.
 Códigos de descuentos mensuales para compras  en mi tienda de inprnt.com. Si está en sus posibilidades tiempo-espaciales, puede hacer uso el mismo código de descuento en cualquier compra que realice a mi persona.
Marquess / Marchioness
Greetings, My Lord /My Lady! Thank you for investing in the Royal Court Artist, in return, you have access to this Royal Court and other assets such as:
All of the previous rewards.
You will have access to Live Drawing Sessions where you could see me drawing (while I pitch some tips) and ask questions about whatever :D
//
¡Saludos, My Lord/My Lady! Gracias por invertir en la Artista de la Corte Real. En retribución tendrá usted acceso a esta Corte Real y otros bienes como estos:
Todas las recompensas previas.
Tendrás acceso a sesiones de dibujo en vivo donde me vas a poder ver dibujar (mientras doy tips del oficio) y podrías preguntarme cualquier cosa :D
About
Hi people! I'm Verónica but people knows me as nique. Long story short I've been juggling with freelance illustration and a full time job since I got my BA in Fine Arts (6 years ago) and wanting to work as a full time illustrator since I was 6 years old and realized people worked at Disney making drawing for the movies. Like a real job. Like if you draw you get paid job.

If you support me here you are helping that 6-year-old Veronique who blindly believed that drawing could be a full time job and decided to pursuit that goal.

Expect at least a newsletter every two weeks!
//
¡Hola, gente! Soy Verónica pero la mayoría me conoce como nique. En resumidas cuentas he estado haciendo malabares con la ilustración freelance y un trabajo a tiempo completo desde que me gradué como Licenciada en Artes Plásticas (hace 6 años) y he querido trabajar como ilustradora a tiempo completo desde que tenía 6 años y descubrí que la gente trabajaba en Disney haciendo dibujos para las películas animadas.Y que eso era un trabajo real. Así como que te pagaban por dibujar.

Si me apoyan por acá estarían ayudando a esa Veronique de 6 años que creyó ciegamente que dibujar podía ser un trabajo tiempo completo y decidió perseguir esa meta.

Esperen ver por acá un boletín informativo, como mínimo, cada dos semanas!

My Lords and Ladies can you imagine if we reach this far? Oh the wonders of life...

$500 will mean I could pay the bills!

If I reach this goal I will be able to pay the bills, that will mean I could produce more content for Patreon,to leave aside other gigs will allow me to focus on new rewards like a podcast, more digital rewards, maybe some prints and other merchandise to give away or some contests for personal comissions! The joy!

//

¿My Lords y Ladies, se imaginan que lleguemos tan lejos? ay, las maravillas de la vida...

¡$500 significarán que podré pagar las cuentas!

Si llego a esta meta podré pagar mis cuentas, eso significa que podré producir más contenido para Patreon, dejar a un lado otros trabajillos me permitirá concentrar mi tiempo y energías en nuevas recompensas como: un podcast, mas recompensas digitales ¡y capaz algunos prints o mercancía en físico para mandar o concursos para comisiones personales! ¡Que genial sería!
1 of 1
By becoming a patron, you'll instantly unlock access to 53 exclusive posts
By becoming a patron, you'll instantly unlock access to 53 exclusive posts