nisetanaka
is creating sorrow and sadness
Select a membership level
we moomin so are you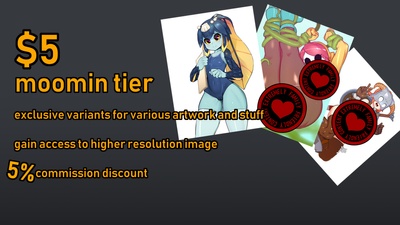 - you become a moomin (I'm so sorry)
- gain access to higher resolution images
- gain access to exclusive variants for various artworks
- free mosin nagant (be sure make contact with the nearest Finnish embassy to obtain your reward)
 - 5% commission discount 
Includes Discord benefits
doubloomin
- you become a double moomin (whatever that meaning is)
- all the previous tier reward

- you can make request vote on characters from suggested list. 
- gain access to "the dump" it's practically a sketch dump
- gain access to organized art packs and psd files in every end of months
- 10% commission discount
Includes Discord benefits
quad moomin
Limited (0 remaining)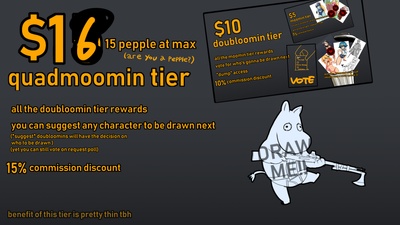 - you become a quad moomin (you are moomin but quad)
- all the previous tier reward
-  you can suggest any character to be drawn next
- 15% commission discount 
-aghhh!!
Includes Discord benefits
About
COMMISSION!!!???? CheCK dhis Shit OUt      COMMIE STATUS
ALL REWARD
Archive (all works on social media)


PSDstorage
Sketch and wip dump

EH
eh ,this is nisetanaka and welcome to the shitshow season2.
"the room" meme was a gold, but we gotta move on to the future. 
so btw, thank you for checking my patreon out, because that's gotta be something right?
ah,,,so,,,well what should I tell you otherwise?
do you like some cheezburg?
PLEDGE AND STUFF
so this is the moomin tier, I'd recommend this tier tho
you get extra contents in full rez and 
original .PSD files 
sorry no psd, i was wrong
(2018 Jul) all the discounts are for the total price of commission.
doubloomin tier has an option to vote,
which you can decide who/what to be drawn next from a list.
we are gonna do this 1~3 times in a month.
also you get an access permission to the dump, which is basically a dump
where you can find my sketches,unfinished,wip,practice kinda stuff.    
also you gain access to psd files
quad moomin tier is a tier for people who give so little shit about
their hard earned 15 bucks,
they can decide who/whatever nise's gonna MIGHT draw next time.
the chance your suggestion gets picked by people is pretty thin (15 out 1 at least)
so I don't really recommend to have this tier for anyone,
I mean you might get your oc's pinup for 15bucks if you are lucky,  but still :3 
COMMISH DISCOUNT?
next thing is about the commission discounts for patrons,
I figured out that how it works was pretty unclear to anyone(also the rate didn't make no sense)
so I done changed something about it
now discounts will apply to the total price of a commission(not only for base price anymore)
GOT DISCORD?
if you have already installed discord app for yourself.
you can visit one of the weirdest places on discord, and tell us something not very polite (*'ω' *)
also, more importantly, there are some contents only available on my discord server!
(yeah you know why) 
If you can't get access to the Discord - Follow these steps:
1) Disconnect your Discord and Patreon account.
2) Log out of Discord via the web, mobile, and desktop app. Logging out of Discord can be tricky, click here to check out their help center.
3) Update your pledge to the creator by clicking the "save" button when editing your pledge. No information needs to be changed.
4) Reconnect your Discord and Patreon account. Step 3 is definitely the most important, as it updates your pledge and refreshes the server invite. I really hope this helps!
that's about it I guess
 "now get outta here stalker"
Become a patron to
Unlock 95 exclusive posts
Connect via private message
Recent posts by nisetanaka
How it works
Get started in 2 minutes