NOELLE
is creating Boudoir and NSFW photos and GIFs 🔆
Select a membership level
Access Granted
Access to my PATREON FEED which will grant you Photo shoot updates, first looks at photos and what's to come, BTS photos, Censored Previews and much more!

Patreon Only Feed - First looks at never before seen shots
Sneak peaks + Censored Photos from sets that are featured in higher tier
A friendly "welcome" photo post when you sign up! 😊
Secret
This tier offers weekly non-nude photo posts, BTS  content, previews of higher tiers, first looks and more!
Exclusive access to weekly photos 
A friendly "welcome" photo post when you sign up! 😊
Censored Previews, first looks, and more!
Stellar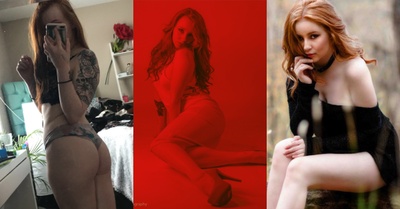 This tier lets you see FULL SFW photo sets! As well as 4 Lewd Photos per month added to a folder!
All Previous Rewards if not mentioned here
Exclusive access to SFW photo SETS  
4 Nude Selfies per month
A friendly "welcome" photo post when you sign up! 😊
BTS Content, Previews of higher tiers and first looks and more!
About

RE-DOING MY PAGE~~~ Going to be taking less popular tiers away, and simplifying existing ones! Benefits will stay the same for the most part,
Welcome to my
Patreon Page!

A little about myself, I have been modelling for over 7 years now and it's been a passion of mine ever since. I'm a

Pisces

, I love spaghetti and I'm currently a student. In fact, I feel like I've been in school for my entire life. I work in the healthcare industry and another huge passion of mine is helping people. 

I'm sure you're wondering why you should make the

m

a

g

i

c

a

l

decision to become a Patreon, and here's why:  

In no particular order, here is what you have to look forward to if you become a Patron! 

Exclusive access to BOUDOIR SETS
WEEKLY PHOTO POSTS!
Sexy Shoutout!
A thank you message!
Censored Posts!
Sneak peek at what higher tiers have to offer!
Entire Patreon feed!
Tiny Videos Folder
Exclusive access to NUDE SETS!
Private Snapchat!
BTS at shoots!
Access to all previous Snapchats!

🌟Coming soon 🌟 Photo Shoot just for you!I
f you have any ideas for Rewards that I should add here, please feel free to DM me! :D 




PRIVATE SNAPCHAT!
Lewd and Crude, self-explanatory 😉 The Tiers that offer this perk gets you into my Priviate Nude snap story, as well as access to a Dropbox link with all preview snaps and more!


Photo Sets


Exclusive access to  Boudoir,  Artsy, Nude, and Clothed? (I use that term very loosely)  full sets that are exclusive to Patreon! If you come across a photo that you like on my IG or Facebook page, you can get access to the full set by becoming a Patreon!

 

Photo shoot

just for you!
This magical tier gets you an entirely exclusive PROFESSIONALLY shot photo set sent right to you 😊 You choose the outfit, theme, props and any pose suggestions you may have as long as they are within my comfort zone. Before you pledge, please email me at [email protected]   so we can discuss all the details for your photoshoot!
*no sex toys, masturbation, porn, or butt holes. Don't ask me to show my butt hole. Thx

EXCLUSIVE SELF SHOT SET 
This is another tier that gets you an exclusive Selfie set with an idea of your choosing. Before you pledge, please email me at [email protected] so we can go over what you'd like to see in your set. If you want to know what exactly I'm comfortable with, send me an email and I'll tell you 😊

For both exclusive tiers *professional and self shot* this is a monthly tier benefit meaning you can sign up and get the photo shoot monthly, or sign up for just one month and then downgrade to your usual tier after you receive the set at the end of that month. All preview benefits are still included in this tier. 


JUST A REMINDER...
I have an undying appreciation for every single one of my Patrons, you guys amaze me with your generosity and I just want to let you know that  if you decide to pledge, your hard earned money will not go to waste 😊

RULES
1. Sharing of any links or downloads acquired through my Patreon is forbidden and will result in you being banned. 
2, All sales are final. 
3. and lastly, hAvE FuN :D 




Latex!!!
I have recently fell in love with latex and I'd reallY love to replace every  SINGLE item in my wardrobe with latex  :D 
Just kidding!! (or am i?) 
Help me reach my goal so I can take more latex pictures ?
3 of 3
Recent posts by NOELLE
By becoming a patron, you'll instantly unlock access to 296 exclusive posts
By becoming a patron, you'll instantly unlock access to 296 exclusive posts