Northwest Dog Project
is creating 2nd chance lives & nurturing homes for abandoned dogs to thrive
Select a membership level
Poop Scoopin' - $1 or more per month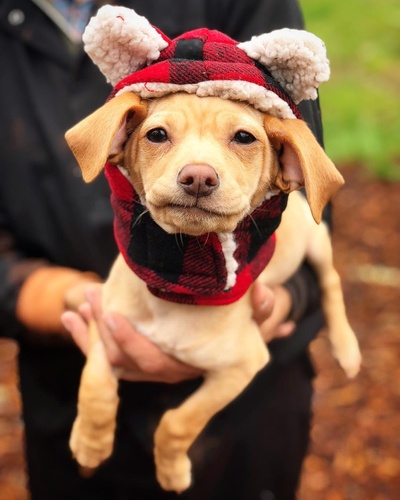 No frills here folks! If there is one little stinky thing we always need help with, it's picking up the poops. Your gift makes it possible for us to keep a clean, comforting and lovable space for our dogs and the people who care for them. We would not have this crew of volunteers and supporters without this crucial piece in making everyone feel safe, sanitized and cheerful! Thank you for making a difference in helping with this important and inevitable piece. 
Rewards: Patron access to special photos that shed light on our stories of new rescues, adoption days, hikes, behind-the-scenes facility tours, training sessions and more. 
Snuggling the Pups - $30 or more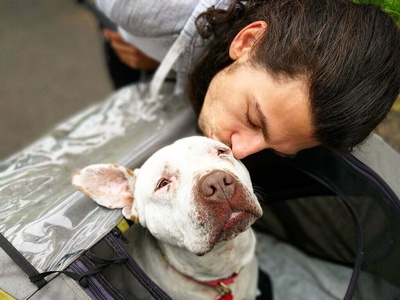 We might call this the most difficult job on the planet. But someone's gotta do it! Really though, snuggling the pups is something we take very seriously. These babes often come from harsh trauma. We are here to support their healing on each and every level as they decompress into unconditional love. Sometimes dogs can sleep and rest a lot when they get here for refuge. We rub, love and receive kisses to no avail. We are so appreciative of your generosity in supporting this special necessity. 
Rewards: Patron access to special photos and videos that shed light on our stories of new rescues, adoption days, hikes, behind-the-scenes facility tours, training sessions and more. Plus, an annual calendar featuring many of our adorable rescue dogs! 
Outdoor Adventure Days - $100 or more
We are thrilled you want to help with this rejuvenating, soulful activity. It might be one of our favorites. All of our dogs go on daily adventures, but we especially prioritize our senior dogs in taking special trips to the beach. The Northwest Dog Project Senior Sanctuary program allows us to accept older dogs, often hospice and difficult medical cases, into our rescue program –– with the strict expectation that we'll give them the very best last years of their lives. This is a big part of that. Watching the dogs take in the ocean air and romp in the sand is priceless. It also contributes to them aging in reverse. No joke. You can see some incredible before/afters on our Instagram. Thank you for this.
Rewards:
Perks of tier 1 & 2 PLUS... VIP access to an annual potluck party at Northwest Dog Project, where you'll get the chance to tour and hike our gorgeous forest facilities, snuggle with the dogs in (and out of) their cozy digs, and talk up all things Northwest Dog Project with us. We'll throw in some incredible Oregon microbrews and/or wines for good measure. 
About
The Stories of Northwest Dog Project
Imagine being born into this world by someone looking to make a dime off your strength, in the worst ways possible. Or picture lying on cement in the tightest of spaces during your childhood, leaving you with deformities. Or say all you wanted to do was play but you were expected you to hunt. And because you weren't good at that? You were taken to the woods to be shot. What about in your "golden" years, when your life-long family determines, after a new baby, to swiftly move on without you? They dump you at the high-kill shelter where you're left bewildered, afraid and un-adoptable.
These are the painful yet budding stories of Northwest Dog Project (NWDP) rescue dogs. But this dark and desolate place, where dogs find themselves before they find us, is where the seeds of bright, beautiful stories of resiliency have only just been planted.
While these special souls are here with us, before finding their forever homes, we are determined to share their impactful, unique stories with you in more intimate ways. Beyond the emails, events and social media. Becoming a Patron gives you a special window inside the triumphs and trials of what we do on a daily basis. Our organization runs on pure love and fearless dedication to our dogs. And our donors are the very backbone of what we do on the ground. We want to connect you to the behind-the-scenes efforts of these characteristics and how your gift plays out on the property.
More About What Northwest Dog Project Does
Northwest Dog Project (NWDP) is a 501 (c)(3) non-profit in Eugene, OR, established in August 2014. We rescue, re-home and enhance the lives of neglected, abused and homeless dogs, while advocating responsible pet ownership. We welcome medically-challenged dogs and provide a nurturing forever sanctuary to seniors who have been abandoned in their golden years.
Northwest Dog Project carefully rescues dogs facing euthanasia, to no fault of their own, and welcomes them into the program until they're healthy, well evaluated and ready for their forever homes. We are also happy to help local owner-surrendered dogs provided that the dog meets our intake criteria and if space is available. We are not a breed specific rescue, but we do have a special spot for the bully type breeds.
Our charming, barn-boutique-like facility sits on 20+ acres of forest land on the outskirts of Eugene. We have a large, fenced-in outdoor play yard complete with a pool and lots of enrichment toys/tools where staff and volunteers host daily playgroups, socialization sessions and work on training. Our dogs get out on multiple walks a day, and of course, get so much love. The pups live in one of six large, cabin-like kennels with individual fenced yards. As a Patron, you'll have special access to see our gorgeous facilities and how the pups interact in this peaceful forest environment.
We are deeply committed to the connectivity and longevity of our forever home placements. We provide a lifetime of support to our adopters and the dogs that grace our program. We've rescued and re-homed about 700 dogs since our doors opened in 2014.
How Does Your Patronage Help Northwest Dog Project?

This provides us with an ongoing income for the costs of spay/neuters, microchipping, age appropriate vaccines, deworming, flea treatment and each dog's extensive quality care while at our rescue/in foster.
Beyond the general care above, we often have additional medical bills averaging from $3000-$4000 a month related to the dogs we take in who have unique and challenging medical issues. Your patronage is critical for this piece.
General funds limit us to caring for an intimate group of dogs on our property. We always intend to keep our quality over quantity model, but when we do have extra funds we can save extra dogs who would otherwise not make it out of shelters alive. That's the reality.
It helps us maintain high quality diets, enrichment activities and toys, day trips to the beach, plushy beds, blankets and furniture and special training sessions.
Part of our vision is to reach the masses with pet overpopulation prevention tactics and support. Your patronage helps us leverage educational outreach projects and allows us to connect to our community to create critical partnerships.
Website:
https://northwestdogproject.org/
The long game for us is to expose and help to end the over pet-population issue in our country. The short game is acting as a lifeboat to the sinking ship that is high-kill shelters.

In all reality, your patronage allows us to stay afloat, creating an ongoing income that our boutique-like, high-quality rescue can depend on.

Our first goal is 500 patrons who will stand beside us in fighting for shelter dogs and putting an end to the hundreds of thousands of needless dog euthanasias each year.

1 of 1
By becoming a patron, you'll instantly unlock access to 65 exclusive posts
By becoming a patron, you'll instantly unlock access to 65 exclusive posts
Recent posts by Northwest Dog Project