Nordic Scream Studio
is creating Visual Novels
Select a membership level
Footprints on the sand
Limited (0 of 1 remaining)
This tier was closed. We will post something time to time, but in the end this tier will disappear as footprints on the sand. Please, raise your pledge to stay with us!
Stranded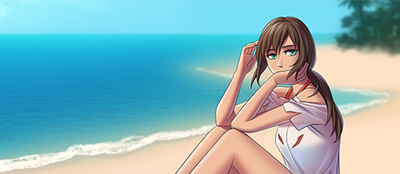 You are the new one here, lost, forgotten. Your pledge will keep us alive... for a while. But still, it's much better than nothing, and we are very thankful to you. On this tier you'll get:
"Thank you letter" with a lovely postcard designed by Skadi-S;
Monthly updates about our progress;
Hot sketches with our girls every two weeks.
Survivor
Make through it with us! With you pledge we can survive, adopt and improve! Here you'll get:
"Thank you letter" with a nude version of postcard;
Our monthly updates;
Simple but hot arts every two weeks;
Acess to "Robinson Girls" DLC once it will be released.
About
Hello!
We're group of enthusiasts, who creates a visual novel called "Thousand Days Later".
Couple of reasons to support us:
You like good stories and tragic endings? You came to the right place! Tony S., our writer, adores writing tragic endings. Don't be afraid - he's good in writing positive things either.

We do our games with love and responsibility. Maybe, we don't have enough experience and skill, but we compensate it with our perseverance. And don't be worried - we'll improve our skills with time.

Good things doesn't appear from Nix. If You like Visual Novels and want to see more such games - then support us!

Cause we will be really thankful to You - not only with our humble rewards, but also with our ardor. We really like making good things - so, let's do them together!
Current project:
TDL version 2.0
Thousand Days Later is not that perfect as we wanted it to see. We wanted it to be more beautiful, we planned add more arts... But fate is a heartless bitch.
Now, after all those steps on rakes, we are much more skillful so, it's time start everything over. What will we do in TDL v2.0? Well, listen:
We'll redesign all our sprites and arts
We'll draw more arts to make TDL more complete and charming
I'll rewrite the plot on my native language and then hire professional to translate it on English
Yep, also we are going to create Russian version. I strongly believe this story will be much better
We'll do our best to optimize the code.
Also, we'll probably add some features.
O, almost forget. We'll create FullHD version!
Of course, it will take a lot of time, but I hope we'll make it in the end. So, wish us luck!
Thousand days later (old version)
Release on Newgrounds: 26.04.2018
Originally designed as fan modification of "Crusoe had it easy" by
Marble Syrup
, thanks to their advise, it turned in our first game.
Forgotten island in the middle of the ocean. Many people could consider it a paradise, but when you and your cousin are stranded on it, paradise becomes a prison. And, after just one fatal step, prison becomes hell.
You still see it in your nightmares... That horrible night, when you have assaulted your own cousin. That night, when she almost killed you. However, after a thousand days, fate gives you a chance. Chance to wash away you've done. Or... Make everything even worse.
When our income reach 100$ we'll create a "Robinson girls" DLC with new skins for our girls.
1 of 2
By becoming a patron, you'll instantly unlock access to 79 exclusive posts
By becoming a patron, you'll instantly unlock access to 79 exclusive posts
Recent posts by Nordic Scream Studio
How it works
Get started in 2 minutes