If you had a baby when Nintendo World Report first started, that baby would be in high school now and driving a car. That baby could have a baby of its own. That baby could be writing for our website now.
Simply put, Nintendo World Report (or Planet GameCube if you go way back. Or Planet N2000 if you are a true OG) has been around for a long time, and in that time, the way the Internets and websites work has changed drastically. Basically, it's all way less dependable and much scarier. We'd like to set ourselves up to be in a position where we can just worry about producing strong content that our readers will love as opposed to worrying about staying afloat, serving ads, and getting mad clicks. That's why we're using Patreon to try to fuel the future of Nintendo World Report. We want to be able to deliver the content
you
want directly to you without any of the nonsense.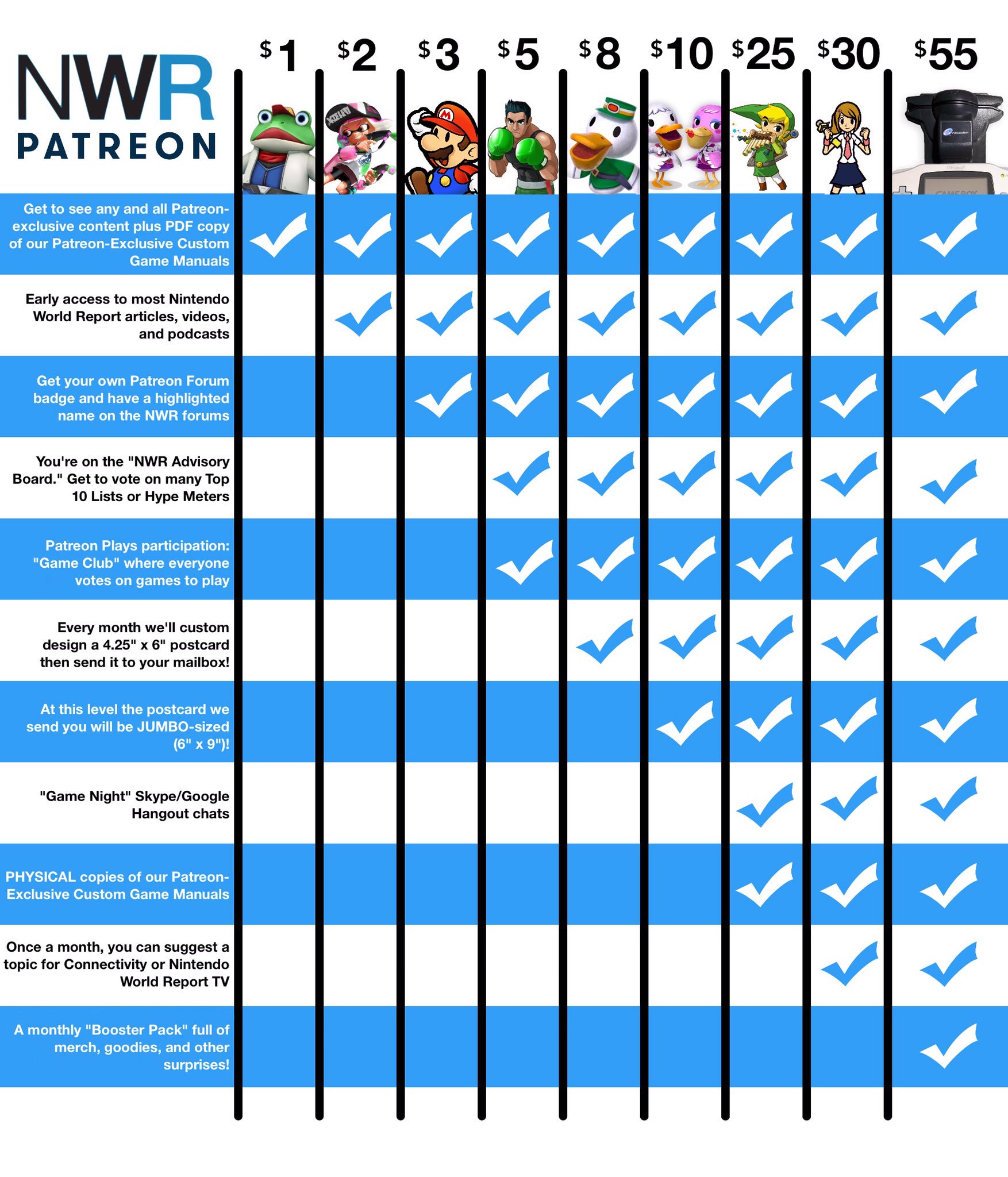 To start, we'll be giving you more insight into the behind-the-scenes world of Nintendo World Report. You'll get to see what we're working on before it is posted and directly interact with the staff. If you pledge for the $5 tier, you'll also be a part of the site's content directly, letting you vote and nominate different games and subjects for monthly features. And if you pledge the highest tier, you can chat and play games with us online.
In addition to the rewards and stretch goals, we also have a renewed commitment to making more original content. Alongside this Patreon, we're launching (or relaunching) a few new recurring features.
First up is Cube Fight, which is where Neal and Andy bicker over the quality of every Nintendo-published GameCube game in an effort to both look back on the GameCube and determine what games from that group are totally rad. You can check out the first episode very soon if you become a Patron (it'll be out for non-Patrons in a week or two).
There's also the Know Your Developers series, where John Rairdin (and his crack team of researchers) recount the people behind the games. In 2015, we went over Nintendo's (now defunct) EAD Groups. Our episode covering the Star Fox series will be out for Patrons soon (and coming out for non-Patrons shortly after that). This year, we're planning to cover Next Level Games, Intelligent Systems, HAL Labs, and much more. And hey - if you're in the $5/month tier or above, you can even directly recommend developers and series for us to cover!
Our resident King Nintendo Fanboy Justin Berube will also be debuting a regular video series where he'll show off his extensive Nintendo collection. Join Justin every so often as he highlights his ridiculous and exhaustive amount of Nintendo memorabilia.
That's only the tip of the iceberg of what we'll be creating over the next months and years. Depending on how much this Patreon grows, we will be able to do more and more, but that all depends on how much support we get. But no matter what, we'll have
hot
E3 coverage when we get to that event in June (Note: so uh, maybe E3 won't be quite as cool this year. But we'll still have as much coverage as possible!). As a Patron, you'll get to see more of the behind-the-scenes mayhem and get a peek at our coverage before everyone else.
So thank you very much for taking the time to read this. Whether you have followed us for years and just stumbled upon us recently, thank you.